Morrus
is creating One Page Adventures for DnD
Select a membership level
Tip Jar
Throw a couple of bucks in the tip jar when I make a One Page Adventure! Thank you! As always, only pay what you think it's worth!

Buy Me A Cup of Coffee
Hey, if you like these, why not buy me a cup of coffee when I make an adventure? The caffeine will keep me going! As always, only pay what you think it's worth!
Buy Me One Cinema Ticket
We're talking a budget matinee cinema ticket here. I dunno... you'll get 3-4 hours' play for 5 people out of one of these, and a film is a couple of hours and costs $10 per person. I reckon it's equivalent to a cinema ticket, but it's up to you! As always, only pay what you think it's worth!
About Morrus
Need a quick, fun, one-shot adventure in a pinch? No time to prep? You've come to the right place!
I will create one or two
One Page Adventures
for DnD each month. These are adventures designed for one session of play, each being a standalone adventure with its own theme. Each adventure is contained on a
single
side of one A4/letter-size sheet of paper, and is available for download in PDF format. I really appreciate your contributions, as each takes many hours to put together. You can become a patron and get these adventures for as little as a dollar per month!
You can 
check out THE BUSINESS OF EMOTION for free
! LANIDOR, a village. All the villagers are falling in love. TWO-LIPS, a gnomish flower farmer, is causing a "love plague". His business was failing, so he made a deal with HERMIA, a witch, to drum up more "emotion" to bolster his lackluster sales. If you like that one, there's loads more available to patrons!

ABOUT ME
My name is Morrus, and I run the RPG news website 
EN World
. I also have a weekly podcast called 
Morrus' Unofficial Tabletop RPG Talk
, created the 
WOIN roleplaying game system
, and I am the creator of the 
ENnies
. I also do loads of other stuff! If you're reading this, you probably followed a link from one of those things!
WHAT DO I GET?
You'll get one or two
One Page Adventures
per month. I will be releasing these online in PDF format.
One-page adventures are short and to the point. As an exercise in writing economy, they are distilled down to the very basics. Monsters and NPCs always use standard stat blocks referenced in
bold
(the usual 5E style), and area descriptions are kept to the bare minimum. For example, Two-Lips' farm in the first adventure,
The Business of Emotion
, is described thusly: "Flower fields and a small farmhouse. TWO-LIPS, a gnome
noble
, directs a crew of six gnome 
commoners
."
Some examples (and there are many more):
A gnome farmer infects a village's water supply with a love potion!
Infighting bullywug tribes and elemental totems cause an expanding desert!
Christmas presents stolen by a tribe of goblins must be recovered!
Undead dinosaurs in a sunken city seek to reclaim their lost lands!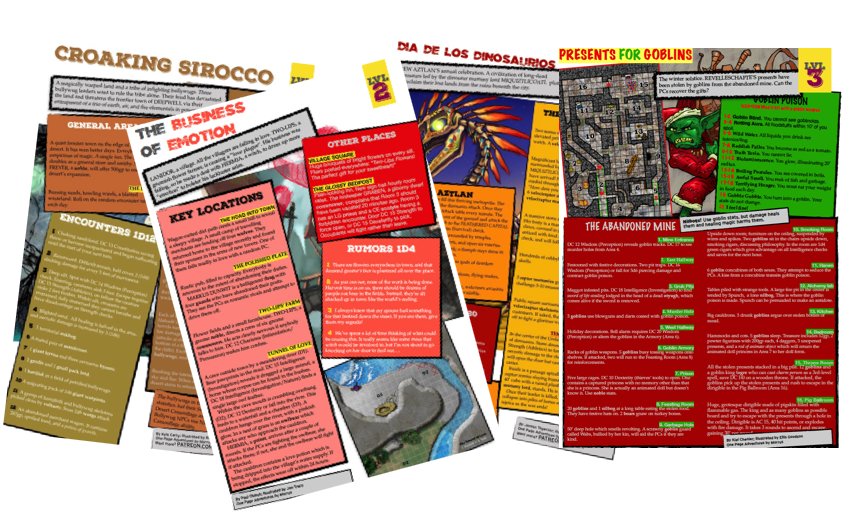 HOW OFTEN?
These adventures are coming out monthly. 
NOT JUST DnD
The short nature of these adventures make them super-easy to convert on the fly to other systems. I've run them in WOIN and Pathfinder with no preparation required. You will find you can run them in your system of choice, likely on the fly.
HOW MUCH IS IT?
That's up to you! Patreon is a "pay-what-you-want" subscription model. YOU decide what these are worth to you. I have suggested a couple of amounts - from a cup of coffee up to a decent meal - which should suit a range of budgets. But it's your decision. What's a one-page adventure worth? I would say, though, that a cup of coffee costs between $3 and $6 depending where you are in the world, and each of these takes me many hours to make!
You get it ALL no matter how much you choose to pay! As always, only pay what you think it's worth!
And don't forget, if you change your mind, you can cancel at any time. There's no obligation!
WHEN DO I PAY?
You pay the amount you pledged as a patron each time I post a new
One Page Adventure
. Of course, you may cancel at any time. Patreon charges you at the end of each calendar month. So if you pledged $5, you'd pay $5 each time I post a new adventure. The amount is up to you - whatever you think it's worth.
WHO MAKES THESE?
Some of these adventures are converted from longer adventures I have commissioned from other writers elsewhere (you can see the original creator of each at the bottom of the adventure), while others I will write myself. The layout is my own work, as is the conversion and distillation. I have a whole bunch lined up for now, but later I will be asking Patrons what adventure topics they want next.
CAN I SEE AN EXAMPLE? 
Of course you can! Just scroll down and you'll see the latest One Page Adventures. You can grab them for free, but I would really appreciate your support! If you like these, please do become a patron. You can pay what you want - every bit helps. 
When I reach 150 patrons, I will release THE HAUNTING OF CALROW RUINS. A site-based adventure where the PCs are tasked to clear a haunted castle. But what lives within the Grim Tapestry? Based on the adventure by Aaron Infante-Levy.
2 of 2
By becoming a patron, you'll instantly unlock access to 26 exclusive posts
By becoming a patron, you'll instantly unlock access to 26 exclusive posts
How it works
Get started in 2 minutes