Jennifer Shiman of 30-Second Bunnies
is creating World's End Detective Agency, a graphic novel.
Select a membership level
Pledge $1 or more per month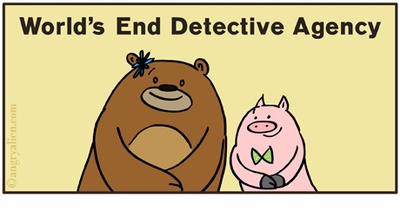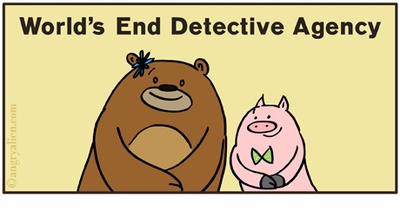 BIG thanks for supporting + joining me as I draw and write my new graphic novel project: World's End Detective Agency. You will get exclusive access and first peeks at weekly art and process posts.
About Jennifer Shiman of 30-Second Bunnies
Greetings, Everyone! Jennifer Shiman here, creator of 30-Second Bunnies Theatre.
In Fall 2020, I began work on a new graphic novel idea called World's End Detective Agency. I am super excited to share the process and art with you as I explore this new place.
In March 2020 I wrapped up two wonderful seasons of bunnies! Since 2018,
thanks to the ongoing support of amazing viewers like you,
 I produced TWO additional seasons* of re-enactments. In 2019-2020, the bunnies and I completed our first-ever re-enactments of TELEVISION episodes in partnership with TV news site Primetimer.com! Now I shift from 30-Second Bunnies content to...Building a new world! And I hope you'll join me as I bring Avery Bear and Bob Honkensnoot to life.
As a patron of my work, you not only help me offset business costs...You get EXCLUSIVE access or first peeks at process posts and the art I make along the way. As always, view all 95+ (!!!!) of my bunny re-enactments, ad-free, at 
30SecondBunnies.com
(aka my
angryalien.com
umbrella site). I hope you'll consider supporting me as I make new content — after wrapping up an amazing two bunny seasons. Now let's go crack ourselves up, shall we? :D
***
*THE 2019-20 TV-BUNS SEASON WITH PRIMETIMER.COM
1. Animated announcement about our upcoming 5 titles: 
LIVE
!(premiered for patrons February 15)
2. GAME of THRONES breakout episode: "The Red Wedding + Arya's Revenge" ...
LIVE
!
3. STRANGER THINGS breakout episode: S1 Ch1 
LIVE
!
4. THE WALKING DEAD Season 1 Episode 1 "Days Gone Bye": 
LIVE
!
5. The Seinfeld Festivus episode (S9 E10 "The Strike"): 
LIVE
!
6. VIEWERS' CHOICE..The original Twilight Zone (S5 E3 "Nightmare at 20,000 Feet"): 
LIVE
!THE 2018 BUNNIES' SEASON1.
When Harry Met Sally
(release date: Valentine's Day 2018)
LIVE
!2.
It
(2017)
(release date: 04/20/18)
LIVE
!3. Poltergeist
(release date: 06/29/18)
LIVE
!4.
Silence of the Lambs
(release date: 09/07/18)
LIVE
!5.
Young Frankenstein
(release date: 10/29/18)
LIVE!
6. A Christmas Carol 1951
(release date: 12/21/18)
LIVE!
How Patreon works: 
When you join as a patron, you receive exclusive access as I share with you my process and output of discovering what lies inside my brain :DFunding from monthly patrons such as your fine selves make it financially possible for me to generate creative and entertaining cartoony stuff in an ongoing, sustainable way! You get charged once per month, and you can cancel at any time. Patreon accepts international payments, too.
Funds generated here
help me cover: Business expenses (software/hardware and updates; voice actors, royalty-free sound effects and music; insurance, webhost, Vimeo, etc.); Life expenses (food, shelter, etc.); and the time to create additional content such as this Easter egg from the Jaws bunnies re-enactment:
If you prefer to contribute to me and my creative explorations using Paypal instead, 
here's the donation link
!  (You can 
email me directly
about still reaping corresponding rewards mentioned here, and we will figure it out accordingly.)
By becoming a patron, you'll instantly unlock access to 232 exclusive posts
By becoming a patron, you'll instantly unlock access to 232 exclusive posts
Recent posts by Jennifer Shiman of 30-Second Bunnies
How it works
Get started in 2 minutes