Danny, the 3D Printing DM
is creating 3D printing videos & content for tabletop gamers
Select a membership level
3D Printing DM Apprentice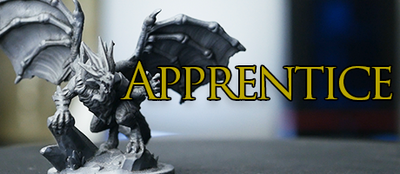 Thank you for your kindness, and welcome to the Order of 3D Printing DMs, Apprentice! You get:
Patron-only updates & behind the scenes content 
3D Printing DM Knight
 You are a KNIGHT of the Order of 3D Printing DMs!  You receive all of the previous awards, and more, including:

Access to the private 3D Printed Tabletop Facebook Group (The Order of 3D Printing DMs) where you have direct access to me (and the rest of the group) for help and ideas. Connect with other 3D printing & tabletop enthusiasts, and share your prints & ideas!
Get most videos early, days or hours before public release
Patron-only updates & behind the scenes content 
3D Printing DM Hero
You are a Hero of the Order of 3D Printing DMs! You've earned the previous rewards, as well as the following:

Includes
Periodically vote on future video topics
Access to the Patron-only FB Group
Get most videos early, days or hours before public release
Patron-only updates & behind the scenes content 
About
Hi there! Danny, the 3D Printing DM, here. First of all: THANK YOU! Seriously, thank you for caring enough to check out my Patreon page. 
About Me & 3D Printed Tabletop
I love 3D printing, and I love tabletop gaming, and combining those two hobbies has brought me a lot of joy - joy which I've tried my best to share with others ever since starting 3D Printed Tabletop.
I cover a lot on the channel including 3D printing tutorials, printer reviews, convention trips, and lots and lots of amazing models shown by sculptors in our own community who help make our 3D printing tabletop community what it is today.
Through the channel I get to support as many creators in the community as possible, in addition to trying and testing out new methods, materials, and printers as often as possible - to help you make the best decisions possible, and avoid some of the challenges I had when I first started printing terrain and miniatures for my games.
Why Patreon?
On 3D Printed Tabletop I always publish 2-4 videos a month, and that isn't going to change anytime soon. I've always wanted to do this full-time, and started making models with amazing community modelers last year to start moving towards that goal while giving back to our community after launching our first kickstarter, 
the Lost Dragons
. Through this Patreon I hope to come a bit closer to being able to support this community full-time and make even better videos, better content, and even better models outside of YouTube and Patreon as well. 
Patreon will allow me to do the following:
Connect more closely with supporters of the channel 

Continue publishing videos without relying on sponsorships & ad revenue - allowing me to focus on actual creators & contributors in our community
Invest in better equipment & tech to improve the content on the channel for viewers
Become a full-time content creator some day! 

Why Support 3D Printed Tabletop
My focus is to inspire others to use 3D printing to make their tabletop games better, more engaging, and a funner experience for others and the players at those tables. Since launching the channel, I've done everything I can to contribute and add value to our community towards that end. After building the largest 3D printing for tabletop gaming community on Facebook, and after launching a succesful Kickstarter in late 2018, I feel we've done a lot to help bring 3D printing tabletop gamers together over our mutually shared hobby and really cool projects.   
I love making videos, and am passionate about this kind of content. I want to continue to make the quality of these videos even better while still being able to keep growing the community as well. This has taken considerable time and effort, and doesn't even factor in the cost of materials that I want to bring to the channel more often. 
tl;dr:
I want to keep building this amazing community of 3D Printing & tabletop gaming enthusiasts, hopefully full-time some day, and I want to have more opportunities to connect with supporters of the channel as well.
If you've learned, been inspired by, or appreciate the kind of content I make, this is a great way to support my channel and ensure I can keep doing it. 
Big hug,
Danny

We made it - our first goal! With this goal unlocked I'll be able to upgrade my video camera & buy a better lens, which means better video shots & quality! 
1 of 5
By becoming a patron, you'll instantly unlock access to 15 exclusive posts
By becoming a patron, you'll instantly unlock access to 15 exclusive posts
Recent posts by Danny, the 3D Printing DM