8H51 arthouse films
is creating short films, art/travel/fashion videos, dreamscapes &photographs
Select a membership level
The 8h51 Patreon feed
Thank you for supporting me, independent film, art, and all good things in search of truth, beauty & immortality ! You get access to all my writings, photos and to some films from the archives that I have never published/released before !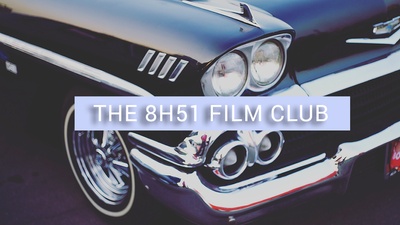 The 8h51 film club
You get access to my Patreon stream + ALL FILMS & VIDEOS (including those currently in festivals) with secret passwords
The 8h51 Insider View
You get access to all written posts, videos AND an insider view -meaning access to behind-the-scene material, scripts and production notes/photographs/etc associated with each film I post!
About 8H51 arthouse films
Hello ! My name is Marie-Michèle; and I was born at 8:51 a.m -which explains the strange name I have chosen for my label, as my creative parents&friends have documented every single one of my birthdays with me posing next to the clock. If ya need a proof, please enjoy a few of those mortifying shots in the intro video above!

I am a "multi-hyphenate creator", which seems to be the thing to say at film festivals these days; I create films in an unconventional way, developing a script as I go, working with non-actors, prioritizing 'the moment' and getting inspired by how the wind blows instead of falling prey to predetermined shot lists. This artistic method of creating makes it trickier to apply to grants, or to get produced by a studio. This means I usually self-finance my projects, I do trades, and I have to get really creative with my resources. This also means I have TOTAL ARTISTIC FREEDOM, and that I get to work with people who want to be involved, feature people who deserve to be featured even if they don't have a big social media following (keep an eye for an upcoming post on how I put together my 'Women of the West' soundtrack), and usually arrive at a level of authenticity and organicness (I do realize this is not a word) on both the emotional and creative scales. I think another nice way to describe it is 'artisan filmmaking'. I look to Méliès and Picasso for inspiration more than from big name film directors. Besides for Baz Luhrmann. I love Baz Luhrmann.

So, the year is 2019, and in fact it's nearly 2020, and the time has come for me to step up my game. My latest project was my biggest thus far - 'Women of the West' was my first narrative piece EVER - literally the first project where I wrote a script, used dialogue, and a professional actor to play the lead. And whilst there is vast room for improvement, my little debut still got me in the door to pitch and network at major festivals, got me a meeting at Disney, and got me to exponentially expand my network. I have been loving getting to know the film&TV industry - and who knows what may come. But there is one thing I do know for sure: I am not about to stop creating my own personal films the way I do, anytime soon.

And for that, I need help. Cue in Patreon, and a few things I may share with those who will feel inspired to support me. I promise to give it my all, to share all that I can, and to be the best I can be. Every dollar helps, it's not about crazy amounts, it's about regularity. This is why I am creating this account - so that I may share my work more often, round up my community, and gain the resources necessary so that I may have the freedom to be a more prolific creator, while having a platform to share my work - and my passwords (film festivals don't accept works that are online, so passwords will be shared here :)).

THANK YOU, thank you, thank YOU !!!
All aboard the Hogwarts express ! Once we reach this first goal, we'll have the basic expenses covered - like an Adobe Creative Cloud subscription (editing software), Vimeo Pro (video hosting, essentially the professional version of YouTube), IMDB, as well as website hosting and FilmFreeway accounts so that I may have more time to devote to crafting the images, sounds and characters that will appear through those portals !

1 of 3
Recent posts by 8H51 arthouse films
By becoming a patron, you'll instantly unlock access to 8 exclusive posts
By becoming a patron, you'll instantly unlock access to 8 exclusive posts