ARTmuffin
is creating Mystical and Weird Art
Select a membership level
ARTmuffin Patron
Level 1: Every bit helps! I'll post your name on my Facebook page with a "thank you" for being a patron. You also have access to 'work in progress' pics and a 10% discount in my shop. Thank you!

ARTmuffin Tribe Member
Welcome to the Tribe: Access to bi-monthly releases of high resolution, printable 5" x 7" images, videos, and more...

Patron-only access to print-quality, digital PDF's of my artwork (my choice) that you can print for yourself at home (for non-commercial use only). Every other month you'll gain access to a new 5" x 7" high resolution image that you can download and print, then frame and hang in your own home for free! It's like getting printable, weird art sent to your inbox six times per year! 
15% OFF prints in my shop with the super secret code made just for you.
Patron-only access to 'work in progress' shots PLUS the full, final version before it's posted anywhere else. Yes, before I post it on Instagram (artmuffin_studio) or Facebook, you get to see it. Welcome to the Tribe. 
Full Patron-only access to all of the hyperlapse videos of my work during the process so you can see for yourself how I work. You'll see videos of my painting both traditionally with acrylic paints and other media as well as digital painting in Photoshop. I'll also list any materials that I've used so you can use that info to make your own great art or just learn more about how this stuff works. 
A personalized 'thank you' postcard and sticker sent to you in the mail, so please provide your mailing address info when you become a Patron!
About
Why become a patron?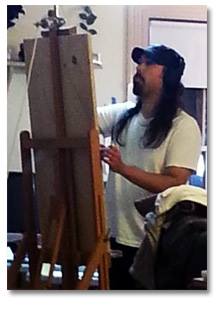 Hi I'm ARTmuffin. An artist in Western Massachusetts. I've shown work in magazines, books, and galleries in fun places like Chicago, Brooklyn, Brattleboro, and more. I sell a large portion of my art at conventions and really enjoy meeting the people and chatting about art and all matter of things good and weird.
Here's a breakdown of things you get as a patron.
As a $5+ patron you'll receive a high resolution printable pdf of one of my 5"x7" prints (my choice) every other month! Plus, you'll have first access to peeks at art I'm working on including 'works in progress' pics. You'll also gain access to exclusive content such as complete videos (usually time-lapsed) of my work and process. I'll also provide a list of tools used for that particular piece so you'll know exactly what was used for each. Some work will be digital and some traditional so it will be a nice variety of information for you. When painting with real-world (not digital) media I generally use acrylics and ink so that would be the focus. Digital painting is almost always done in Photoshop but occasionally I use Illustrator.
$5+ Patrons get a 15% discount on prints in my shop at artmuffin.storenvy.com using the super secret awesome Patron code that I'll provide once you become a Patron. $1 Patrons receive a 10% discount.
$1 patrons have access to 'work in progress' pics and vids but do not have access to digital prints or complete videos. You also receive a 10% discount on prints in my shop at artmuffin.storenvy.com.
What am I working on?
My current work is focused on pieces for some upcoming horror conventions where I'll have a booth set up (Scare-A-Con, CT Horrorfest, NecronomiCon, Rock and Shock) but I'm also working on a new oracle deck and my ongoing series entitled Pages From the Book of Gosh. There's a bit of variety in this lineup so things will stay fresh and provide a good range of media and process used. 
Any amount of support is always appreciated. Money from Patrons gets put back into the studio in the form of art supplies, software, hardware, and whatever else I may need to keep things running smoothly in order to create content and keep it flowing to you! If you have other questions please feel free to contact me.
And of course, please follow me on social media and check out my Prophecy Cards. The Prophecy Cards are like an oracle deck (way easier than tarot). You ask a Yes or No question and flip a card for an answer. For additional info you can flip other cards that are answers to When, Why, How, and Why Not?:
http://artmuffin.com/
https://www.instagram.com/artmuffin_studio/
https://www.facebook.com/artmuffinstudio/

http://prophecycards.com/
By becoming a patron, you'll instantly unlock access to 42 exclusive posts
By becoming a patron, you'll instantly unlock access to 42 exclusive posts
Recent posts by ARTmuffin