ARTmuffin
is creating the Planet COVID-19 Field Journal, mostly.
Select a membership level
ARTmuffin Patron
Level 1: Every bit helps! I'll post your name on my Facebook page with a "thank you" for being a patron. You also have access to 'work in progress' pics and a 10% discount in my shop. Thank you!

ARTmuffin Tribe Member
Welcome to the Tribe: VIP early access to art journal entries before I post them on social media! Plus, videos and discounts in my shop...

15% OFF prints in my shop with the super secret code made just for you.
Patron-only access to 'work in progress' shots PLUS the full, final version before it's posted anywhere else. Yes, before I post it on Instagram (artmuffin_studio) or Facebook, you get to see it. Welcome to the Tribe. You'll receive an email every time I post a new entry, or get the push notification if you install the Patreon app. Manage your settings at any time to control how you receive updates. 
Full Patron-only access to select hyperlapse videos of my work during the process so you can see for yourself how I work. You'll see videos of my painting both traditionally with acrylic paints and other media as well as digital painting in Photoshop. I'll also list any materials that I've used so you can use that info to make your own great art or just learn more about how this stuff works. 
A personalized 'thank you' postcard and sticker sent to you in the mail, so please provide your mailing address info when you become a Patron!
About ARTmuffin
Why become a patron?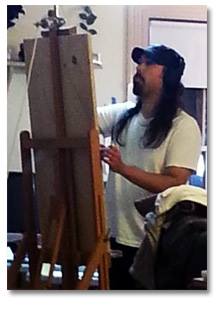 Hi I'm ARTmuffin, an artist in Western Massachusetts. I've shown work in magazines, books, and galleries in fun places like Chicago, Brooklyn, Vermont, Massachusetts and more. Since May of 2020 I've been creating what I call the Planet COVID-19 Field Journal. In it, I draw things or places that I see and reflect on them from the perspective of the earth being a new planet due to the global pandemic that we're all going through. I try to keep it on the lighter side and bring in some sci-fi imagination and comedic paranoia in an attempt to look at things a little differently or just crack a smile. This is not a detailed record of events that are happening. This is not just an illustrated version of the news. It's just one artist's perspective on another way of looking at the planet we're trying to live on every day. I know that there are very serious things going in the world during this pandemic. People are losing loved ones and struggling with finances and there is much racial tension. I am not trying to discount that in any way. I think that this journal is my own kind of therapy for helping me get through it all. There is always so much to think about and consider. These pages are my way of taking a moment to reset, to remember what's important, to take another look, rethink, regroup, breathe. I hope you enjoy them as much as I enjoy coming up with and creating them.
As a $5 or more per month Patron:
You get early access to every post of a journal page. I usually finish the pages the evening before I post them the following day. As a $5+ Patron you will be notified via email (and push notification if you have the Patreon app installed) whenever I post a new journal entry. You get to see the art first! Everyone else has to wait until the next day. You'll also get first access to any videos that I post on social media. I will do some time lapse videos and/or real time videos of the process of creating journal entries and you'll be the first to know and have exclusive access for a limited time. If there is a call for it I'm happy to discuss materials used or general Q&A if requested.
Also, of HUGE importance.....you'll be funding my upcoming project of getting a full book of the journal entries into print! I've recently started scanning all of the individual pages and am researching ways to go about printing a full sized journal in the same format as the original so you'll have access to a physical copy that's as close to the originals as possible.
$5+ Patrons get a 15% discount on prints in my shop at artmuffin.storenvy.com using the super secret awesome Patron code that I'll provide once you become a Patron. $1 Patrons receive a 10% discount. Please note, most of the prints in my shop are of my previous yet ongoing series entitled Pages From the Book of Gosh.
$1 patrons have access to 'work in progress' pics and vids but do not have access to digital prints or complete videos. You also receive a 10% discount on prints in my shop at artmuffin.storenvy.com.
What am I working on?
As I mentioned above, my current focus is on the Planet COVID-19 Field Journal as I feel it's relevant for the time. My previous work focused on pieces for my ongoing series entitled Pages From the Book of Gosh and my Prophecy Cards oracle deck. There's a bit of variety in this lineup so things will stay fresh and provide a good range of media and process used.
Any amount of support is always appreciated. Money from Patrons gets put back into the studio in the form of art supplies, software, hardware, and whatever else I may need to keep things running smoothly in order to create content and keep it flowing to you! If you have other questions please feel free to contact me.
And of course, please follow me on social media and check out my Prophecy Cards. The Prophecy Cards are like an oracle deck (way easier than tarot). You ask a Yes or No question and flip a card for an answer. For additional info you can flip other cards that are answers to When, Why, How, and Why Not?:
http://artmuffin.com/
https://www.instagram.com/artmuffin_studio/
https://www.facebook.com/artmuffinstudio/

http://prophecycards.com/
By becoming a patron, you'll instantly unlock access to 111 exclusive posts
By becoming a patron, you'll instantly unlock access to 111 exclusive posts
Recent posts by ARTmuffin
How it works
Get started in 2 minutes