AWE Studio, ArtWithEveryone
is creating Drawing and Painting Tutorials for all ages and skill levels!
Select a membership level
Invitation: Coloring Outside the Lines!
Please accept my invitation and gift of art practice in your life! I'll remove the most common challenges to doing art; 1) time 2) money 3) materials! All you'll need is a few minutes, $1 per month, and any piece of paper plus red, yellow and blue colors (any medium)! Think of these videos as a waking color meditation to relieve stress, fill you with wellbeing, and give you confidence. 

Inspiration: Art for All Ages and Levels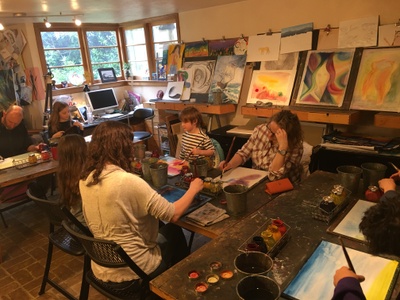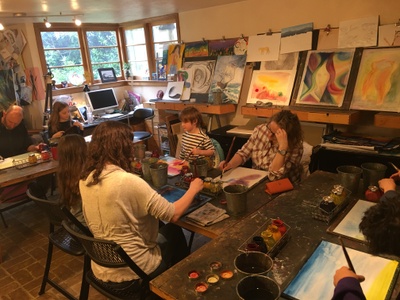 Everyone from children, teens, adults and those with special needs will create paintings and drawings that build confidence with art techniques. This is where to start to get inspired! 

Each month you'll get:
* One drawing exercise video per month using red, yellow, and blue. 
* One more advanced drawing or painting tutorial introducing new techniques and themes.
* Complete explanation of recommended materials and explanations of how to use them.
* Access to example pictures.



Imagination: Painting & Drawing Pictures
Everyone will develop imagination through a wide variety of painting and drawing techniques including watercolor, charcoal, portraiture, pastel, acrylic, oil, and veil painting (watercolor glazing). 

Each month you will receive:
* All the benefits from the Invitation and Inspiration tier. 
* An additional video tutorial with me teaching you a painting or drawing in one of the above more advanced art techniques - often an expansion on the lesson in the Inspiration tier.
* Access to my email address to answer your questions personally. 

About AWE Studio, ArtWithEveryone
 In 2007 my life as visual arts teacher was unexpectedly downsized! I decided to develop my career as an Artist/Educator. The moment I decided to devote myself to helping children, teens and adults from beginners to professional artists and those with special needs create beautiful paintings and drawings, I knew the name of my studio in Seattle would be AWE Studio, ArtWithEveryone. Now I'm excited to invite you to fill your life the joy of self-expression by experiencing how practicing art stimulates confidence and well-being. 
I'm passionate about helping everyone develop their artistic talent. My students learn to transform painting and drawing materials into beautiful expressions of pictures that enliven their inner being. In addition to gaining skills in a large variety of visual art techniques, I'll teach you my unique approach of seeing colors and tonal spaces as images (like seeing imaginations in the clouds) instead of merely copying outlines. I'll teach you to access your imagination in ways you never thought possible!
What I love most about working with students is knowing literally EVERYONE can learn to create beautiful art with my instruction! So even if you can't come to the studio in Seattle, please join me here and become a Patron of AWE Studio, ArtWithEveryone. I would love to connect with you and help you learn to access an endless source of inspiration by developing your imagination and intuition through drawing and painting.
https://www.youtube.com/watch?v=Eobu2mwESYY
By becoming a patron, you'll instantly unlock access to 136 exclusive posts
By becoming a patron, you'll instantly unlock access to 136 exclusive posts
Recent posts by AWE Studio, ArtWithEveryone
How it works
Get started in 2 minutes