Aaron
is creating Musical Medicine
Select a membership level
Patreon VIP
Sign up for Patron-only VIP access for just $1 per month and you get Exclusive Access to my patron-only feed where you'll receive new music, videos, and personal blogs from me regularly & before anyone else in the Universe! Plus + My eternal gratitude and appreciation. Thanks!
Music Lovers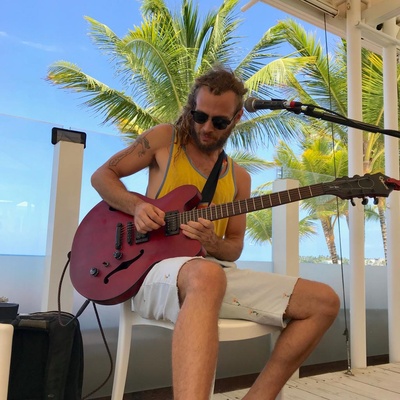 Unlock access to my Patron only feed + 
3 digital album downloads 
My debut EP, "Steppin' Stones" 
The underground "Bottles & Blues Band EP" ft. FreedM. 
Latest BEND EP: a lofi-project
exclusive access to content
About
Dear Co-Creator,
Hi ! I'm Aaron Matthew. Thanks so much for joining me on this journey. I am honored by your interest in me and my music.
Before anything else, I greet you with gratitude and appreciation just for your presence. Blessings !!!
About Me
I'm an independent artist, musician, singer, songwriter, and author. As a multi-dimensional creator, I'm blessed with the opportunity to be a part of humanity and the incredible wonder that is being.
In 2012, I sold all my possessions and moved to a foreign country where I didn't know anyone and didn't speak the language. Now, in 2019 I'm still here, but I'm also touring the US every year! You can read more about my bio, read blogs, listen to music, and more on my website at
www.aaronmatthewmusic.org
How Patreon Works
Patreon is a platform that gives fans access to the musicians, artists, and creators they love. Patrons can engage, interact, directly support, and cultivate personal relationships with their favorite creators on Patreon. 
Why I'm on Patreon
Music has the power to bring order out of chaos, light to darkness, joy where there is sorrow, healing where there is hurt, and love where this hate. The support that Patrons provide helps me to spend more time creating music that has a positive message and uplifting vibe.
I launched my Patreon page in 2018 to help fund my debut EP "Steppin' Stones". The music on the EP is a unique blend of hiphop, jazz, and rock with positively charged lyrics that are thought provoking, inspiring, and empower humanity to awaken.
I keep Patreon going as a way to help me make a living as a artist, musician, and writer, and also it's a great way to connect directly to the people that enjoy my art. That's something I enjoy the most, connection. 
So, thanks for stopping by my Patron page. Take a look around and check it out and if you wan to support my creations then please consider signing up for just $1 per month or more. You can get the details on what I'll be sharing here on my Patron time-line below, or the benefits descriptions on this sign up page!
Blessings !!!!
In gratitude,
Aaron Matthew
New Year, new music! It's time to make more music. I'm setting a goal of $500 to help me mix and master the tracks that will be going on the album. 

Stay tuned for updates about the 2019 release! 
1 of 1
Recent posts by Aaron
By becoming a patron, you'll instantly unlock access to 25 exclusive posts
By becoming a patron, you'll instantly unlock access to 25 exclusive posts