Adeem the Artist
is creating his way through cultural trauma.
Select a membership level
A Bird Without Ears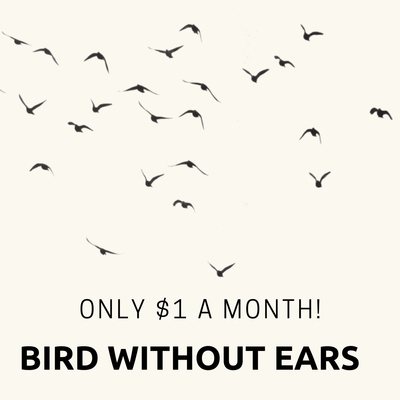 You want to support Adeem the Artist in his endeavor to write emotive, evocative songs but you don't really want to listen to them.
the official "I'm in the flock" vinyl sticker 
access to one helping a month of the Sundy Fixin'
all the gratitude I ever had
Hungry Bird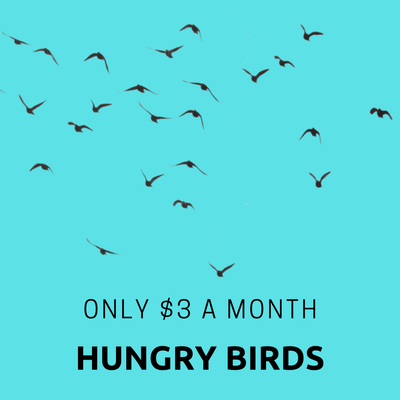 You're a bird who wants in on the weekly songs. "Give them to me," you say, "Chew them up and spit them into my mouth please mama adeem."
 So you'll get: 
the official "I'm in the flock" vinyl sticker 
a fresh song every week from the Sundy Fixin'
Giggle Bird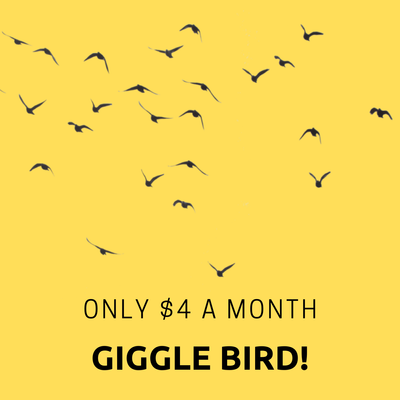 You're a bird who wants the weekly songs but you also want some laughs so imagine that I've regurgitated some softly chewed worms into your mouth but you're kind of bored so you're like OK that was a fine dinner but how's about a little show to go with dinner? here's a tiny monthly podcast.
 So you'll get: 
the official "I'm in the flock" vinyl sticker 
a fresh every week from the Sundy Fixin'
a new episode of the Birdcast every month
About
Hey Y'all
Welcome to the flock of hillbilly poet & makeshift songster Adeem the Artist. The first collection of songs I wrote and recorded was in 2004 and since then I've mostly been trying to get better at it. There is space here to be occupied by folks who are interested in my songs or in my perspective and, in turn, space for me to be exposed to all of your magnificence.

When you join the flock you will receive your official flock badge (a vinyl sticker) for you to proudly display on your bicycle, automobile, or water jug of choice. You'll also have immediate access to all the Sundy Fixin's and Birdcast's so far right at your fingertips. Hear new songs weekly with a Sundy Fixin' or hear me bullshit with a pal over a Birdcast.


Bio
Adeem is a seventh-generation Carolinian, a makeshift poet, singer-songwriter, storyteller, and blue-collar Artist. Blending a homegrown affection for Country Music with the emotional turmoil of alternative folk in the early aughts, he has created a unique brand of Americana that pays homage to John Prine and John Darnielle (of The Mountain Goats) in equal parts.

Imbued with the ancestral traces of southern music and colored by a palette ranging from lo-fi anti-folk to post-punk, the songs traverse the vast compass of human emotion. Whether opining on the disparity of "hooch" and "booch" in the collision of generations or straddling the duality of being a "blue collar boy" who is a "complicated dame," Adeem excavates unwonted stories of the forgotten south.

Sundy Fixin'
Every Sunday, I'll be releasing a new song. Could be brand new, hot from the cast iron, or a new recording of an older song, a rewrite, a cover, or a deep cut from 15 years ago I stumbled across and decided I wanted to share. Sundy Fixin' is a hodge podge: an exploration of the music that's defined my journey so far and my uncovering more of what it means to be in & of Appalachia.


The Birdcast
The Birdcast is a podcast that I will be releasing once a month. A few years ago, I found myself in a friendship with an old timer named Bob. I was working as a CNA and I would go make eggs and bacon for Bob and we would watch the birds outside on the feeder.

I tried to quit but Bob wouldn't let me and he would often tell me I was like a son to him. I considered him quite close even though I never let on that Rush Limbaugh was not the hero to me that he was to Bob. Bacon & eggs out in Strawberry Plains became a refuge for me that I miss dearly.

The Birdcast is now a space for me to revisit the lazy weekend dialogue of southern folk at the corner store. I'm gonna use it to catch up with some buddies about what they're learning or reading or laughing about.


Come On In!
This nest is wide enough for birds of all feather and squawk. Join us for Zoom Conference live shows (think house concerts from your mobile or computer), monthly podcasts, weekly music, and general banter ranging from poetry to reflection on everything from Apostasy, Cornbread, Star Trek, and the importance of hydration.

When we reach 100 followers, I'll have some high quality videos filmed of me playing some new songs and will share the lossless audio exclusively on Patreon. 

2 of 3
By becoming a patron, you'll instantly unlock access to 111 exclusive posts
By becoming a patron, you'll instantly unlock access to 111 exclusive posts
Recent posts by Adeem the Artist
How it works
Get started in 2 minutes