Select a membership level
Get exclusive patron-only merch
Basic
Exclusive updates for Patrons only (production insights, exclusive LIVE Q&As, behind-the-scenes & more)

Get a Be My Cat Sticker (global shipping included, produced & delivered by Patreon after 3 months of contribution)

Watch or rewatch Be My Cat: A Film for Anne anytime via private screener (for free, no ads, max quality)

Monthly advance towards the credits in the next levels (in 3 months you get a Thanks credit in my upcoming movie)
Silver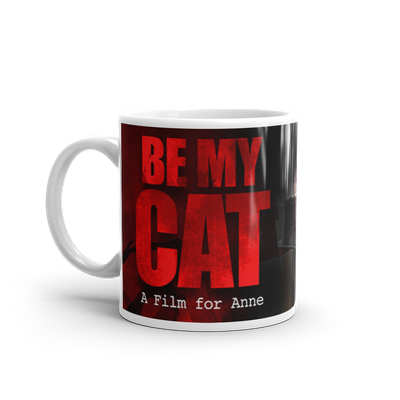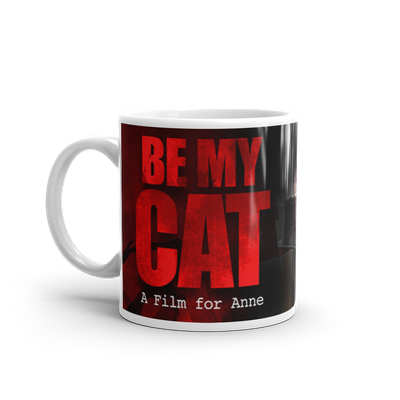 Thanks credit (onscreen & IMDb) in my upcoming movie We Put the World to Sleep

Get a Be My Cat Ceramic Mug (global shipping included, produced & delivered by Patreon after 3 months of contribution)

Watch We Put the World to Sleep and Be My Cat: A Film for Anne anytime via private screeners (for free, no ads, max quality)

Exclusive updates for Patrons only (production insights, exclusive LIVE Q&As, behind-the-scenes & more)

Monthly advance towards the credits in the next levels (in 10 months you get a Patreon Producer credit in my upcoming movie)
Gold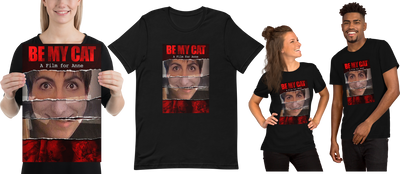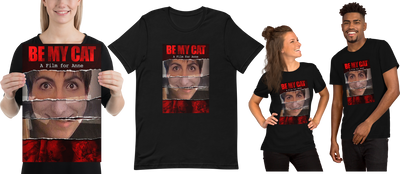 Get a Be My Cat T-Shirt (see sizes below) and a Be My Cat Poster (global shipping included, produced & delivered by Patreon after 3 months of contribution)

Special Thanks credit (onscreen & IMDb) in my upcoming movie We Put the World to Sleep

Watch or rewatch anytime my entire trilogy via private screeners: Be My Cat, We Put the World to Sleep, Pure (for free, no ads, max quality)

Exclusive updates for Patrons only (production insights, exclusive LIVE Q&As, behind-the-scenes & more)

Monthly advance towards the credits in the next levels (in 10 months you get an Associate Producer credit in my upcoming movie)
Includes
Exclusive Poster -

Be My Cat Poster

Exclusive T-shirt -

Be My Cat Black T-Shirt | Sizes: XS S M L XL 2XL 3XL 4XL
About Adrian Țofei
Hi, everyone, I'm an independent 
filmmaker & actor
, I made Romania's first found footage horror movie, 
Be My Cat: A Film for Anne, 
which won multiple awards and critical acclaim and is now considered a cult film, I'm currently editing my second indie feature, 
We Put the World to Sleep
, and I'm also developing my third indie feature, 
Pure
, which together with
Be My Cat
and
We Put the World to Sleep
will form an ambitious, ultra-realistic and metaphysical indie trilogy. 
Why do I need your support on Patreon?
My filmmaking method usually consists of working for months on an alternative psychological reality for the actors including myself, partially living in character, so that when we start improvising, I mainly need to record the unfolding events and to make sure the improvisation goes in the right direction. The script mostly consists of plot points. I shoot tens of hours of footage guerrilla style and then I watch the footage like a documentary filmmaker would and I create the details of the story in post-production during a long editing process.  
This method of filmmaking leads to incredibly creative and realistic results in terms of both acting and storytelling, but it's almost impossible to work in the system this way. Since there's no traditional script, I have no traditional ways to convince investors and production companies to finance my films, other than the success of my previous works. Therefore I rely on your support: the people who appreciate my films and trust my method. Your monthly contributions are essential to my survival as an indie filmmaker working outside of the system.
I usually do crowdfunding campaigns to raise the movies' budgets, but those are not designed to support me during all the months of continuous development and editing. Most of the time I work 12 hours a day and there's no way for me to have another paid job, otherwise I wouldn't be able to finish my films. Therefore I depend on your monthly support to be able to continue to make uncompromising movies.
I'm also regularly researching film festivals and updating my lists of 
Top 250 International Film Festivals
and 
Top 150 Genre Film Festivals
(plus submission tips) which are used by numerous filmmakers worldwide.
What do you get for supporting me on Patreon?
You get exclusive production insights, behind-the-scenes & updates for Patrons only (never-shared info, pictures and videos) + VIP updates for cast & crew only!
You get officially credited onscreen and on IMDb, TMDb & Letterboxd with Thanks, Special Thanks, Very Special Thanks, Patreon Producer, Associate Producer and even Executive Producer!
You get exclusive merch featuring Be My Cat poster art: T-Shirts, Ceramic Mugs, Stickers, Posters, Organic Bags, Hoodies and Long Sleeve Shirts! (global shipping included, produced and shipped by Patreon after 3 months of contributions to a merch tier)
You get to watch or rewatch my movies anytime for free at max quality and no ads via private screeners, and even contribute to the final versions of my upcoming movies with your feedback! 
You get invitations to attend the movie premieres as part of the team! (travel/hotel not included)
We connect live in exclusive LIVE Q&A sessions for Patrons only! 
I'm using Patreon in an unusual way, giving film credits according to the total amount contributed, not just the monthly amount. Therefore, for example, if you contribute $15/month for the Silver level, in 10 months you also get the Patreon Producer credit listed at the $150 level.
Note: My system of giving film credits based on the total contributions does not apply to Merch. For example, if you contribute $5 for 9 months ($45 in total), you'll get a Special Thanks in my movie, but you won't get a Mug, which you can only get by contributing $15 for 3 months (even if the total amount is the same, $45). That's because giving credits is up to me, but Merch is up to Patreon.
Become my Patron today and please share! Thank you so much! 
Learn more about me: 
Official Site
| 
IMDb
| 
Wikipedia (Be My Cat)
| 
Linktree
Trailer for my first movie:
Teaser clips for my upcoming movie:
$171.65 of $500
per month
Basic Support. When I reach $500/month, I'll be able to cover half of the monthly expenses related to my film projects.
1 of 4
By becoming a patron, you'll instantly unlock access to 44 exclusive posts
By becoming a patron, you'll instantly unlock access to 44 exclusive posts
Recent posts by Adrian Țofei
How it works
Get started in 2 minutes