All Ages of Geek
is creating Anime and Show Reactions & Reviews + Geek Culture Community
Select a membership level
🎒 Academy Freshman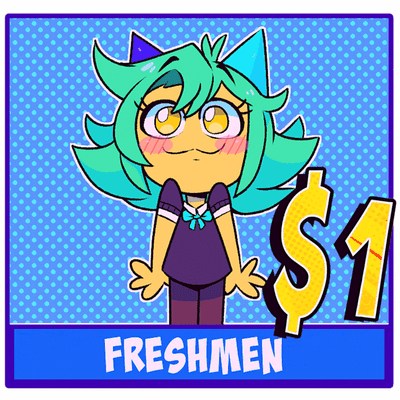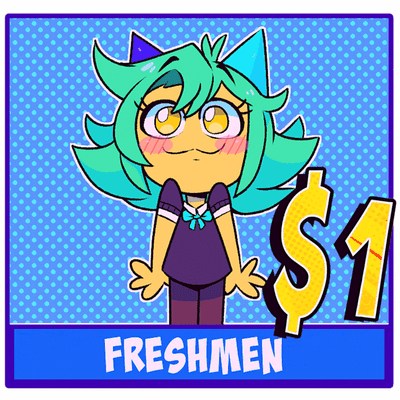 Great Tier if you want to show your support for All Ages of Geek!
Access to Homeroom Freshmen & Sophomore Section on Discord
Access to Polls
Access to Public Posts
Includes Discord benefits
🎒 Academy Sophomore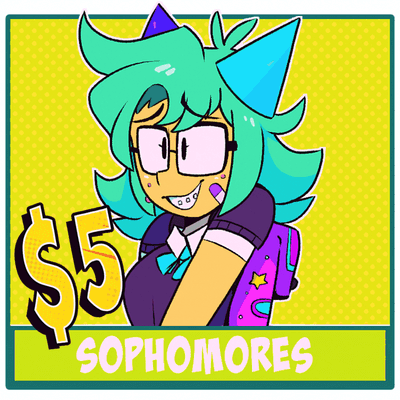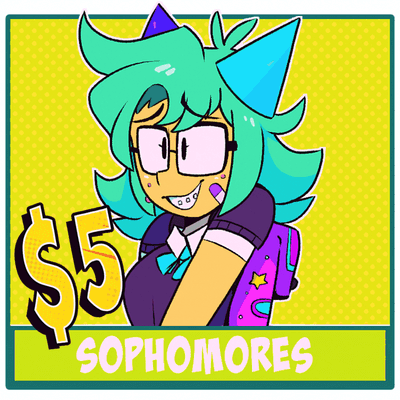 Great Tier if you want to get access to more interactive rewards!
All Previous Rewards
Access to Community Day (1 HOUR Voice Chat Event every Wednesday)
Early Access to Recommended Reaction Series from Seniors and HM List. 
Poll to unlock 10 Reaction Episodes of 1 Shounen Series per month.
Includes Discord benefits
🎒 Academy Junior
MOST POPULAR TIER! You get access to:
All Previous Rewards
EARLY ACCESS REACTIONS Weeks-Months Ahead. Reactions are Watch-Along and timer based

Access to Weekly 5+ HOURS Voice Chat and LIVE Entertainment including gaming, Live Anime/Show Reactions, etc.
Access to Junior Tuesdays a poll unlocked every month for a mini content blast
Access to FULL Discord Server
Merch Discounts
Be listed in the credits of all videos
+1 Extra Vote in Polls
Includes Discord benefits
About All Ages of Geek

Hey geeks! You have just stumbled upon our official All Ages of Geek Patreon, where you guys can get Early Access Content, behind the scenes, FULL Watch-Along content, access to the All Ages of Geek Discord Server and Exclusive 5 HOUR Events, be featured on the Instant Geek Podcast, The Shounencast and a few of our podcasts, and so much more. 

You are now known as the Instant Geeks. So get ready for your weekly and monthly perks. There's a lot in store for you!



⏩ Perks for being a Junior Tier ($10) Pledge

In total, you get an estimate between 70 to 80 extra videos EVERY MONTH and are months ahead of everyone on YouTube and the website. You get around 20 Early Access Reactions per week. Depending on your Tier Level you get to recommend content adding to the pool of content every week/month.

For our events, you get 20 HOURS of voice chat, gaming, and binge-watching every month.


★ Important to Note: All Ages of Geek LLC's Patreon is PAY UP-FRONT which means if you have recently pledged and want to avoid being charged double, be sure to repledge when the pay cycle is finished from the 1st-5th of the month. This is ONLY important for NEW Patrons and won't impact older patrons at all.

Also note that we host Watch-Along Reactions to ALL series. Please provide your own copy of the series/movie to sync up and join us. Timer and small visuals are provided for anyone who needs easier sync.
Series will update here once one finishes or if they are put on hold. Please DM us here on Patreon if you have any questions about the Reaction Backlog.

★ SUNDAY WEEKLY ANIME REACTIONS

⏩ Naruto Shippuden
⏩ Dragon Ball (ALMOST ON DBZ)
⏩ Fairy Tail
⏩ Sword Art Online
⏩ One Piece

MONDAY WEEKLY REACTIONS & REVIEWS

⏩ Kamen Rider: Gaim (NEW SERIES)
⏩ RWBY Volume 8
⏩ My Hero Academia Manga Reviews (ON HOLD UNTIL AFTER MOVE)

★ MONTHLY RECOMMENDED SERIES

Episode count will vary here based on Tier Levels! Some series get more than +5 Reactions. DM us if you need more information on how to fund a series or if you'd like to know how many episodes will post per month.

⏩ Game of Thrones
⏩ Yu Yu Hakusho
⏩ Ai Yori Aoshi
⏩ Shuffle
⏩ Kanon
⏩ Inuyasha
⏩ Rising of the Shield Hero
⏩ Skip Beat (Manga)
⏩ Kaguya-sama: Love is War
⏩ That Time I got Reincarnated as a Slime (On Hold Due to Move)
⏩ Dr. Stone (On Hold Due to Move)
⏩ Blue Exorcist (On Hold Due to Move)
⏩ Cells at Work (On Hold Due to Move)
⏩ Mobile Suit Gundam 00 (On Hold Due to Move)
⏩ Girls und Panzer (On Hold Due to Move)

★ WEEKLY EVENTS

We have Weekly Voice Chat Events on Wednesdays, Thursdays and Fridays.

WEDNESDAY: Community Day with the AAOG Crew (1 Hour)

THURSDAY:5 HOUR PATRON DAY Event with the AAOG Crew (5 Hours)

FRIDAY: Game Day with Monster Hunter: World

If you want to sign up for these events, or need help navigating around the Discord, reach out to a Moderator. Also, give us some reviews on Events and Content in our #📜testimonials section on Discord. And if you would like to HOST an event please reach out to our Moderators! We will provide you with a Google Sign-Up Form with all the information you need.

Can't wait to hang out with you! 

All Ages of Geek, LLC is an independent, entertainment and live event provider surrounding geek culture. In order for us to
stay independent and provide an impartial space where you can voice any and all opinions (so long as they follow our guidelines) WE NEED YOU. ⏩ You help us fund our equipment.⏩ You help us fund marketing and website hosting costs.
⏩ You help us produce weekly content on several video hosting platforms.
⏩ You help us fund virtual events and purchase new games for us to play together.
⏩ You help us pay streaming services like Funimation to film Watch-Alongs.
⏩ You help us keep our opinions and views independent.
⏩ You help us build our upcoming VTuber Production.
⏩ You help us fund our upcoming studio.⏩ You help us build-up our team and fund new shows and podcasts.
⏩ You keep our community and dream alive!

Reaching the Academy Event Package Goal here on Patreon will give you access to:

1 MORE DAY of Events on Discord dedicated to either The AAOG Academy Book Club or a Randomized Event Day + an Extra "Week of" content (x7 extra episodes) twice per month.
Monthly BIG Giveaways including Gaming or Anime Bundles and Discord Nitro Gifting.
FULL Movie Reactions every Monday (Not in Parts)
4 of 5
Become a patron to
Unlock 1,027 exclusive posts
Connect via private message
Recent posts by All Ages of Geek
How it works
Get started in 2 minutes