All Around This World
is creating world music videos and cross-cultural lessons for kids
Select a membership level
I agree!
By generously devoting one dollar to support each All Around This World creation you're making the statement that you agree with my musical mission.
Being in the $1 club doesn't get you access to the weekly online classes or lessons, but it does put you on the list for my private Patreon activity feed which will give you access first-look previews and behind-the-scenes insights into an ever-expanding array of All Around This World songs, homeschool and classroom lessons and full-family sing-along and dance-along videos.
I post a new creation once a week. (You can set your own monthly upper donation limit.)

Come to class!
This is where it gets good! For $2 per creation you and your kids get to "come to class" with me each week -- a full-on, fantastically fun sing-along, dance-along All Around This World online music class that you and your progeny experience together. Each week I'll send you a password to a new class that you and your kids can use explore the world.
Learn all about my online classes.
This level will get you fun aplenty but if you want more goodies check out the $3 option. If you're a school, please look at the $5 and $10 rewards below. 
I post a new class every week. You can set your own monthly upper monthly payment limit and unsubscribe any time.  
The CLASSIEST
This is the standard reward level for my weekly classes for families. For just $3, you and your kids something deeply satisfying beyond the password to the video of your very own world music class: access to the week's multimedia "try this at home" lesson, giving you the tools to take the week's featured dance or cultural celebration offline and into your living room or school classroom. Each interactive PDF includes a teacher/parent training video, background info about the countries and cultures and important teacher things like procedures, assessments, discussion questions/printable handout/common core info and loads more. Want an example of the PDF?
Teach your kids the Ugandan Amagunjju.
If you're a school, please look at the $5 or $10 options below.  
I post a new class every week. You can set your own monthly upper monthly payment limit and unsubscribe any time.  
About
If you're trying to subscribe to All Around This World's global music and world cultures curriculum for your family or school YOU'RE IN THE RIGHT PLACE. Choose the reward level that matches your situation -- $2 or $3 for a family, $5 or $10 for a school. After you subscribe you'll receive two messages from All Around This World through Patreon every week -- a post with an overview of the week's class, and an e-mail with the passwords for that week's online class video and interactive lesson PDF. Subscriptions renew weekly. You can use the Patreon system to unsubscribe any time. 
Need more information before you subscribe? Direct any questions large or small to Jay at
[email protected]
. 
***
My name is Jay Sand and I'm a musician and music teacher based in Philadelphia, and I wholeheartedly believe that
what we teach our kids about the world matters
.
I believe that introducing our children to the great wide world is
essential
to raising them to be kind, thoughtful, open-minded humans. If we don't teach our children to accept, even embrace others, we as parents and teachers are failing them and forfeiting the future. Intense? Yeah. But recent world events have made this clear -- the stakes are that high.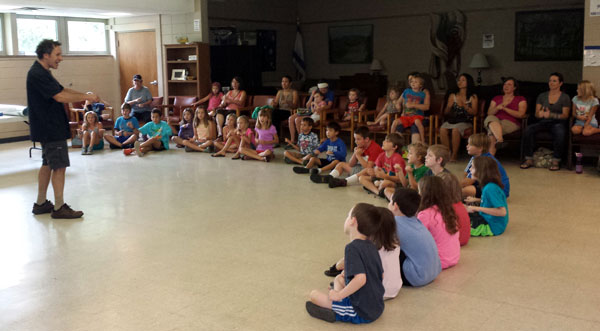 I started the All Around This World global music and world cultures program when my daughters were small as a way use music to teach them about the many countries and cultures I had explored and the many more I planned to meet with them. Since then the project has blossomed into a massively ambitious multimedia adventure that consists of educational goodies like:
--
a website with thousands of pages of pages of information introducing families to global music genres and international instruments
, 
--
a three year cycle of interactive parent-child and lower elementary classes for infants-in-arms to 9 year-olds
,  
--
award-winning, multi-lingual studio CDs.
(Listen to my version of the Nigerian-Yoruba song "Bale Ile," featuring a talking drum, by
clicking here
or using the embedded player.)
-- (NEW!)
an expanding catalog of interactive multimedia PDF lesson plans for homeschoolers and school classrooms
-- (NEW!)
a YouTube channel with over 100 educational sing-along, dance-along videos
Your support through Patreon will enable me to continue pursuing this mission so I can create more and more inspiring materials that will reach more and more curious kids.
HOW THIS WORKS
Patreon enables you to support a project through recurring small donations that provide an artist with the means to create with confidence. You pick a reward level that matches your resources and needs and I'll work my bottom off to provide the quality and quantity perks that make you darned glad you did.
IMPORTANT: I have chosen the Patreon option to collect support on a per "creation" basis. That means you will make a contribution each time I complete a 
interactive multimedia lesson plan
or
full online class
.
Imake a new class and accompanying lesson approximately ONCE A WEEK. You can choose a monthly top limit for your support -- there won't be any surprises -- and you can easily stop contributing and any time.
If you found this page because you want to "take your kids" to All Around This World online classes each week and want to know how to pay, you're in the right place. Individuals/families that sign up at the $3 reward level will receive access to the full classes and each week's interactive lesson. ($2 classes are also available. Look at the rewards for details.) If you're a school, multi-family playgroup, homeschooling group or other organization that would like share access to the classes among your members, please sign up at the $5 level or $10 levels -- look at the reward level descripitons or contact me to ask about the differences. 
SCHOLARSHIPS ARE AVAILABLE.
If you want to enjoy online classes with your family or school and can't afford it, please let me know. I won't turn anyone away because of lack of funds. 
THANK YOU SO MUCH for your interest and support. I love to answer questions about my work. Don't hesitate to
contact me through the All Around This World site
or e-mail me at
[email protected]
.
Recent posts by All Around This World
By becoming a patron, you'll instantly unlock access to 7 exclusive posts
By becoming a patron, you'll instantly unlock access to 7 exclusive posts