Select a membership level
Team Full Psycho
Join the Team! 
For a mere dollar you get on
Team Full Psycho
as well as you'll be able to
see all the content exclusively before it gets aired on FPTV
episodes or goes public on YouTube. 
You're on the team, you're down. You're officially cooler than other people.
Producer
Become a Producer!
For $5 you'll have your name listed as a producer on all the videos I make. How sick is that?!
Music videos or other videos where there are no credits won't feature your name but most videos will and thats going to be on there as something you helped create for all time!!!!
Demo's Club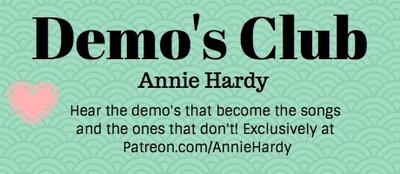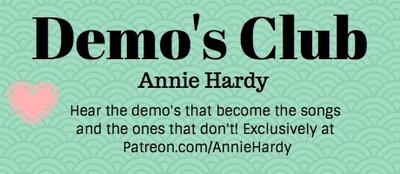 Demo's Club

Man alive, for only $10 you get to be a part of the Demo's Club, a super elite short list of human beings that get to hear the insanity filled demo's I record onto my iPhone's voice memos that are usually pretty dope and straight off the dome, being faxed in from some other dimension. Yes, I am pretty sure I have little or nothing to do with writing these things. They just come out.
As of March 2018 I am releasing a Patreon exclusive 15 song album of demo's that were recorded recently and only you guys will ever get to have this kewl record! I implore everyone to go up to Demo status, you can always lower your donation later!
About Annie Hardy
I miss the early 00's when I had lots of money for doing almost nothing. Now thanks to the internet I do a lot of stuff and make almost no money!
Luckily I guess we all adapt. And now here we are at my Patreon. 
It's what they used to call in the 90's "
I suggest you join the Demo's Club where you get to hear demos as they bust out from me. 
Lower tiers get early access to my videos and exclusive Patreon only stuff and the good feeling of knowing you're supporting my ass to keep on creating instead of getting some job at a bagel shop or something. 
If you're a fan of my blathering about blood types, astrology, narcs etc you'll get a bit of that too. Bonus. Check out my podcast Empath of Least Resistance in all pod places and my new horror film Rob Savage's DASHCAM on appleTV Amazon on demand and other places. 
I appreciate you!
When I get to $300 per video in earnings I will start having a monthly drawing for one patron to win a prize!!!

1 of 2
Become a patron to
Unlock 121 exclusive posts
Connect via private message
Recent posts by Annie Hardy
How it works
Get started in 2 minutes