Antoinette Ratcliffe
is creating taxidermy art and teaching taxidermy classes in New Zealand
Select a membership level
Baby Mouse Edition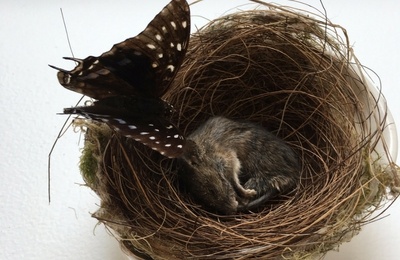 The littlest and maybe the cutest of the tiers, Patreons of this tier will receive monthly updates on upcoming workshops and exhibitions, including my favourite taxidermy finds on YouTube or the corners of the internet
Sparrows at Dawn
It's the early bird who catches the worm, or in this case it's the little bird that catches a sparrow sized parcel every two months. 
This tier includes the Baby Mouse Edition tier, with: 
- two art print postcards
- two super cute art print stickers
It's always a lovely surprise to get treats in the mail, and it will be extra lovely to be reminded that you're one Patreons too! 
Mind the Mynahs
Limited (12 remaining)
Feeling as grateful as a Mynah that just dodged a car? This tier could be for you! 
This tier includes the Sparrows at Dawn tier, and every two months you'll also recieve: 
- a hand written art print post card made just for you to say thanks
- 10% off code to my online store (includes taxidermy workshops listed in my online store, excludes Studio One classes)
Small parcels in the post can really turn your day around, much like successfully dodging a car and catching your fast food insect lunch at the same time.
About
Thank you for visiting my Patreon page! Put your feet up and make yourself at home while I chat to you about how you can be part of my exclusive Patreon community. 

My name is Antoinette Ratcliffe, and just like it says in the title, I make taxidermy, taxidermy based artwork and I also teach Introduction to Taxidermy classes around New Zealand.

From time to time I need to enlist the expertise of a professional, like help with photo shoots, or taxidermy class assistants. Although they always say they thoroughly enjoy themselves and don't want to be paid, I value their time and expertise, and without their help my work wouldn't be half as polished as it is, so for this reason, one of my goals is to pay my assistants and technicians, and this is where you come in. By becoming part of my exclusive Patreon community, your monthly contribution will fund these projects. 

Having an income through Patreon will also allow me to spend more time researching and making work. The research informs the classes I teach, and leads to my students producing better quality taxidermy pieces... and who wouldn't want that! Achieving this goal also means that I will be able to spend more time researching and influencing ethical taxidermy standards in New Zealand. My definition of ethical taxidermy is using specimens that have either died a natural death or were humanely euthanised, these are the only specimens that I will allow in my classes, and the reasons for this always becomes an important class discussion. 

Funding equipment and materials can be a toss up between doing more hours in my day job (I'm a head surgical nurse at a veterinary clinic) or taking a little out of other parts of my budget... none of which can be sustained for long periods of time. Also, my cat needs to eat so I can't take any funds from that part of the budget! 

And finally funding travel for exhibitions and taxidermy classes, as well as producing exhibitions are big ticket items - both things I'd love to do more of in the future, and patrons who get access to my monthly Patreon only content will be the first to know that they have contributed to this goal.

So thank you for spending some time in my brain-dump/goal space, I'd love for you to join me on my next adventure of teaching more ethical taxidermy classes in New Zealand, and producing more pieces for exhibitions, it would be great to have you come along for the journey  X 

I've been asked to start making videos on YouTube, and although I'm super nervous about making one, I definitely see how it could help my previous students, as well as people who are new to the craft, so when I reach this goal I'll bite the bullet and get filming! 
This project will consist of monthly 'how to' YouTube videos, and I'll get to pay an assistant to help with the editing side of things. 
These videos will be made available to my Patreon base first.
1 of 3
Become a patron to
Unlock 32 exclusive posts
Connect via private message
Recent posts by Antoinette Ratcliffe