AORO
is creating original fantasy universe Aoros Chronicles.
Select a membership level
Access to Line Art Comic Pages
You will get my sincere gratitude and access to all line art comic pages in Russian/English.
Access to the bonus arts and concepts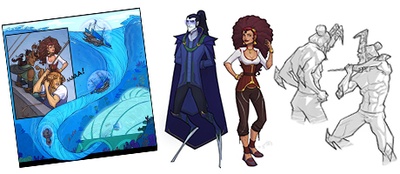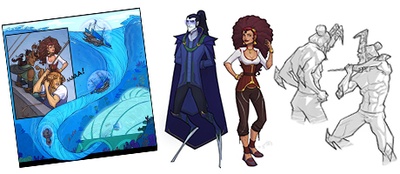 You will get my sincere gratitude, everything listed above and access to the colored concepts of the main and secondary personages, costumes, creatures and all "Aoros Chronicles" setting production.
Access to Colored Comic Pages/Spin-offs
You will get my sincere gratitude, everything listed above and access to colored comic pages and Strips/One-Shots/Spin-off revealing the past of personages.
About AORO
Hello! My name is Aoro. I create my original fantasy universe Aoros Chronicles. This is the world, populated by the unusual creatures, full of magic, adventures and battles. A comics "Sea star" is the first cycle of stories revealing LORE of Aoros. At start I plan to do 5-7 pages a month, and also to spread a lot of bonus art and spin-off stories.
Brief plot of the comics: if you are a fresh graduate student and found yourself in the United Capital, don't ever agree to the offer of the first comer to drop in the nearest tavern. Or in the morning you can sail on the board of ship towards the unknown in the mixed company of the sea travelers. Secrets of the ocean, unexplored lands, dangerous enemies, true friends and port brothels are waiting for you. Only here and now! Discounts for the smugglers. The first ten clients risk to find their love.
Genre: fantasy, adventure, humor.
Rating: 16+
Warning: Partly naked bodies, scenes of erotic character, violence, death of personages, same-sex romance.
The world of Aoros is inhabited by 8 known races: the nordoses – powerful warriors, firmly standing on the ground on their four paws; the shaedrs are inhabitants of the deserts, reminding people more, in comparison with other races; the rodoses – denizens of foothills, not wishing to bow their heads crowned with horns before anybody; the deliers – cobby dwellers of sparse forests; the sackrs – mysterious race of underground magicians, reminding giant insects; the kairs are pale-skinned thin-legged owners of the southern cities; the brieds – lords of the underwater world; the alkairies – winged women whose cities are hidden behind the clouds on the tops of the highest rocks.
I will draw big illustration with all characters of "Sea Star".

1 of 1
By becoming a patron, you'll instantly unlock access to 543 exclusive posts
By becoming a patron, you'll instantly unlock access to 543 exclusive posts
How it works
Get started in 2 minutes