Ariane X
is creating The Solo Female Pop Album of 2021
Select a membership level
Receive Ariane's Top Secret Weekly Email
Straight in at number 12, for just 22p a week you'll receive my exclusive-to-subscribers weekly email, featuring the latest album updates and the intimate and secret details of my life. It is a very dangerous email, as it is so raw and honest and over-sharey, your intestines will fly out of your mouth in shock and hit an old lady. She will mistake them for a string of sausages, and take them home to cook. So with this reward, you will also be feeding a elderly woman instead of just me and my daughter.

Access Ariane's Top Secret Photos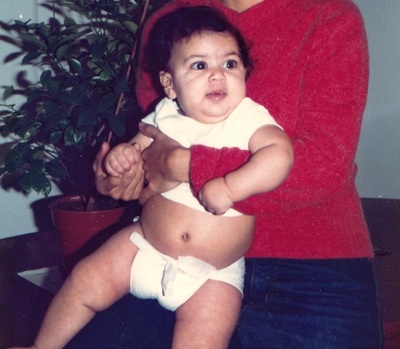 A non-mover at number 11, for just 50p per week you'll receive a secret photo of me (or something close to my heart) each week that I have not uploaded online. This could be a photo from the past or the present. It may or may not feature my very cute nine-year-old daughter photobombing me, because this is her favourite activity (except for telling me I'm embarrassing and asking me to buy her stuff).
You also get this great perk:
Receive Ariane's Secret Weekly Email
Read Ariane's Top Secret Writing
Up three places at number 10, for just 85p per week you'll receive a weekly excerpt of my writing - this can be new song lyrics, fiction or poetry. It may be funny, it may be poignant and it will definitely be entertaining. It may also be rude but your boss will probably like it anyway when he spies on your internet activity.
You also get these great perks:
Receive Ariane's Top Secret Weekly Email
Access Ariane's Top Secret Photos
About
Hi, I'm Ariane Sherine and I'm a comedy writer and musical comedian. You may know me from such hits as the 'Probably No God' Atheist Bus Campaign (2008-2009), the celebrity compilation book The Atheist's Guide to Christmas (2009-2010), my columns in The Guardian (2008-2010, 2013-2018) or from Ariane-Has-A-Nervous-Breakdown-And-Hides-In-A-Cupboard-For-Three-Years (2010-2013).

What you probably didn't know about me is that, at the age of 12, I started dreaming of being a pop star and never really stopped. I spent the next decade making music, writing songs, doing a music production degree, and making a living singing and playing piano in the evenings in hotels and lounge bars. I nearly got into S Club 7, did some sessions for Duran Duran's Pop Trash album singing and playing piano, but ultimately decided that being a pop star was 'unrealistic' (there had only been one notable Asian female singer-songwriter in the charts, Tanita Tikaram, and Nerina Pallot and Raissa had failed to set the charts alight). Back then, getting a record deal was the only option - you couldn't put your own music out. So I gave up the music and sold all my audio gear to become a TV writer, which seemed like a pretty good fallback.

I just turned 40 and had an epiphany: I realised I didn't want to get to the end of my life never having followed my heart and lived out my dream. So I started creating an album and have been amazed by the results. I've never been an over-confident person, but for the first time in my life I have 100% faith that a creative project is going to work and be loved. The music is just beautiful: my influences include Duran Duran, Depeche Mode, Pet Shop Boys, Massive Attack, Tricky, Garbage, Saint Etienne and Goldfrapp, and the tracks sound like a cross between them all. The album is about my childhood, mental illness and being a single mum. It's shockingly raw and honest and an album I would never have been able to write at 19, the music industry's 'ideal' age for a signing.

Though the tracks are influenced by my favourite artists, they just have a very original, alternative, compelling sound with huge melodies and catchy hooks. I don't want to release any of them fully until the album drops on 12th February next year, but am putting out a series of rough demos (which of course still need guitar, vocals, backing vocals and riffs). The guitar will be played by Chris Woods, a guitarist so accomplished he has his own Wikipedia page and writes books on how to play guitar!

I co-produced and released a comedy album in 2014 ('Beautiful Filth') but this album ('Better') blows it out of the water like a whale having an epileptic fit. But because that album is already registered under the name Ariane Sherine, I wanted to change my artist name so that they're not on the same page on streaming services - so, as the software I'm using is called Logic Pro X, I've decided on Ariane X (pronounced as the letter not the number).

It would be amazing if you would support me so that I can afford to only work on the album to the exclusion of other work, and also to get it professionally mixed and mastered. I've now been on Patreon for three years and always fulfil the rewards, often going above and beyond as I'm so grateful to my patrons (who include such lovely people as Black Mirror creator Charlie Brooker). I have a range of exciting rewards on offer, from getting your first name on a track to getting the first listen of songs and credits on the videos, so please check them out. Thank you so much.

Lots of love,

Ariane xxx
$178.20 of $300
per month
I will script and film the video for 'MILF Not Milk', where I dance around in a bra made of yoghurt pots. Clearly, this potentially seminal moment in music video history needs to become a reality.

2 of 5
By becoming a patron, you'll instantly unlock access to 10 exclusive posts
By becoming a patron, you'll instantly unlock access to 10 exclusive posts