Ariella Darling
is creating Cosplay Content
Select a membership level
Tip Jar
Thank you so much for joining me on my journey, I love you!
Here I'll:
update about my cosplay adventures, including my new cosplay plans, pictures of my cosplay progress, and anything else to keep you all updated!
host polls for what my next photo sets should be!
keep you all updated for cosplay related news!
My goal is to try and document most of my cosplay progress and showcase it!
$1 may not seem like a lot, but it means a lot to me! So thank you so much!
Darlings ❤️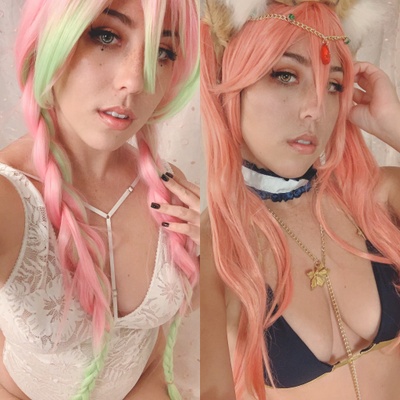 This is the selfie sets tier!

This is the tier where I'll post all my selfies! Most of them a little too saucy for IG~
The selfie sets will be uploaded directly to Patreon! They will be archived the second day of the next month.
This tier will include:
2 selfie sets of the 2 photo shoots I'm doing for the month
Try-ons of new stuff I receive
Everything from the tip jar!
Dreamers 💫
This is the digital photo rewards tier!


I will be doing 2 different photosets each month and will upload them to Dropbox.
You will receive the Dropbox links via Patreon messaging the first or second day of the NEXT month!
In this tier you will receive:
2 digital photosets of around 10 pictures. They will be sent out via two Dropbox links!
Previous tier rewards!:
selfie sets from this month and all previous months!
access to my Patreon feed and any and all polls and try-ons!
About
Hello, and welcome to my Patreon!
You can call me Ariella (ah-ree-elle-uh), and I'm a Southern California based cosplayer! I've been cosplaying since 2007, but really didn't start seriously until about 2012. Since then, I've been teaching myself and learning a lot from others about the many crafts involved in cosplay! I'm always interested in learning more and perfecting my craft, so I try and keep myself productive. I love taking on new projects, and always love the feeling of finishing a new cosplay.
If you don't want to pledge to Patreon, that's totally fine! I do appreciate every single person who does, but I will also continue to update all my social media. Patreon just gets the exclusive stuff :)
If you would like to support me in other ways, I also run an Etsy store where I hand-make stockings and aprons! And I also have a print store via Storenvy and a Ko-Fi!:
Etsy
| 
Storenvy
| 
Ko-Fi

Patreon Payment Information:
Payment is taken immediately upon pledging.
After pledging, payment is taken the first of every month. If you do not want to pledge for the next month, please delete your pledge by the 30th/31st.
If you want to up your pledge for the month, the difference will be taken immediately after you change your pledge. This will count toward that month.
If you want to downsize your pledge, make sure you do so before the 1st of the month. There will not be refunds for changing tiers if you've already been charged.
If you pledge during the month, you will receive that month's rewards, regardless of what day of the month you pledge.
If you have any questions, feel free to message me! I'll be happy to answer them!

Additional information
:
The digital sets in the Dreamers tier will be released the last week of the month. I will send them out via a Dropbox link through Patreon messages.
Once the Dropbox link is sent out, you are free to download them!
The selfie sets will be uploaded directly to Patreon.
All photo sets are taken by @dozzer.cos unless otherwise noted. 
Please do not share these photos around. You paid good money for them and I would hate to have to block anyone. 
Header image includes photos from: Eurobeat Kasumi, Charles Lan, dozzer.cos, zunghn, mvm_photography, and rperazaphoto!
Profile picture: sojubeats
If we somehow make and maintain this goal, I'll add an extra photoset for every month! ❤️
1 of 1
By becoming a patron, you'll instantly unlock access to 85 exclusive posts
By becoming a patron, you'll instantly unlock access to 85 exclusive posts
Recent posts by Ariella Darling