ARTHUR
is creating an Arts Bar Playground where Arts, Science & Technology converge
Select a membership level
PAY WHAT YOU FEEL
Limited (261 of 265 remaining)
We know times are tight - We have bills to pay too but we still want you to be a VIP in the creative process of building the ARTHUR brand. Welcome to the flexi-tier of CLUB ARTHUR.
We are releasing a limited number of PWYF Patron memberships as we honestly are not sure how this will go but you have to start somewhere right?
We are asking you to make a monthly pledge at a level that feels comfortable to you. Starting at just $3 USD a month (roughly $4.46 AUD or 1 skinny soy latte) or you can pledge more. Completely up to you!
Maybe decide after a big night at ARTHUR. ;-)
Whatever you pledge your name will go up in lights on our website plus you will gain exclusive access to "behind-the-scenes" content. We will also randomly share "pieces of ARTHUR" which may be merch, art, or possibly hard rubbish! Our aim will be for the value of the "thingie" to match your contribution. LIFE IS A MYSTERY!

VERY IMPORTANT ARTIST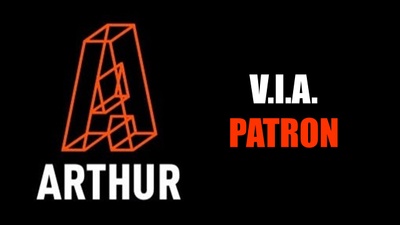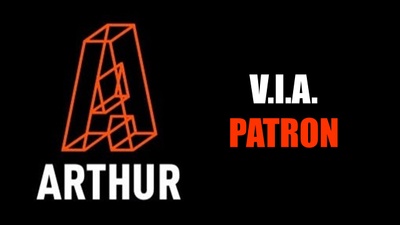 We've got your back. We can't be successful without you, being you at ARTHUR. We want to be your 2nd home, your "ahhhh I can relax", your "ah ha cheap drinks!".
Allocate $3USD a month (roughly $4.50 AUD) out of your coffee/beer budget and we will grow your profile and ticket sales for you by sharing YOU with our ARTHUR Patreon community.
Cass can't make a video with her piss-farting around as ARTHUR is a place, not a person! (Sorry Cass's Dad!) 
ARTHUR is for everyone but it needs YOU and your content.
Share your videos, links, everything wonderful you do and we will on-share to our PATREONS. You help us, we help you - Life is beautiful! 
This is the way forward. Red carpet all the way, no more sneaking in the back door. This shit is real ! Viva la revolution. ARTHUR-  it starts with Art. Thank you Frank Woodley for this awesome idea.

SUPER HERO - $20 in 2020
We can't all be TONY STARK or BRUCE BANNER but when you pledge $20USD (approx $30 AUD) to our cause then you are a SUPER HERO in our world!  You will be building the ARTHUR Brand, helping us work towards the goal of paying Artists and also play a huge part in creating a really cool and welcoming community in Adelaide and beyond.
As THOR's Dad said "ARTHUR is a people, not a place". Well he said Asgard but we are taking liberties.   
We aim for ARTHUR to go Global so when you find an ARTHUR space in Berlin or London or Phuket? you know you are with your people! 

About ARTHUR
Everyone that crosses our threshold loves ARTHUR.
We appreciate your patronage and have started this crowd-funding community to make ARTHUR even better.
Your $$$'s will help bring in new artists, install new art experiences and add some bling and zing to our current re-claimed venue.
Your support will be rewarded across the various tier options from as little as $4.50 a month ($3 USD) or about the cost of your daily coffee. 
As our ARTHUR community grows we will grow our Tier offering to help connect more people to the world of ARTHUR.
Welcome to the creative process of building the ARTHUR brand - YOU ARE AWESOME!


By becoming a patron, you'll instantly unlock access to 10 exclusive posts
By becoming a patron, you'll instantly unlock access to 10 exclusive posts
How it works
Get started in 2 minutes