Artisan Guild
is creating epic 3D printable miniatures for your favorite tabletop games!
Select a membership level
Adventurer - first 100
Limited (0 remaining)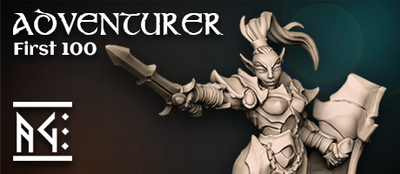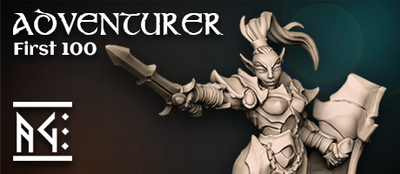 Thank you for supporting us! You are amazing, and very quick!
This Tier receive everything from the Adventurer Tier (Welcome Box, Monthly Releases, access to Polls, Lives and Work in Progress); but for a slightly better price.
Adventurer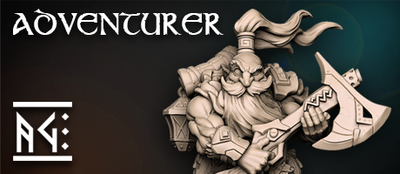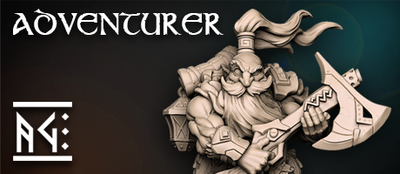 Thank you for supporting us! You are amazing!
You will receive the Monthly Release, which includes the following 3D Printable STL files:
6 Modular Models (often +6 with helmets or masks)
4 Special Models (or Cavalry for 4 Models)
2 over the top Heroes
1 Epic Slot (Heroic Mount, Epic Beast and so on)
1 Prop/Scatter terrain
1 Fantasy Pinup
Our Welcome Box
Exclusive Discount Codes to use in our MMF Store.
- Terms and Conditions: all our files and links you can print these files for personal use, but you are not allowed to distribute or sell them. Check the detailed rules in our main page.
You will have access to our community!  
You will see our works in progress (both pencil and 3d) as we make conept and sculpt, and will be able to comment and give feedbacks! 
Merchant - first 30
Limited (0 remaining)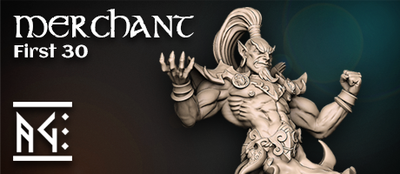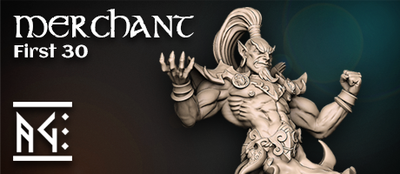 Thank you for supporting us and sharing our prints with the world, you are great! For a special price you will receive:
This Tier receive everything from the Adventurer Tier (Welcome Box, Monthly Releases, access to Polls, Lives and Work in Progress).
You can Sell the Prints of our models (but never the files or links!) as long as you stay in this Tier. If you change Tier to a lower one or stop supporting us you immediatly lose this ability. 
About Artisan Guild
The new Set will be available about day 2nd!

Welcome to Andrea Tarabella's Artisan Guild!
Hail traveler, and thanks for stopping by our guildhall!
I'm Andrea Tarabella, and I'm creating epic 3D printable modular miniatures to print at home, paint and collect. I hope that my passion can shine through my character, as I put a lot of effort into each single figure. Each Artisan Guild model comes with its stories and background, and can be used for most tabletop games. By joining us you get access to the current 3d printable Monthly Release, the characterful Welcome Box and you have access to our skirmish guild-building tabletop game GUILDS. See the trailer for the complete lineup!
I hope to see you around!

The Monthly Release (Click Here) - Early Releases at super Prices
Joining our Adventurer Tier or higher you will receive the
Welcome Box
 and the
Monthly Release:
 a Set of exclusive thematic 3d printable figures that expire at the end of the month.
Each figure comes with and without supports for resin printing. The figures of the monthly release are visible in Its trailer above. The Monthly Releases includes:
6 Modular Models (often +6 with helmets or masks)
4 Special Models (or Cavalry for 4 Models)
2 over the top Heroes
1 Epic Slot (Epic Beast, Heroic Mount and so on)
1 Prop/Scatter terrain
1 Fantasy Pinup
The Monthly Release is uploaded at the beginning of the month (once Patreon process payments, around day 2). It expire the last day of that month at midnight in pacific standard time (PST). Any payment that comes after that moment is automatically used by Patreon for the following monthly release.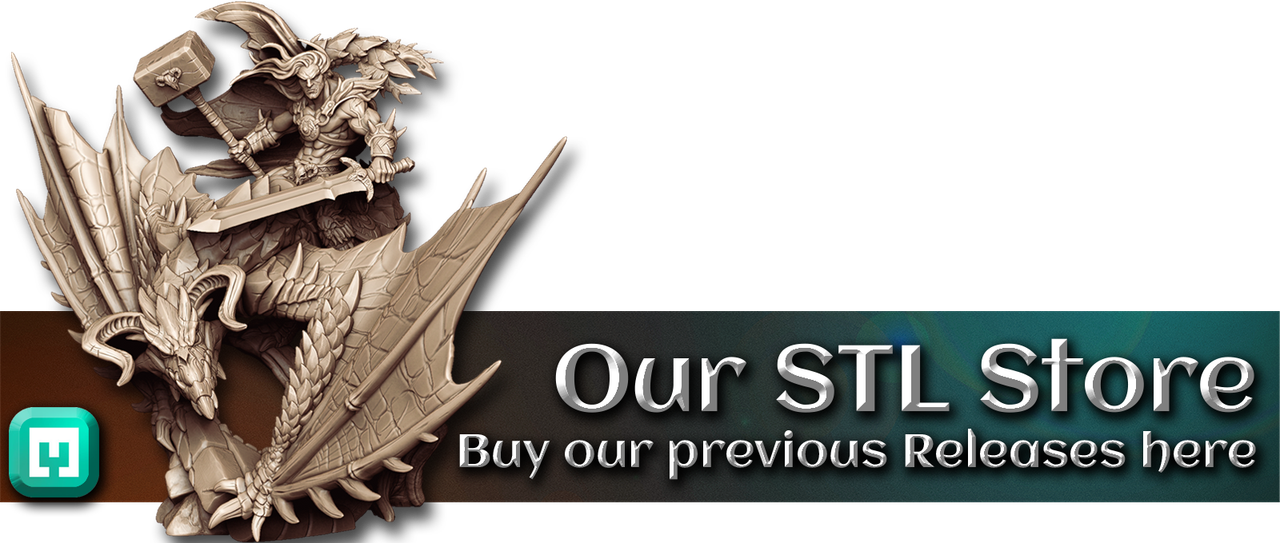 If you start supporting us later and you want to buy models from the previous months that are now expired, please visit our 
MyMiniFactory Store.
From day 1st to 10th each month, for our Patrons only, we share codes to get
30% OFF
on your order to grab old releases you missed!

The Welcome Box (Click Here)
 - Join us and receive everything immediatly!
By joining the Adventurer Tier you will also receive immediatly the
Welcome Box 
(click here)
.
It may change from time to time, now Ii contains:
11 Epic Unique Heroes: the Troubles in Taverns crew! (see picture below)
3 Heroic Arcanists: the Eye of Tialevor special set!
3 unique Trolls, coming as regular monsters or epic musicians! For a total of 6 figures. 
The Soul Stealer Bust, an eldritch Slathaai Animancer ready to be painted!
Yoshigruzu Bust, a characterful Orc Samurai.
The Adventurer Camp Starter Set, perfect for your rpg party to rest (or Dungeons and Bandits)! This contains a Pack Mule, Modular Tents, Modular Campfire system full of accessories and various Weapon Racks, suited to be used with our Monthly Releases Standalone Weapons!
GUILDS PDF rulebook: our Guild building and epic tabletop battle game.
In GUILDS you play a powerful Guild in an intriguing Arcane world called Mundus, a place pervaded by legendary creatures and torn by war. Being the Guildmaster of a rising Guild, you'll build your Guildhall, recruit units and lead your warband to face gruesome battles against epic monstrosities and other rival Guilds. As a legendary commander you have the power to inspire those who fight on your side. Advance through Quests, recruit mercenaries, warriors, Arcanists and Heroes!
Download the last versions of GUILDS Rulebook and the Faction Cards PDF in the Attachments of the latest release.

Want to Sell our Prints?
The Stl we provide are for personal use (check the rules at the end of the this page), if you want to sell our prints through a home-business, join our Patreon Merchant Tier. Once you join, 
in this post 
you will find the license and all the material you need! The Merchant Tier, however, is limited: keep an eye for open spots if you are interested!
Let's talk and keep in contact! Your opinion matters!
We run Polls at the start of each Month. By participating you can help us decide what we will sculpt next! Let us know what you think using comments, we like to keep in touch with our supporters :)
Sculpting Videos!
In our channel we have several recorded videos of our sculpting session, so you can se exactly how we make our models. He's Dunn Half-Ogre, now available on MyMiniFactory.
https://www.youtube.com/watch?v=GA-CqphlHa8
My Experience
Beginning with paper, pencil and clay since kid, I worked as mercenary with awesome people, art directors and visionaries since 2010, concepting and sculpting hundreds of the most awesome miniatures for various companies, such Raging Heroes, Frog the What Games's Slaughterball, Roots of Magic, Erebus Studios and some passionate private collectors.
At the same time I'have been working on many personal games and my universe, designing and sculpting the creatures who inhabit it. I developed a special passion to create art alone, and I hope that you can feel it through my sculpts and games.
IMPORTANT: Rules, Terms and Conditions
All files and links we share with our Supporters are meant for you as Patron and no one else. By downloading content made by us (Stl, shared links), you accept this Agreement and agree to be bound by its provisions. If you do not accept or agree with these terms, do not download the content we provide:
Artisan Guild is the owner of the STL files. The STL files are a copyrighted work belonging to Artisan Guild.
Artisan Guild grants you a non-transferable, non-exclusive license to use the files.
You may only use the content provided by us (Stl and their location Links) for personal use, and you are not allowed to distribute or sell them nor the prints.

You can cut/resize our files to fit better your printer but you can't share those derivates (as the original files).

You can't edit our 3d Files (stl) or use portions of them to create new Content!

Our miniatures, any other kind of 3d file we release or or portions of our files can't be used in any other project or brand, Kickstarter, Patreon, or any other crowdfunding platform or sold in a "box".

You can't make molds of our models, casting and any kind of mass production is prohibited.

You can take photos, make live streams and video with our models (ideally to Paint sessions or Showing 3d printer results) as long as you state that the models had been made by us. In this case, promoting our Patreon page and MyMiniFactory Store would be greatly appreciated!

All copyrights belong to Artisan Guild, NO rights are assigned or transferred to the end-user. Our designs are protected by intellectual property laws.

All the previous points apply for who belongs to the Merchant Tiers too, with the exceptions that they have the ability to Sell Prints of our models (not files!) as long as they remain in that Tier. Even here apply the rule that you can't use our files and figures to sell new games, make kickstarters, patreons, or any other crowdfunding project or make casts/molds, selling them in boardgame boxes or similiar.

Merchant Tiers: is meant for people running a business on their home printers only and not for any type of mass production. Artisan Guild will reserve the right to determine if you are in compliance and reserves the right to cancel a Merchant License at any time in its sole discretion and refund that month's Merchant Fee as compensation.
Thank you for visiting us,
Andrea Tarabella
©2022 Artisan Guild. All Rights Reserved.
Shortsword Tale - Bonus Set
By reaching this Goal we will start a new special Set called Shortsword Tale. A story about little folk from the brave hearts and evil monsters from dark caves. 
A little spoiler: Greatgoblins & Gnomes.

When the Goal is unlocked some days of work will be required before the Set is done.
23 of 23
By becoming a patron, you'll instantly unlock access to 188 exclusive posts
By becoming a patron, you'll instantly unlock access to 188 exclusive posts
Recent posts by Artisan Guild
How it works
Get started in 2 minutes