Astreal Idols
is creating Idol Videos
About Astreal Idols
We are Astreal Idols! We are an original idol group who makes their own songs, dances, costumes, art, you name it! Come join us on all of our exciting journeys! 

Select a membership level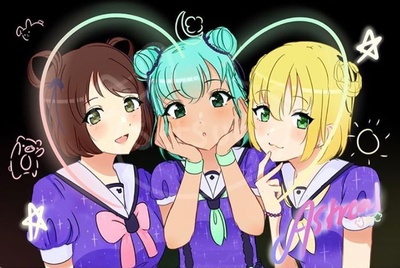 Asteroids
You're flying through the sky like a shooting star~
You are so amazing!!
Benefits~
- Sneak Peaks of ideas and lyrics of future songs
-You'll get high quality versions of all of our songs!
- VIP role on discord, where you can chat with Astreal and their team and you'll be able to manage emojis on the server! Ask us any questions you'd like <3
- You'll get early access to cover art and songs
- You'll get a print made by our artist Setsuna!(See tier image)
- Your name will be displayed at the end of our music videos as a Patron!
Super Nova
 A star may die but the colors are there
Bursting with emotion!!
Benefits~
- All previous tier benefits
- Exclusive videos we wouldn't upload on Youtube or Instagram( Funny videos!)
- A custom thank you video from your best girl!
-Early access to full songs and videos before they're released on Youtube.
Nebula
I'm not sure what to put here
but we got this far!!
Benefits~
- All previous tier benefits
- We'll do one of those videos where you give us text and we'll record it for you!(Done by your best girl)
-You'll be able to contribute to our next song(helping with lyrics or costume design! We love hearing your ideas! Plus, anyone who contributes to any of our projects gets a follow from our official Instagram page!)
-You'll get a practice video of our song before we record it!
-We'll design/ sketch your own idolsona!


Recent posts by Astreal Idols