BE Adventure Partners
is creating films that inspire people to live smart & simple.
Select a membership level
Adventurer Tier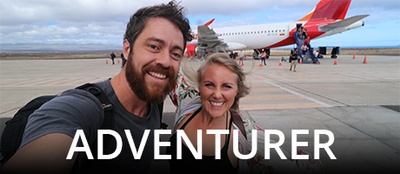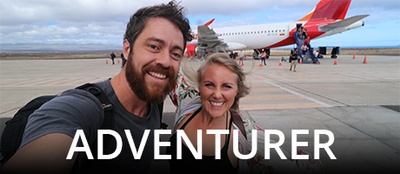 Adventurer:
a person who has, enjoys, or seeks adventures.
In the Adventurer Tier, you'll get the following PERKS:
Private Patron-Only Conversations: Access to our private Patron-Only feed where we interact with you & other awesome humans. (Instant access)
Get Your Q's Answered First -YouTube LIVE Q&A: If you're in here, you better believe we will get to know you, and give your Q's priority on our Monthly YT Lives. 
___________
How This Works:
We upload between 4 - 8 YouTube vlogs per month. Considering all four tiers are set up to pledge per video that we publish, we want to give you a heads up on what to expect. You'll also be able to set a "monthly max" if you only want to contribute up to a certain amount per month.  
Your pledge, regardless of the tier, means the world to us! This contribution will help us continue to create content for you to enjoy, and we also hope it will help you achieve your goals.
Ps...
Must
be
an
active
Patron
to
redeem ALL perks.
Wanderluster Tier
Wanderluster:
a strong, innate desire to rove or travel about.
In the Wanderluster Tier, you'll get the following PERKS:
All PERKS from the Adventurer Tier
+ Monthly Personalized Post Card: Our best photo of the month, with a personal message. (Mails out the first week of each month)
+ A Shout Out In YT Credits
Ps...
Must
be
an
active
Patron
to
redeem ALL perks. Eligible after one month of Patronage = 4 vlogs minimum
Explorer Tier
Explorer:
a person who investigates unknown regions & territories. 
In the Explorer Tier, you'll get the following PERKS:
All PERKS from the Adventure + Wanderluster Tiers, PLUS...
Exclusive Behind The Scenes Footage - This could be bloopers, how to's, or special messages from us to you. 
Ps...Must be an active Patron to redeem ALL perks. Eligible after one month of Patronage = 4 vlogs minimum
About BE Adventure Partners
Hey Friends! We're Brian + Erin.
Over the past few years, we have been sharing how to live to the beat of your own drum. What that really means to us, is living a smart & simple life. 
As humans, living in the world today, we can easily get caught up in wanting stuff, stuff, and more stuff which leads us to lose sight of what we actually want: To have fun & BE happy. 
Our main goal with Patreon is to get to know you & others who care to live a more simple, yet abundant life. Which really means to BE rich in love, experiences, and having all that you need.
Whether you're into building a tiny home on wheels, living off-grid, BEing a minimalist, doing awesome projects for the environment, wanting to earn a living while exploring, making a positive impact, growing food forests, or keen to know more about all of the above...  
This is where we can come together & brainstorm how to create the lives we want now, versus waiting to have them when we retire.
AND guess what?! These are the types of people we will BE seeking once our skoolie is built. Our intention is to get out there and interview people who got out of the grind, and are doing what they love. These people are making a positive impact in their communities, the world, and they're happy to share how they did it.
Your interaction here in Patreon
will help fuel the people & info we seek to interview. We're looking for answers to questions like this: 
How does one go from a full-time job to travelling in a tiny home on wheels full-time?
What climates are best for growing a food forest?
How much land do you need for a homestead?
How can a person do what they love & make a good living?
What can we do to make a positive impact on the environment today?
How do we achieve happiness? Health? Abundance?
And an endless amount of questions...
Your patronage will help us to:
Get on the road sooner with our Skoolie (The BEAP Mobile) 
Ask better questions & get all of us answers
Start interviewing people who are living smart & simple lives
Share their stories on YT 
Get better gear to film our first documentary
Bring together an awesome community of people who want to live their best lives & contribute to the greater good.
Allow us to host workshops and gatherings, and also get yourself on our VIP invite list! 
So far we have figured out some pretty cool things that have allowed us to get off the hamster wheel, earn a living online, quit our jobs, BE together, travel the world full-time, and convert a school bus into a tiny home. 
BUT one thing we have learned over the years is that there is always someone out there to learn from. We never want to stop learning, and this is exactly what we want to share with you... Brilliant souls who are living smart & simple lives. 
Thanks in advance for BEing here. Whether you BEcome a Patron or not, we appreciate your support. Every watched video, thumbs up, comment, or share helps. 
We look forward to getting to know you.
Adventure On.
Brian Garcia + Erin Nicole Bick
Here's a little video about what Patreon is:
All Systems GO
Achieving this goal will help us to cover the costs of the software we use. This way we can keep creating, sharing the love, and provide more videos that help & inspire!
1 of 4
Become a patron to
Unlock 132 exclusive posts
Get discounts to an online store
Connect via private message
Recent posts by BE Adventure Partners
How it works
Get started in 2 minutes