Bald and Blonde Podcast
is creating Podcasts
Select a membership level
MOCHA FAN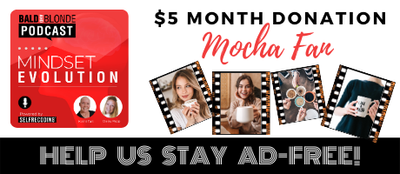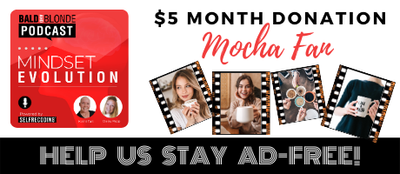 Gift us the cost of a coffee a month... An easy way to show us your love that your wallet won't feel!
MIMOSA FAN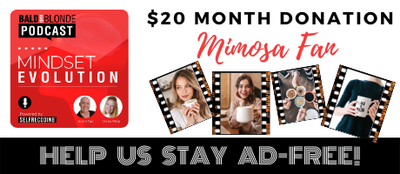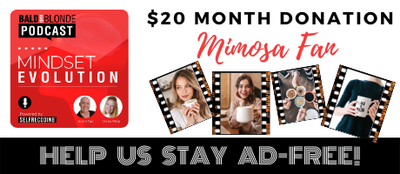 Go that little bit further and gift us the price of a couple of Mimosas! We promise to cheer in your name! We also gift you a copy of any of Daisy's books delivered directly to your inbox! Check the baldandblonde.live/store page to select your book!
TRUFFLE FAN
For our dedicated fans, help support our dedicated global production team! Receive any one of Daisy's books as well as our exclusive 10 minute Upward Spiral Meditation audio as a thank you gift! Choose your book at our store here: baldandblonde.live/store
About Bald and Blonde Podcast
Bald and Blonde, the Mindset Evolution
podcast provides tips and tricks on how to create your dream life! Based on scientific findings Kathi Tait, the Baldwarrior and Daisy Papp, International Excellence Coach discuss topics that affect all humans. Kathi and Daisy share tools to overcome challenges and teach skills that can easily be applied immediately to achieve extraordinary results in your life!
EMBRACING THE GLOBE
...circling the globe from Australia to the USA and embracing all the people of the world! 
We believe we were meant to meet and do this podcast together. Our backgrounds are culturally diverse yet our traumas, experiences and paths of evolving have been remarkably similar. From our early days of chatting to get to know each, practising how we would do the podcast and finding our groove with each other, we instantly clicked and saw greatness in each other.

It is our combined hope that we reach millions of people with our simple mindset change short cuts, enabling happier and healthier people everywhere. Together we can change the world.
We would also like to express our deepest gratitude to our podcast team, our supporters, our families and most of all to you, our listeners. We hope you get value from us.


Visit our website:
https://.baldandblonde.live

Join our FaceBook Group here:
ww.facebook.com/groups/dreamlifecreatorsbaldwarrior/

About Daisy Papp
Daisy is an Excellence Coach and the author of three books which are sold in more than 50 countries. She has helped individuals, couples, athletes, world champions, groups, small businesses, and Forbes 500 companies on four continents to get the best results possible.

Daisy Papp has not only achieved outstanding results in her own life but has an unrivalled commitment to her profession with more than 10 thousand hours of one-on-one sessions completed. Daisy has spent hundreds of hours conducting seminars and workshops all over the globe.
Her greatest quest is to make this world a better place. She is now sharing her expertise in the podcast "Bald and Blonde" to a broader audience globally. 
About Kathi Tait
Kathi is an Author, Speaker, Podcaster, Transformative Coach and Management Accountant. She founded the Baldwarrior Movement in 2018 to spread awareness of genetic hair loss called Alopecia and to fight against societal norms that lead to negative body image.
My vision is to help everyone in the world be comfortable in their skin, to not feel abnormal because of cultural norms and to not be ostracised for being different to the mainstream.
For me, this wasn't possible without complete self acceptance and discovering the true freedom of living authentically.

Kathi's main passion is helping others grow their mindset and change their life to be happier and she focusses on this in the Facebook group "Dream Life Creators Baldwarrior" where she is joined by Daisy to deliver the Dream Life Blueprint.
Kathi's first book, BALDWARRIOR - My Journey from Self Sabotage to Self Love, is pending publishing in 2021 and 3 further books are in the pipeline to be published over the next 12 months.
When we reach our first goal we will make an exclusive behind the scenes video for all of our Patrons!
1 of 3
Recent posts by Bald and Blonde Podcast
How it works
Get started in 2 minutes