BeetleMilk
is creating Comics and the best cult.
Select a membership level
Acolyte
Oh, it's a start, but we have so far left to go. Spend some time in our Discord getting to know us and our Possi.



Cardinal
This is pretty simple - You'll get access to all comic pages as they publish, and automatic access to new comics as they go live. You'll also have access to a Patron only storefront that features limited edition merch and comics!
Majordomo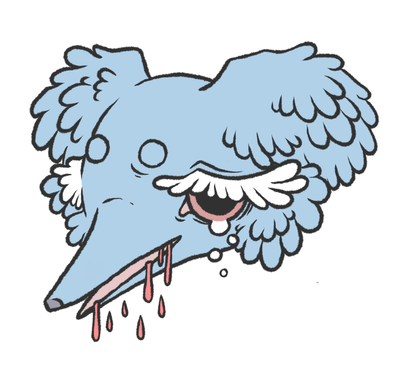 This is the top of the top. In addition to everything from previous ranks, you get access to weekly tutorials and podcasts by the team, as well as WIP access! It's awesome!
About
Welcome to BeetleMilk comics!

BeetleMilk started  as a comic publisher. Today, we run a massive website with all sorts of merchandise, based on our mutual love of occult subjects, but... we've been getting the itch. To delve back into the arena that started the company.

We are the creators of two highly popular indie comics - [Psycho Babble], and The RoadKill Club.
[Psycho Babble], we discontinued, because we had better ideas for the comic but couldn't justify introducing them to the current continuity. RKC is still in production, and issue 2 should be coming out in 2020 if all goes well.
So, if you read [Psycho Babble] and loved it, you might be asking yourself: What's next?
This comic. The one you are on the Patreon for. Divine Illness.
Divine Illness is a complete reboot of [Psycho Babble]. New plot, new antagonist, many of the same characters.
Plot summary:
"Rabies has infected the continent of Sunflow. The virus, previously only believed to exist in legend, was unleashed upon the continent. Our main boys- Greyson the rooster and Red the wolf have to find out why and how this happened. All signs point them to one of the most famous personalities on the continent: The Saint of Anguish. It is his His religion's philosophy to prove that suffering is the only viable way to The Desert of White (what we know as heaven) after all."
One key difference between this new comic and [Psycho Babble] is that it will be much more adult and violent. We held back before, but we wanted this comic to be DARK. And so it will be.
A few key notes about the comic & Patreon:
It will only be released digitally on this platform.
Divine Illness is slated to release twice a week for patrons, and once a week for everyone else. So it is possible to read it for free, however you will have to wait.
Part of this will be community. We have a Discord server, and Patrons will have their own ranks, as well as a private channel to get to know each other as well as discuss the comic. We hope to receive feedback as well - which means you can take part in the creation of it.
Each issue will be 22 pages long.
This will be ongoing throughout the duration of the series, with ten volumes planned. 
We will be doing giveaways, exclusive tutorials and podcasts, and have exclusive merch as time goes on. Depending on your tier, a lot of this you will be elligible for at no additional cost.
Explaining the Tiers
No matter what price point you enter at, we want you to subscribe and enjoy the benefits of being our patron. To that end, we set up a few tiers to allow you to do that. Here's an in depth look:
Acolyte
: Normally, a two dollar subscription gets you a crisp handshake and a thank you. We decided that we wanted fans at this level to still get something cool out of it, so we hooked you up with an Acolyte role in our Discord server - The BeetleCult. You will have access to the patron exclusive area as well as the other areas of the server, and we hope you'll participate and get to know our lovely fans from all over the world. We're very proud of this community, and can't wait for you to join!
Cardinal
: First things first, your Discord role becomes Cardinal. Along with the Acolyte benefits, you will be eligible to view new pages of the comics as they release, and have access to the patron exclusive storefront that will be rolling out. This storefront will feature limited edition items, as well as patron only comic covers. It will also entitle you to new comics automatically, at no additional charge, as soon as they release. The Divine Illness is just the start - this Patreon will be the release format for exclusive looks at all of our first party comics going forward. Enjoy!
Majordomo
: Welcome to the big leagues, Majordomo. In addition to everything listed above, you get something very special. Access to a weekly podcast by Devin, discussing how to create and market comics, and a weekly training video by Tatiana, discussing her approach to art and how you can work towards your artistic goals as well! You will also get WIP and script access! Basically, it's the studio tour.
We hope you are as excited about this Patreon and comic as we are! Over time we will build it up to be a formidable campaign with exclusive access to all of our popular comics. We hope you'll join us on this journey! 
At this goal, we will be able to roll out a feature that I REALLY want to roll out - automatic shipping of new comics on release day to patrons of certain tiers. More info coming as we draw closer!
1 of 1
Recent posts by BeetleMilk
By becoming a patron, you'll instantly unlock access to 8 exclusive posts
By becoming a patron, you'll instantly unlock access to 8 exclusive posts