Bexa Boss Lady
is creating is Helping Others Grow Side Hustles into Thriving Businesses
Select a membership level
Bexa Boss Lady Supporter
Thank you for helping me build this community. Every tier member is important to me. 
As a Bexa Supporter, you will get instant access to my Patreon feed, weekly videos that will only be shown to my Patreon members and exclusive educational content.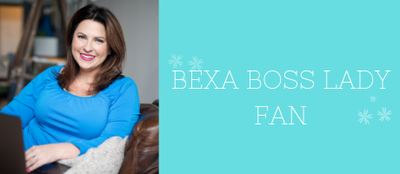 Bexa Boss Lady Fan
Thank you for helping me build this community. Every tier member is important to me. 
As a Bexa Boss Lady Fan, you will get instant access to my Patreon feed, weekly videos that will only be shown to my Patreon members and exclusive educational content. 
PLUS: Access to Poshmark Seller School Modules and Access to my next course I'm currently developing for entrepreneurs. 
Bexa Boss Lady Super Fan
Limited (0 remaining)
Thank you for helping me build this community. Every tier member is important to me. 
As a Bexa Boss Lady Super Fan, you will have access to everything in the 2 levels below this one and get 2 more personalized features. 
1. 1 Monthly Google Hangout with Rebecca where you can ask questions, get insight on what I'm working on and even have access to The Data Guru from time to time. 
2. 5% Off Reseller Inventory Boxes on BexaBossLady.com once a month. 
3. Access to Reseller Sales & Data Course
About Bexa Boss Lady
My name is Rebecca Black and I am the Bexa Boss Lady. Welcome!

Over the past 15 years, I've experienced a wonderful mix of careers, side hustles, and entrepreneurial ventures. My reselling side hustle quickly turned into something much larger in 2016 when medical bills began piling up following an unexpected major surgery. This reselling hobby ended up completely paying off those bills and I was able to turn it into a full-time business. Little did I know that officially starting that business was the EASY part! Going from hobby to a full-fledged, profitable business isn't easy, but I am confident that together we can help you get there.

Why take this journey with me?

Do I need to tell you that the world has changed in the last 30 years? When I was growing up, my education (at home and at school) was focused on deciding on a career and finding a job. Why? No one said you have to work only one job. No one said you have to work for other people. No one said you can't be a stay at home parent and still make some money in whatever free time you might be able to cave out. And more importantly, who the F* cares what other people say anyway! It is so easy to get caught up in other people's opinions or judgment but the reality is – you are the only one living your life every single day and it's up to YOU to make it the most fulfilling life possible.

I'm sure you've had that thought or seen friends and family members promoting their own side hustles. But let's be honest, does the world need another influencer-promoted skincare line? I'm sure you have also told yourself lies to protect yourself from making a leap. You've made excuses. I understand. We all have. Consider this. I live with chronic pain and medical issues every day of my life. Every morning I wake up, can barely get out of bed and I am reminded of my crappy health and the specter of more surgeries and overwhelming medical bills is constantly hovering over my head.

So what's YOUR excuse?

It's time you live the life you want: by your own design and your own decisions. That's hard enough without facing the complicated realities of starting your own business. Ultimately, that's why I started Bexa Boss Lady. I will encourage you, inform you and while it may be difficult to believe as you stand on the edge of the cliff waiting to leap, but I promise we will teach each other! This community of self-employed entrepreneurs is FILLED with information, tips, tricks, and opportunities. You just have to know where to look and how to effectively make them work for your individual business and your individual personality and lifestyle. Unlike onesie pajamas, one size doesn't fit all in entrepreneurship. I'm continually tweaking my systems, adding new revenue sources and trying out new things. Why make the same mistakes I did, when together we can skip the trial and error stage and jump right into changing your life immediately?

Join my Patreon and I promise you won't be disappointed.

We are all unicorns in this thing called life just trying to make our way.

About Me:
Throughout my career, I've enjoyed management and leadership positions and most were focused on coaching or helping others. It all began with Children Services as a social worker where I climbed the ladder from caseworker to training coordinator and ultimately becoming the organization's youngest supervisor in a short 2.5 years. During my time there, I went through my own personal weight loss transformation and fell in love with helping others find their own "healthy" and I started personal training and teaching group fitness on the side. Eventually, that grew into an even greater passion when I opened Bexa Body Fitness in January 2012. I poured my blood, sweat, and tears – literally – into this business. We quickly grew into one of the "go-to" gym spots in Columbus, Ohio and I branded myself and my business into expert status with interviews appearing in Oxygen and Self magazines, gracing the cover of several local magazines, becoming a recurring guest on local newscasts, developing deep community relationships and ultimately being selected by Columbus Business First as one of its Forty Under 40 in 2013.

Do I tell you this to impress you? Well, maybe a little. Did it work? Mostly however I tell you this because accolades of this type aren't JUST mileposts of success, but critical aspects of your marketing and small business plan. I can help you get there.

After almost four incredible years, I made the difficult decision to close my gym when my husband was offered a life-changing opportunity in our nation's capital. I was thrilled for him, and for us and anxious for new adventures and new challenges, but I was naïve to think that it would be all sunshine, rainbows and, well, unicorns. I subsequently held two General Manager positions running and managing multi-million dollar sales-forces, but something was missing in my life. Ultimately it was my body that forced me to sit (or rather lay) down and pay attention. I ended up developing serious medical issues resulting in surgeries taking me out of the regular workforce and I made the decision to never again "work for the man."

What you will learn each month?

∙Reselling Tips, Tricks and Insider Information
∙Poshmark, Mercari, ThredUp, Etsy and Ebay Lessons
∙Personal, store and online Branding
∙Social media success
∙Networking (locally and online)
∙Haul Videos (exclusive to Patreon)
∙My personal Income reports (exclusive to Patreon)
∙Other ways to earn income from reselling or side hobbies
∙Exclusive interviews with other industry experts and popular influencers
∙Data tutorials and spreadsheets to ensure profitability and accountability


Once the Bexa Community reaches 75 Patreon Members I will be able to start the process for launching my podcast!
1 of 1
Recent posts by Bexa Boss Lady