BiCurean
is creating a Podcast and Blog
Select a membership level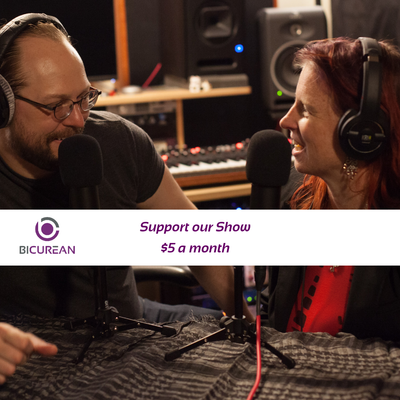 BiCurean Community Member
We are just doing one tier to start. $5 a month gets all the perks we create.  
This includes:
- give us ideas for guests and topics
- we'll send you a sticker if you give us your address
- bi-weekly (ish) emails with tips, podcast links, articles and other podcasts we are inspired by, & blog links
About BiCurean
Do you love the BiCurean Podcast? So do we! That's why we work hard to get good guests and research topics thoroughly. We'd love this to be a full-time job, which is probably years off. Until then, we'd love to pay a little less to get this out to our listeners. Consider subscribing for $5 a month to support our work! We will eventually give you more perks, like transcripts and bonus content. For now, you get our gratitude and some woots.
When we reach 250 patrons donating monthly, we will do a special series on topics requested by our patrons. 
1 of 1