BlaineC2040
is creating Youtube Videos
Select a membership level
The Snacker
Thank you for your support! Every little bit helps!
you will also get access to patron content feed, and my private Discord server...
Includes
Join the patron community
Patron-only content feed
Includes Discord benefits
The Barista
The Barista
Includes
Previous Rewards 
Name Credited on my Support page on my website
Name In Patreon Credited Videos 
The Fast Foodie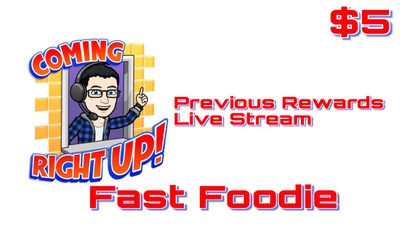 The Fast Foodie
Join in on Patron only live streams.
Includes
About
I'm Blaine, on the internet I'm known as BlaineC2040, I with the occasional
help from friends and family, produce Youtube videos, and other content!
Thanks for stopping by to check out my Patreon Page!
I created this page because I want to take my projects
to the next level.
My video content is free and this is a way for people to financially
support the work I do and be more involved in my work, if you feel
so inclined.
I have a wide variety of content but the focus of my channel has
been a food related series called Tasty Thursday where I do anything from
visiting restaurant, to recently doing recipes. 
Although I've updated my outro this is one of favorite Tasty Thursday Episodes...
My content isn't limited to just food, because I also enjoy games, and liketo be able to make travel vlogs, which I hope to be able to do more of in the
near future.
My first time flying!
My YouTube Channel: 
http://www.youtube.com/BlaineC2040
My Website:
www.BlaineC2040.com
Questions You May Have:

What is Patreon?
I'm excited to join the Patreon family! First off, if you're here, that means you most likely already watch my videos - THANK YOU! I wouldn't be able to do what I do without your support. Patreon is a way for you to help me along even further in this adventure. And as a small thank you I've put together some cool rewards!

Where does my money go?
This will help me with <g>life</g> expenses, get <g>equipment</g> I need, crews for shoots (I've been known to film with a camera in one hand and a spatula in the other), and help us get props and build sets when needed. Please don't become a patron if you're low on money - I know what that feels like - and please don't feel like you have to. I will continue to make videos whether you become a patron or not, they just might be a bit better if you do!Do I have to pay in US Dollars?
NOPE! Pay in any currency! As this is a US based website, everything is written in Dollars, but you can use any currency and it will be automatically converted.
I don't have much money, can I still become a Patron?
Yes, please only sign up to donate what you can afford. Even $1/month will make a huge difference and would be greatly appreciated. 
Can I stop donating in the future if I can't afford it?
Of course! If you can't afford to donate in the future, or you need to donate less that's absolutely fine. You can just log in to change or cancel the account whenever you want. 
If you have other questions, feel free to:
Tweet @patreon, or email
[email protected]
/* */!
(
Reward deliveries vary depending on timing after a  successful transaction
)




The video below was shot at my first charity event although I was only able to reach the least spiciest sauce donation so I have a few of the Hotter Sauces left and I figured that I would save them and celebrate some Patron Milestones and money made by the videos will go to the Children of St. Jude. 


When I reach 100 patrons I will celebrate by making another one with a hotter hot sauce

When I reach 250 patrons I will celebrate by making another one with an even hotter hot sauce

When I reach 500 patrons I will celebrate by making another one with a hottest hot sauce I had at Th3 3v3nt



I will reboot my unboxing video series with my wife
and will allow my patrons to vote on the subscription that we will get. 

1 of 4
Become a patron to
Unlock 427 exclusive posts
Connect via private message
Recent posts by BlaineC2040