Bleeptrack
is creating generative stuff of all sorts.
Select a membership level
Buy me a Coke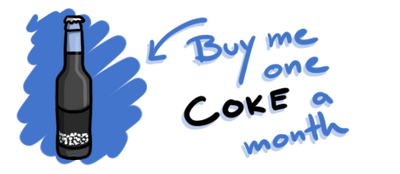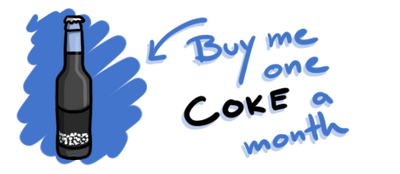 You bought be a bottle of coke. Thanks a lot! This makes my day a lot sweeter!
Buy be a Mate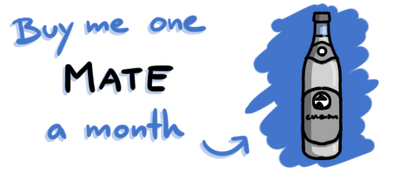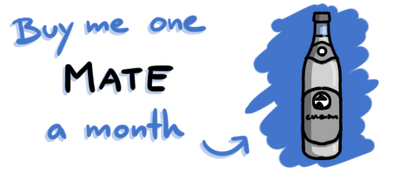 Hey, you bought me a bottle of mate lemonade! Thanks! This gives me the coffein boost I need to work through difficult coding problems.
Buy me a large Ice Cream
Oh God, I love ice cream! Thank you so much! Everything is better with a large cup of dark chocolate ice cream!
About Bleeptrack
Hi, my name is Sabine aka
Bleeptrack
. I am a german software developer and artist. Since 2011, my blog bleeptrack.de is online and I started creating videos. First only game reviews, later tutorials and educational videos.
2018, after I finished university and had worked as a research assistant for one year, I reduced my job to halftime, so I could focus more on my own projects. I still enjoy teaching, but quit on the research part.
Not at early 2019, I again enrolled as a PhD Student. This time in generative Machine Learning. This topic heavily correlates to my artist interests and I hope for a great way to connect my research with my art.
In mid 2018, I started video series called "
Work in Process
", where I talk about the current state of my projects. In these videos (and all upcomming vids) I talk in German, but I add English subtitles to make them more accessible. Future written posts will be in English except they are only dedicated for a German audience.

From which projects could I know you?
beetlesbot: a generative art beetle generator. The additional Twitter bot @beetlesbot posts a new beetle every 6 hours.
"Hacken" T-Shirt:  an ironic take on metal band shirts, filled with IT puns. This shirt was created together with blinry and the twitter community.
German Algorithmic Explanation Videos: If I get recognized somewhere, it is because of my educational videos about algorithms and computer science.
What topics do you cover in your videos or posts?
Making: Digital Fabrication, CNC Milling, Laser Cutting, 3D Printing, Electronics (Arduino & Paspberry Pi, Sensor Networks).
Crafting: Naalbinding, Weaving, Spinning, Sewing.
Drawing "Schnipsel": one tiny image every day.
Creating Sketchnotes and Zines.
Art & Code: I create generative and procedural art and print them on my pen plotter.
Retrogame Reviews: To archive unknown games (especially from small german companies), I like to create short reviews about them.
Anything else you do?
Mentoring at Jugend Hackt.
Mentoring at my local hacker-/makerspace.
Giving talks about Code & Art, Learning and Teaching in Web Communities.
Do you publish your project's source files?
All of my projects (code, plans, etc) will be published openly and are free to remix.
What will you do with the money from patreon?
As i wrote above, I do not work full time. So this patreon campain will hopefully help me finance part my daily life expenses. I also recently started a PhD in generative Machine Learning, which is not fully funded yet.
By becoming a patron, you'll instantly unlock access to 35 exclusive posts
By becoming a patron, you'll instantly unlock access to 35 exclusive posts
Recent posts by Bleeptrack
How it works
Get started in 2 minutes