Forum
GDI Home
Download Demo
My name is Michel Stango the lead developer for the Guild of Dubious Intent.  I've been making games in one form or another for twenty years, with training in Fine Arts, Graphic Design, Computer Science, Animation, Writing(creative and technical) and Sound Design.  I was something of a one person studio for a time, but now as I prepare to create my first full length title I have assembled a team of artists to help bring this vision to your screens.
In short:
GDI's goal is to create the kind of polished experiences that can only happen when a skilled group of people come together, but  with continuity of a single author narrative.
Please join us in bring "Broken" to life.
What is Broken?
Broken is an Exploration Platformer, also known as the Metroidvania Genre. It is easily my favorite style, but it is an increasingly neglected one. Big name studios rarely if ever acknowledge their existence, let alone make one.  So I resolve to make this as classic an experience as possible while acknowledging that gaming has moved forward in the design where it can improve play. Broken will be be a full length Metroidvania game in a new and odd setting.
Broken will contain: 
https://youtu.be/l7oCE_IhWss
www.youtube.com/watch?v=l7oCE_IhWss
https://www.youtube.com/watch?v=l7oCE_IhWss
https://www.youtube.com/watch?v=l7oCE_IhWsshttps:/...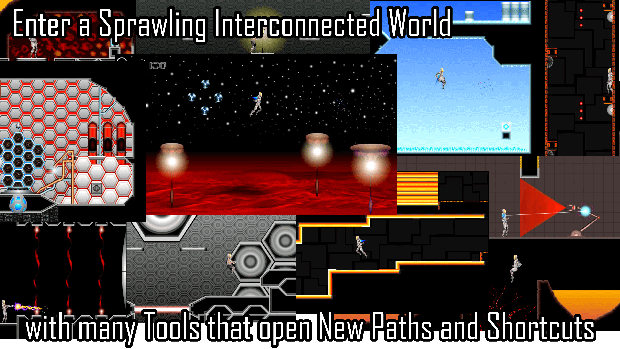 The time-honored caves and corridors model will be used, but we will not be limited by it.  Be prepared to see environments both familiar and alien used in unique ways.
Fun Puzzles and Mingames will not only brake up gameplay, but tie in with progression and the story.
Your weapon is ever changing, you can add or remove parts and features as you will.  Most importantly you can save your favorite loadouts and restore them with the press of a button.
The World of Broken will be Massive, but rather than risk making travel through the world a tedious slog there will be high speed vehicle sections.
From a Ballistic Vest, to Powered Armor, to full on Mech Tank, watch your armor grow as you meld equipment together into a war machine.
There is nothing like a giant boss battle to get the blood pumping and Broken will be full of them.
On the rare occasion when we do get a real Metroidvania experience it's almost always 3D on a 2D plain or a full 3D experience.  Not only is that the lazy choice, but it ignores a vital art form within game design.  Every sprite, every backdrop, every frame of 2D is seen as the developer sees it.  Meaning much low risk of graphical artifacts or goofy looking bugs to take you out of the experience.


Features Will Include

- Challenging, not Punishing:
Broken will be tough, but consistent, the rules will not fluctuate. We will telegraph threats, make check points frequent and we will keep the difficulty curve smooth, steep, but smooth.
- Sound Survival:
What you hear can tell you more then your eyes. What did you just hit with that shot, did your ammo type damage it, in time you'll be able to tell blindfolded.
- Money or your Life:
The Armor that keeps you alive is made up of the very resources you need to build and upgrade new tech.  A significant blow can leave you defenseless and broke.
- The Toll of Power:
Will you survive with what you can scrape together out of refuse and hope? What would you give up to get home, how much of your soul are you prepared to sacrifice?
- Attain, Analyze, Adapt:
Everything you Scan can be studied in your Codex Computer. Knowing more about threats and the world can be the difference between being eaten alive and lasting another hour on this hostile uncharted world.
- The Rails Diverge:
This journey always begins the same way, but what route you take, which area you tackle first and how you interact with others is up to you. Ultimately what you do doesn't just change the ending, but what, where and when the endgame is.
- Threats from Without and Within:
Getting out in one piece is implausible at best, but not all that stalks you would take your life. They want something more and it just might be worth considering their offer.
The Nos

- No Unity Assets
- No Unity.
- No 3D Graphics
- No Rendered 3D Models Flattened into 2D
- No 2 1/2D Shenanigans
- No Micro Transactions
- No Season Passes
- No Pay to Win of Any Kind

Just a Original 2D Game, as described, for the Price on the Tin
Why Patreon?

We love games, everything about them, marketing and selling ourselves, not so much. Considering how saturated the net is in ads we've decided that's a good thing.  After all we'd rather use any funding toward the game's development. So we picked Patreon to get our work out there and get the project off the ground without annoying pop ups or banners that every one just ignores anyway.