Caveloot.com
is creating Dice & Dungeon Looters - Dice & Gaming by Mail
Select a membership level
The Basics
Every little bit adds up and you have my appreciation! You also get...
-To participate in all Patron discussion/communication.
-Your own personal 5% off discount code for Caveloot.com.
-Earn free items from Goals

*International Excluded from Physical items at this level.



Pair of Custom Dice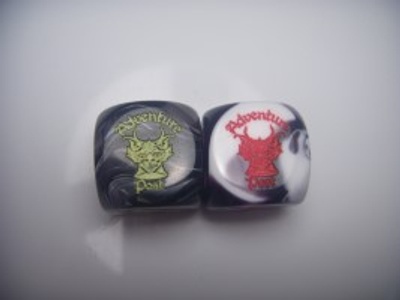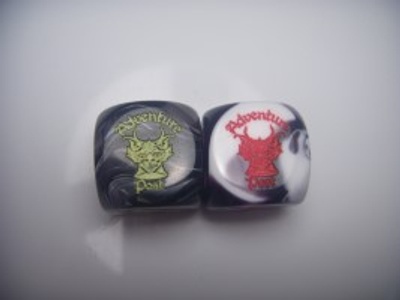 Everything from the $1 Pledge AND: 
Domestic USA:
Pair of Custom Dice from Caveloot.com inventory, shipped to you every month (Shipping costs are included in your pledge).  
These will be a matching pair and everyone will get the same two. You will get a different design each month. 

International:
You get the same thing, but your shipment will be sent every 6 months and will contain 6 months of content. 

**Note: Image is an example photo only.

Token Looters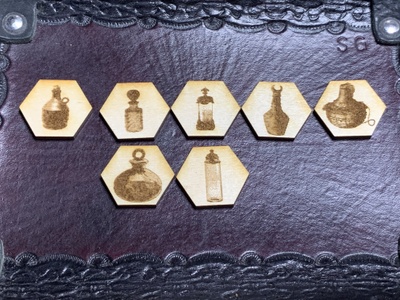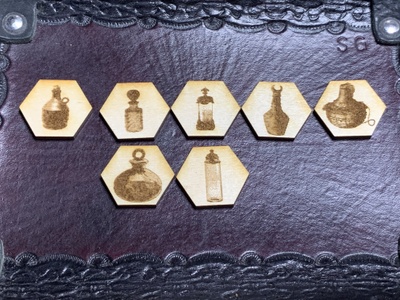 Everything from the $1 Pledge AND:
Domestic USA:
TEN custom cut and engraved from Caveloot's laser Engraver "Odin", shipped to you every month (Shipping costs are included in your pledge).

These will be random and may be Monsters, Adventurers, Items, Traps, Condition markers, or anything else that makes sense!

They will be cut and engraved on 3mm Baltic. 

International:
You get the same thing, but your shipment will be sent every 6 months and will contain 6 months of content. 

*image is an example
*You will have the option for Hex, Circle, or Square 1" Tokens. We will message you when you sign up.

About Caveloot.com
*A small sampling of Caveloot.com Dice Inventory
Hello,
Thanks for visiting Dice Looters!
My Name is Stile Teckel and I am the owner of 
Caveloot.com
.
So here we are! Basically, you are looking at an opportunity to pledge towards a monthly/quarterly package by mail of dice and/or gaming related products.
Even if you do not want to pledge for regular mail, at just the $1.00 tier you are able to participate fully in discussions and based on membership goals earn shipments of goodies on occasion! The more members we get, the more this can happen.
There are also goals for referral programs and loyalty rewards, so be sure to take a look at everything.
I think that between the pledge tiers and the goals, everything should be fairly straight forward as to what I am offering and what your options are to participate.
I definitely welcome your suggestions for making this patreon better! Ideas about additional tiers, revising current ones, and new goals, is all input I welcome! Please do not hesitate to ask questions and I will add the answers below to the Q&A Section.
The Dice must flow!
Questions and Answers
What is the payment and shipping schedule?
Regardless of when you join, you are charged on the first of the month. I will begin shipping packages each month on the 2nd of the month, with the intent to ship them all as quickly as possible (hopefully all on the 2nd), but I will have until the 15th of the month to have everything shipped. 
This means if you join on the 30th of the month, you will be charged on the first, and if applicable for your tier would your first shipment going out on the 2nd or as close to that as possible, without going out any later then the 15th.
If you were to join on the 2nd of a month, your first shipment would not go out until the following month, after you are charged on the first. 
Will everyone's boxes be the same or different?
This is a tough question I have debated about a lot.  Rather than get into all of it, let's just say I decided something that offered both "I got the same item's" as well as "I got a different item" was important.
The only thing guaranteed to be the same for everyone will be the custom dice each month. If you are international, when you get your quarterly package you would be getting the same dice as those 3 months of domestic shipments, with regards to the Customized dice.
I see D10 and D6, but not other, custom Dice examples in photos?
D6 will be the most common die I do as a custom die. There are several reasons for this but the largest two are pricing AND surface space to have room to put something cool!
I do D10 on occasion but due to the limited surface space, not all images will work well (it's an odd shape). It is extremely rare (but does happen) that I will do custom dice (at least at this time), outside of those two types. Expect to just always see different D6 for the custom dice, and be surprised when it's something else.
Will I get tracking information?
Yes! Tracking information will be sent to the email that is associated with your Patreon account.
I want to stop getting packages for a little while, but I want to keep my account active for rewards and such, what do I do?
Simple! Adjust your pledge reward down to the $1.00 level. This will keep you as an active pledge for any rewards that require such. Additionally, you will continue to be able to view the Patron-only post and get the updates!
D4 = Four Sided Die
D6 = Six-Sided Die
D8, D10, D12, D20, D100, D30, Where D = Die and # = Number of Sides
Quarterly = Every 3 Months
Disclaimers
-All photographs of items in tiers, goals, and posts are legitimate examples of inventory I carry and products I would potentially send in a box. None of them is a guarantee that a specific item will ever go out in a package, however. They are examples only.
Group Project Gains a Level!
Twice a year, we will create a custom die as a group project and every supporter at the $1.00 level and above will get four of them. Shipping is included (BOTH domestic and international).
-Will be for a D6
-Group discussion on what face will be engraved (One or Six)
-Group discussion on what the custom engraving is (Theme and specific images)
-Group selection on the dice style's to use, from the available options
-One Engraving, two dice style selections will be made

Four dice will be mailed to each Patron. Each Patron will get two of each style.
-If you are at a tier in which you get a package shipped to you, your custom dice will be included in your next package shipment.
-If you are at the $1.00 tier or another tier that does not get a package, then guess what, you get a package! Shipping is included, which makes this a reasonable value for even the $1.00 pledge level.

3 of 7
Become a patron to
Unlock 192 exclusive posts
Connect via private message
Recent posts by Caveloot.com
How it works
Get started in 2 minutes