Chalo
is creating Comics and Art
Select a membership level
Las Lindas Caretaker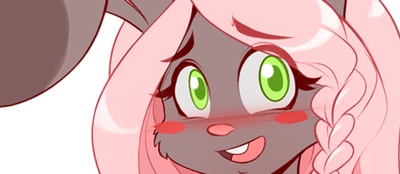 $1.25
per Las Lindas comic page
You will get to see the sketch and ink of every comic as well as some thoughts that went into the creation of the page and the current story. (No spoilers, though.)

You'll also get to see any sketches of the illustration I happen to be working on that month.
Las Lindas Manager
$2
per Las Lindas comic page
You will be able to contribute with questions for my Ask the High Prime blog directly here on Patreon. No more voting!
The best questions form my patrons will have preference and appear here first.

-This pledge includes all previous rewards.

Las Lindas Boss
$3.75
per Las Lindas comic page
You will be able to vote for the theme of a brand new illustration I'll produce every month! The themes will range from cute and sexy to even NSFW. The images will be posted here on Patreon before anywhere else!

You will also have access to the high resolution files too, for your viewing pleasure.

-This pledge includes all previous rewards.

$945
per Las Lindas comic page
About
Hello everyone! I am Gonzalo "Chalo" Reyes and I've been an anthro artist since 1995. I have a webcomic I have been updating since 2004 called 
Las Lindas
!
Check it out at it's new home at 
Kemono Cafe
. 
I've always wanted to work my comics for a living, but at the same time I've always wanted Las Lindas to be free. If you choose to help me here on Patreon, I can do more for the comic I love and not have to worry about earning money from other places. Thanks to your support, I will be able to give more time to Las Lindas.
No matter how much you choose to pledge, thank you. It all adds up! I hope to be comfortably living off of my comics and I will owe it all to you. Thank you so much for supporting me. It really means a lot.
Let's make great comics together! Thank you!
April 29th 2015 UPDATE

I've recently had some changes in my life that make a monthly billing and reward system not work for me. So I need to change my Patreon page to
bill only when Las Lindas updates
so I can set my own schedule and not fall behind on what I owe people. I'm sorry for the trouble this has caused. Please reset your pledge level to an amount you are comfortable with.
We will update Las Lindas a maximum of 4 times a month.
Unlocked @ $50 per Las Lindas Page!
I will periodically hold a stream on my 
Picarto page
that anyone can join. Then I'll randomly pick someone from the stream and do a small sketch for that person live! The number of sketches is usually around three or four per stream. The rules will be posted before each stream .
I will only announce streams on the months I can update LL.
Unlocked @ $100 per Las Lindas page!
Las Lindas Bonus Comics are our way of showing fans more of the Las Lindas universe. The current comic I'm focusing on is Knighthood, wich follows Joy Ravenhurst in her quest to become a Knight of the Prime Queendom.
I will only update bonus comics on the months I can update LL.

Unlocked @ $200 per Las Lindas Page! 
"Ask The High Prime" is a NSFW blog where you can ask Ambar, the super sexy world leader of Las Lindas, and lots of other Las Lindas characters whatever you want. Ambar is fun-loving and very playful with the answers, so while they're kiiiiinda true, they're mostly over-the-top fun. Check out the questions she's answered so far
here
!
I will only update Ask the High Prime on the months I can update LL.



Can't get enought of the world of Las Lindas? Now you have the chance to vote for a special illustration every month, that will explore the secret life of the characters or just have fun putting them in funny and often sexy situations.
$400
-
reached!
per Las Lindas comic page
I will do a special patron voted illustration each month. 
4 of 4
By becoming a patron, you'll instantly unlock access to 618 exclusive posts
By becoming a patron, you'll instantly unlock access to 618 exclusive posts