Change Your POV
is creating a podcast
Select a membership level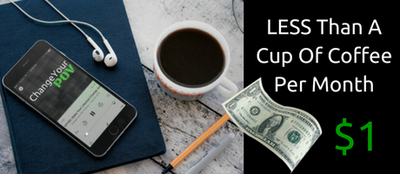 Pledge $1 or more per month
 YOU GET TO BE ON A BOARD. You know how sometimes someone says they're on some advisory board and they sound fancy? That's kind of what happens here. After pledging, you'll receive a link to join our "inner circle" email list, which we'll use when we need feedback or suggestions or when we're lacking disciplinarians and need someone to put our asses in line. We also might let this list know about upcoming plans for the site before we announce them publicly. (This all goes for any pledge from $1 up.)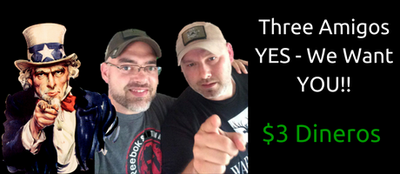 Pledge $3 or more per month
 THREE'S A CROWD. Don't know what that means but it was a famous saying involving the number three so I ran with it. In any case, for the price of a cup of coffee (in New York at least) a month, your pledge will add up to a very meaningful amount over the course of a year. You will also get a huge shout out on the show because we love you!
Pledge $5 or more per month
 YOU'RE KIND OF A HEROIC PERSON. Pledging $5 or more a month puts you in hero territory. We all have a handful of monthly $5 costs, and we seriously appreciate you carving out one of yours for us. For your pledge of $5 a month you will get a huge shout out on the show, and extra content like special Podcast Episodes, Out takes, Behind the scenes pictures, and a lot more! 
About Change Your POV
Hello! Thank you so much for making your way to our Patreon page! 
We have some really big plans for the future and we are asking you to be a part of it all.
Our names are Eddie and Bennett and we are both military Veterans trying to make a difference in the world.
We figured what better way to do that then to create a Podcast right? So... Change Your POV Podcast was born! The ability to Change Your "Point Of View" we discovered was the secret ingredient needed to becoming as successful out of uniform as we were when we were in.
We have some amazing Sponsors and other Affiliate programs that help defer some costs of running this show, but we realized two things:1)
In order to take this venture as far as we can - including hosting conferences, meet-ups, and creating workshops and to better give back to the Veteran Community - we need additional tools, training and resources that cost money.
2)
We also found that a lot of folks just want to support the work we are doing without any strings attached just because they love our content. How Awesome Is That?
Patreon now gives you and us the opportunity to do just that!
We don't expect or assume anyone will contribute any more to our show than simply listening to our podcast. We really appreciate that by itself more than you know! But if you feel like contributing more, it'll all go back into creating more great stuff.
Change Your POV has had a great start and we've developed an enthusiastic listenership in our first year. Since launching in 2016, we've published over 150 Podcast Episodes (along with a handful of short blog posts and free downloadables), and Change Your POV has become a collective 30+ hour/week job for us.
We know two things now: 1)
We want Change Your POV to go on for a long time. The beta test is over. It works. We have listeners and super cool fans. I'm obsessed with Change Your POV Blog and Podcast—it's the most fun we've ever had doing anything. This should continue for a long time, in some form or another.
2)
We need to make Change Your POV self-sustaining for this to work. The "fund Change Your POV with out of pocket + savings + other company" plan was fine for Phase 1, but it's not sustainable. Our savings are unimpressive. In order to grow we need every dollar to invest in itself. If Change Your POV is going to go on for a long time, it has to be able to support itself.
Long Term:
Thinking about the long-term, self-sustaining plan, we decided we don't want to use ads. Ads are annoying and hurt the user experience, and we can come up with a better way to do it. So far, we have two methods:
1)
The few affiliate sponsors we have promoted on the show has definitely helped, but it doesn't even get us half of the way to self-sustainability. Maybe when we have more time to further develop additional affiliates, it'll do the job, but it's not enough as it is now.
2)
Donations. We've received donations from generous listeners that have reached out to us very thankful for the work we do and value we've brought to them in their life. A lot of those donors, along with other listeners, have suggested that Patreon is a better way for listeners to support the Podcast. So we're trying it!
The way Patreon works is a listener can donate whatever they want per month and the donation is recurring each month after that. So anything, from $1/month up, is hugely helpful to the cause.
What We'll Use the Money For:
Our initial goal is $1,000/month as a starting point. That money plus the affiliate income will be enough to keep Change Your POV going. Here are Change Your POV costs:
Hosting: We need a robust enough hosting plan to support the highest spikes in traffic and downloads we ever get so we don't crash during those moments and ruin our happiness
MailChimp: The service we use to email posts out to the subscription list. This fee grows as the email list grows
Ongoing web development: It's a website, so there are always upsetting glitches coming out of nowhere and occasionally, we add a new site features
Facebook post "boosts": When we announce a new post on Facebook, this makes sure that the announcement gets onto 1/3 or 1/2 of our Facebook followers' News Feeds
Post Production Podcast Editing: This is something Eddie is doing 100% and is eating away at the time he could be doing something else to grow the Podcast, and offer additional resources for the listening audience... That's You!
One Virtual Assistant: We are transitioning to the point where we would like to transcribe all Podcast Episodes for further distribution, and offer as a resource for those really interested in leveraging this information for themselves, or others in their network. This is a task neither of us are skilled enough or have the time to do. Keeping it real folks!
That's the basics. With those pieces covered, Change Your POV can support itself initially and allow us to look at our next goals. We have a ton of great ideas, and value we plan on bringing to the Veteran Community!
Stretch Goals:
We are always looking for our next piece of cover! The stretch goals will allow us to take Change Your POV to the next level, enabling us to do things like:
Online courses for converting military experiences
Self Help Books and Ebooks
Self Assessment Workbooks
Turn Change Your POV into a full time job for us!
The stretch goal would be amazing to hit, but simply being totally supported by listener generosity makes us endlessly grateful, no matter what else happens.
Anyway, thanks for any support you can offer if you decide to give, and thanks for being an awesome listener!
- Eddie & Bennett
Motivation Monday Ebook Volume #1

We will be taking our first 30 Motivation Monday Podcast Episodes and having them transcribed. Our plan is to create a 30+ Page Ebook. This Ebook will essentially be a 30-Day Motivational Book with links to all the audio files and some other helpful tips and tricks sprinkled throughout. 
1 of 2
Recent posts by Change Your POV
By becoming a patron, you'll instantly unlock access to 52 exclusive posts
By becoming a patron, you'll instantly unlock access to 52 exclusive posts