Chris Halton
is creating Historical & Paranormal Documentaries
Select a membership level
Become A Patron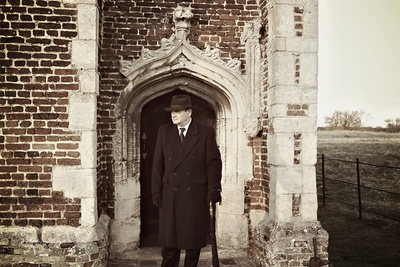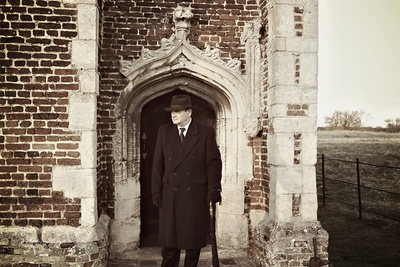 By supporting my work you will receive a (one off), $5 discount from my new content rich DVD which will be published in July 2017. 
This will also include a signed separate photograph and personal Haunted Earth business card which isn't supplied in the regular DVD, and the photograph will be written out and signed to you personally. 
All my new shows will be EXCLUSIVELY shared here a few days  before general release! 
Also, exclusive on-site reports from shoots on location.
And also have the opportunity to connect with other Patrons!
Includes
Connect with other patrons
About Chris Halton


As a filmmaker, I receive as part of my work many compliments from yourselves and Youtube viewers on the quality and dedication of my work.

My style in summary:

An English gentleman who crosses invisible boundaries separating the past and present to share historical detail and ghostly tales for discerning viewers.
Presented by a very popular raconteur with empathetic ability, who skilfully reconnects history and events with paranormality during the course of these presentations or on subsequent investigations.

Many of you appreciate the uniqueness of my shows, and have commented on my artistic abilities in film, music, story writing and photography. I am also a historian and a student of architecture which I share in my work.
Apart from my writing abilities, all of these skills are entirely self-taught, and in some cases have taken years to improve to the present standard.

My presentations are appreciated by many viewers across the world as I share places and history that ordinarily they would not be privy to see, and often from little known locations which not only have a fascinating story to tell, but are also haunted and these I share as night investigations.

Much of my reputation in the film and paranormal world is based upon my honesty and integrity. I do not share fake or questionable material to improve ratings and adsense earnings. I believe in creating quality productions that are educational, entertaining, and enlightening. I also dress period appropriate in a manner that evokes the past and within I  weave a magic to take viewers from the modern world into another world full of intrigue and mystery. My work and style is very professional with a commitment for excellence.

But, in order for me to reach the next level of development I desperately need your help to support my work.

The areas where crowd funding would significantly improve my productions will be:

1) Better equipment.

Currently, I own one HD day camcorder for filming presentations, which is a basic model used by home hobbyists. To share the quality that you enjoy requires re-grading to improve it`s visual appearance. The current standard is now at least 4k which I cannot afford, but I desperately need to upgrade to keep ahead of others in the field.

My editing PC also needs upgrading to a more powerful machine as even editing at an HD standard creates audio lagging issues which are difficult to keep on top of. Neither of these items are cheap for my needs.

2) Improved locations

Much of what I have shared has come from freely accessible locations rather than prime locations both here and abroad which I cannot afford to access. Patreon funding will allow me the opportunity to travel more and hopefully meet more of you on my travels. I have made many friends through my work both here in the UK and abroad, and it would be great to meet and work with some of you.

Many locations are often run by trusts or are privately owned, and many require upfront fees. These start at a minimum of £200 and upwards.

When I shot at Warden Abbey House last December, the fee for a few days stay was around £500. I simply couldn't afford to do this again from my current limited resources.

Another huge disadvantage is the fact that travelling abroad requires air tickets. Even at the low end, a flight to and from the USA is a minimum of £500, and travelling to say Australia and New Zealand where I would also love to shoot is completely out of the question at present. Also add (where relevant) accommodation and travelling.


3) Background people and actors.

Some productions that I shoot would be greatly improved by actors to dress according to the periods that I cover, and in some cases to artistically recreate some drama from history.
Currently I rely solely on stills and photographs which although appealing, do not entirely do justice to what I am filming. Many of these people I envisage are re-enactors, or actors willing to shoot for expenses to upgrade their CV. But also there is a cost in the hire of suitable costumes. None of this I can afford at present.

So what can I offer you by return?

By funding my work you will allow me to continue my unfinished journey to explore, film and share some amazing and beautiful places. And additionally, you will be also safe in the knowledge that my expertise as a historian and explorer of the paranormal will be real and without the drama and hysteria that seemingly is the benchmark of modern reality television which many of my viewers are patently tired of
All my work is painstakingly filmed, presented and edited by me to provide quality shows. There are no short cuts to quality, and certainly no excuses for over dramatisation. What you see is what you get. The truth.


$200
-
reached!
per month
Your contribution will be used to improve each show by the addition of better camera equipment, better locations and to cover the costs of each shoot. 
1 of 1
Become a patron to
Unlock 54 exclusive posts
Connect via private message
Recent posts by Chris Halton
How it works
Get started in 2 minutes