Coaching Through Chaos
is creating A Podcast
Select a membership level
CTC Lovers!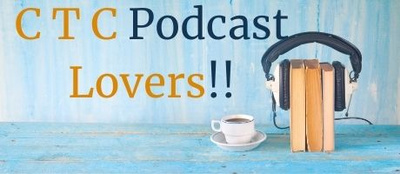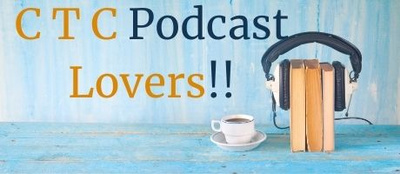 Thank you for loving the podcast enough to contribute.  I truly Appreciate you! Thanks for loving it and supporting my efforts! 
At this tier, you will receive:
1. You will get my unconditional love
2. A shout out on the show!  
3. Ill email you a pdf version of my eBook, "5 Ways! 100 tips for living a happier, healthier life!"
Thanks for the support!


Chaos Crushers!!!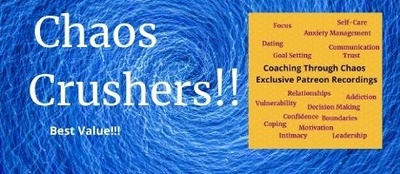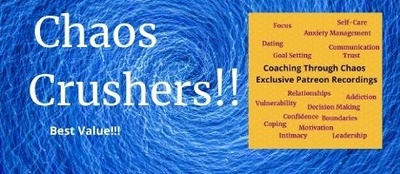 This is the best value for your contribution. At this level, you will get the benefits of the CTC Lovers! Tier, but you will also get access to EXCLUSIVE Recordings Each Month Just for YOU! 
Each month, I will upload at least 3 self-help recordings. These will not be found anywhere else and you even get to make requests for the content. These recordings will give you that edge on the chaos in your life. I will talk about anything and everything pertaining to managing stress- relaitonships, dating, sex, money stress, anxiety management, coping with depression, family dysfunction - you name it, I will give you some tips on it! 

Once you jump into this tier, send me a DM on IG @DrColleenMullen and let me know what topics you're interested in! 
3 Exclusive Recordings Each Month!
Chaos Crushing Pro!
Thank you! 
I can tell you are a person who wants to really understand and Crush that Chaos!
At this level, you will get:
1. Shout out on the show! 
2. Ebook: "5 Ways: 100 Tips for Living a Happier, Healthier Life!"
3.. 3 Exclusive Recordings per Month
4. A Coaching Through Chaos Podcast Sticker!
5. A LIVE Q& A with ME each month!  This is your chance to ask me your burning questions to Conquer that Chaos! 


3 Exclusive Recordings Each Month!

Live, Chaos Crushing Q&A Hour each month with ME!!
About Coaching Through Chaos
Hey You! Im so happy you are taking the time to check out my page! If you're here, its probably because you have already found me somewhere else, so thanks for coming by!
My passion is helping people CONQUER THE CHAOS in their life. You know the chaos, the kind that blocks them from growth. This can be obstacles to healthy relationships, overcoming addictions, working through trauma, depression or anxiety. My specialty lies in seeing the bigger picture and assisting my clients to better understand how they fit in theirs to find more meaning, purpose and love in it!
I conduct my client work daily in my private practice in San Diego, but online, I help others by hosting podcasts, writing for various websites and participating in interviews sharing what I know on crushing the chaos of our daily lives.
Since 2015, I've been the host of the Coaching Through Chaos Podcast, where I bring my audience interviews with people who are truly gifted at their chaos-crushing skills - whether that be doctors, financial advisers, artists, relationship gurus or just the average person who has survived extreme chaos, has lived to tell the tale and wants to share what they've learned.
If you love learning about psychology AND love a great movie, well, since 2016, I've been co-hosting the Shrink2Shrink Podcast where fellow therapist Courtney Calkins and I have fun sharing what we know about life and love through the themes of one great movie every month!
While hosting these shows, I've also ventured into writing and have written for or been interviewed on over 200 websites, podcasts, tv and radio shows! I am so grateful for the opportunities I've been given. I've been fortunate to be featured several times on
PsychCentral, Fortune, Martha Stewart Weddings, NBC and many many more places
- I love being able to help and educate others.
On April 30, 2019, I actually published my first book -
"The 60-Day Plan for Embracing Your Inner Leader"
- How stoked was I when it launched at #1 in it's category on Amazon?!?! Wow!
That beings us to being right here with me on Patreon. You can imaging that all this show hosting and writing takes up a good chunk of my time. Not to mention that as of April 2020, we have been enduring a global pandemic. Needless to say, my practice has been overflowing with clients in need of support. For as much as I'm very fortunate to be able to support my clients and keep my podcasts going through all this, I'd be so appreciative of earning some of your support through this Patreon channel. Im going to keep doing it all, because this is my life's passion, but the Patreon support will give me dollars that are dedicated to the production, promotion and growth of the shows and my online collaborations.
My goal over the next 2 years is to publish the Coaching Through Chaos Podcast companion workbook. Similar to The 60-Day Plan for Embracing Your Inner Leader, this book will have some of the stories from the guests of the show, along with tried and true exercises from those experts and myself that can help you transform your life, one chaos-crushing action at a time!
Whatever contribution you choose to share - I am grateful for your generosity and support of my dreams. Thank you!
Sincerely,
Colleen
My motivation is to help others and this allows me to give so many great people a voice to educate others or tell their own stories of inspiration to the world, which is priceless! 

Personally, I also support my disabled sister and an extra $500/m would really enhance her life- right now, her shared-ride bill to her daily social program is about $500/m so that would ease the financial burden a bit. 

1 of 3
Become a patron to
Connect via private message
Recent posts by Coaching Through Chaos
How it works
Get started in 2 minutes