Select a membership level
⚜️ MUSKETEER ⚜️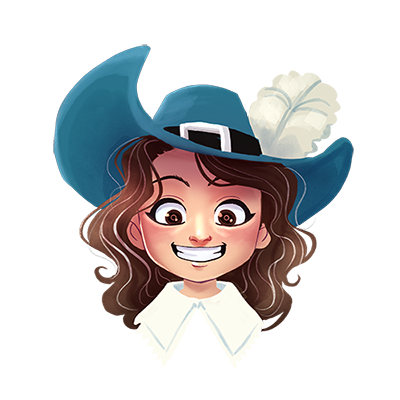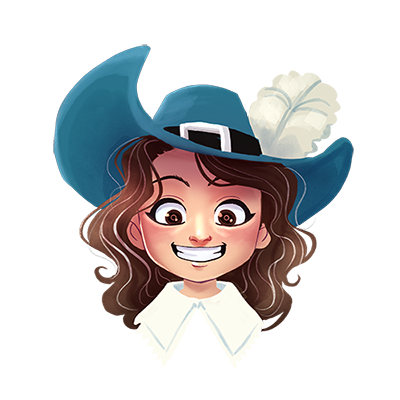 [EN]

⚜️ Early access to art with high quality art and to my youtube videos
⚜️ High Quality PNG
⚜️ Exclusive art only seen on Patreon
⚜️ Behind-the-Scenes
⚜️ WIPs, sketches & Step-by-Step
⚜️ Digital timelapse videos
⚜️ Challenges (Character designs, environment, fanarts...)
⚜️ Exclusive videos (FAQs, etc.) & Polls
⚜️ Other surprises

The content will vary from month to month depending on what I'm working on and what I'm inspired by ! This will keep everything more exciting !

You will be charged on the 1st of every month.

[FR]

⚜️ Accès en avance à mes dessins et mes vidéos youtube
⚜️ PNG de haute qualité
⚜️ Dessins en exclu sur Patreon
⚜️ Dans les coulisses
⚜️ WIP, croquis & Step-by-Step
⚜️ Videos timelapse
⚜️ Challenges (Character designs, décors, fanarts...)
⚜️ Videos en exclu (FAQs, etc.) & Sondages
⚜️ D'autres surprises !

Le contenu variera de mois en mois et dépendra de ce sur quoi je travaille et mes inspirations du moment. On gardera un petit côté excité comme ça !


About Codaleia
[FRANCAIS EN BAS]

⚜️ Hello people and welcome on my Patreon page ! ⚜️

I'm Karell aka Codaleia, a french artist, illustrator and character designer as well as a writer based in Belgium. I love creating characters and my goal is to share it with you here on Patreon, inspire others along their own creative journey as well as growing into a better artist.

I always loved drawing and I started a long time ago, after watching the Little Mermaid and Star Wars in theaters, and later Gargoyles on TV which had a huge impact on me.
For the last decade, I've been working in the animation industry on almost every position in european 2D and 3D animation productions (TV series or long features films). In january 2020, I released my first manga ("Imperium Circus" published by KuroTsume).
In the meantime during all those years, I did french conventions, selling goodies, artworks and commissions.
⚜️ You can find my art on my website :
www.karellclara.fr
As well as these platforms :
I love creating characters, fanarts or my own, and after years of drawing for others, I'd like to finally give more time to my own art, my own novels and my own characters, and hopefully live from my art.

⚜️ WHAT KIND OF ART DO I MAKE ? ⚜️

Cute girls, guys too, mermaids, witches, mythological art, pirates, magical creatures, and more… There will be original art (random girls or characters from the novels I'm writing) and also fanart ! I love drawing fanart because I'm a nerd and I love drawing everything from popular culture, movies, cartoons, video games, to comics or mangas…
I especially LOOOVE Star Wars, Gargoyles, Avatar the last airbender, The Legend of Korra, The Dragon Prince, Voltron, Dragons of Pern, Princess bride, Dragonheart, the Lord of the Rings...
You can have a look at my website, my instagram or my youtube channel to have an idea of what I'm talking about !

⚜️ WHY PATREON ? ⚜️

I'm opening this Patreon for two reasons :

1. Connect with you ! I want to have the opportunity to connect to people like you, art lovers or other artists and share one thing that I love the most : creating and making art. I believe that art is important in everyone's life, whatever its form. It helps us to express ourselves, learn from our mistakes, challenge ourselves, grow as people, seek for others and make connections, and keep on going no matter what.

2. Transitioning from working into a company to being an independent artist while trying to grow presence on social medias and also have a life on the side can be very tricky and challenging. The goal of this Patreon page is for me to grow as a better artist and help me focus only on creating content that I can share with you, without having to accept weird or boring extra jobs just to put food on the table.

Bonus : The funds Patreon give me are directly and entirely reinjected into new art supplies, inks, watercolors, gouache or new digital brushes for Photoshop or Procreate.

⚜️ BEING A PATRON ⚜️

If you become one of my patrons, one of my supporters, you will help me achieve that goal : produce personal art that I can share it with you. You will be rewarded with :
Exclusive content like sketches and artworks or workthrough videos that I've never posted anywhere
Access to polls
WIP screenshots
Early access to my videos,some of my art
Step-by-step pictures of my process,
High-resolution JPGs,
Art challenges (like a monthly character design challenge where YOU will choose the prompts in a poll and that you can do along with me, environment challenges, fanart challenges...)
You'll also have access to me via Patreon and a Patron-only Discord Community (french and english) where you have an exclusive channel, just for you and me !
As soon as you become my patron, you will
receive content corresponding to your tier
along the month.
All tiers give access to my regular patreon feed. I will post sketches, thoughts, life updates, photos of my cat, ask your opinions about stuff or whatever I feel like.
⚜️ PAYMENT INFO ⚜️

Patreon charges payments at the beginning of each month. Once you pledge, you will have access to the previous months rewards.
The UNIQUE TIER gives you access to everything as soon as you pledge.

If you meet any problems with your payment not going through, please contact Patreon's support directly because I cannot do anything on my part :/

So please consider becoming one of my benefactors and check out the tiers for a complete list of rewards, as well as the goals !

Thank you ♥

⚜️⚜️⚜️


Je m'appelle
Karell
alias
Codaleia
, une artiste, illustratrice et chara designer française ainsi qu'une autrice, basée en Belgique. J'adore
créer des personnages
, et mon but est de partager cela avec vous, ici sur Patreon,
inspirer les autres
dans leurs aventures créatives ainsi que
devenir une meilleure
artiste.
J'ai toujours adoré dessiner, et j'ai commencé il y a bien longtemps, quand j'ai vu pour la 1ere fois
la Petite Sirène et Star Wars
au cinéma, puis plus tard
Gargoyles
à la TV, série animée qui ont eu un énorme impact sur moi.
Je travaille dans le
cinéma d'animation
depuis plus de 15 ans, sur beaucoup de productions européennes, 2D et 3D (séries TV ou films)
En janvier 2020, est sorti mon premier
manga
("Imperium Circus" publié chez KuroTsume)
En parallèle, j'ai également fait pas mal de conventions, proposant goodies, illustrations et commissions
Vous pouvez découvrir mon portfolio ici :
www.karellclara.fr
J'ADORE créer des personnages, que ce soit du fanart ou alors les miens. Et après avoir passé des années à travailler sur les projets des autres, j'aimerai consacrer plus de temps à mes propres projets, à mes personnages, à l'écriture de mes romans, et je l'espère un jour, vivre de mon art.

⚜️ QUEL GENRE DE DESSIN TROUVEREZ-VOUS ICI ?⚜️

Des nanas cute ou sexy, des mecs aussi, des sirènes, sorcières, créatures mythologiques ou magiques, des pirates, et j'en passe ! Vous trouverez des dessins originaux (des persos random, ou les personnages de mes romans) mais aussi du fanart ! J'adore dessiner du fanart parce que je suis une nerd/geek et que j'adore dessiner tout ce que j'aime dans la pop culture, des films, séries, dessins animés, jeux vidéos, du comics au manga en passant par la BD
J'ADORE particulièrement Star Wars, Gargoyles, Avatar the last airbender, The Legend of Korra, The Dragon Prince, Dragons of Pern, Princess bride, Dragonheart, the Lord of the Rings...
Vous pouvez jeter un œil à mon portfolio, mon instagram ou ma chaîne youtube pour avoir une idée de quoi je parle !

⚜️ POURQUOI PATREON ? ⚜️

J'ouvre ce Patreon pour deux raisons :

1. Rentrer en contact avec vous ! Je voudrais avoir l'opportunité de rencontrer des personnes comme vous, des personnes qui aiment l'art, la pop culture, mais aussi d'autres artistes, pour partager ce que j'aime le plus au monde : créer et dessiner. Je suis persuadée que l'art est important dans la vie de n'importe qui, peu importe sous quelle forme. Cela nous fait du bien, nous permet de nous exprimer, d'apprendre de nos erreurs, d'évoluer, de nous surpasser, mûrir en tant qu'individu, se connecter avec d'autres, ne rien lâcher, peu importe les circonstances.

2. M'aider à devenir une artiste indépendante. Développer sa présence sur les réseaux sociaux, décrocher des contrats tout en ayant une vie sociale à côté peut être parfois compliqué. Le but de cette page Patreon est pour moi de devenir meilleure artiste, et m'aider à me concentrer sur la création de contenu intéressant que je pourrai partager avec vous, sans avoir à accepter des boulots en extra, pas forcément passionnants juste pour mettre du beurre dans les épinards.

Bonus : L'argent que Patreon m'apporte est directement redirigé vers l'achat de matériel artistique, encres, aquarelles, gouache ou de nouvelles brushes numériques pour Photoshop ou Procreate

⚜️ ÊTRE UN PATRON ⚜️

Les tiers "
MACARON
", "
CROISSANT
" et "
ÉCLAIRS
" n'existent plus !
Il n'y a plus qu'un seul tier, signé de la pointe de l'épée !
MUSKETEER - 5€ TIER

J'ai décidé de simplifier mes tiers, pour vous comme pour moi. Cet abonnement sera en EUROS et vous donnera accès à TOUT depuis le début de mon Patreon !
ATTENTION : Le contenu pourra changer d'un mois à l'autre, il n'y aura rien de promis sur une base mensuelle!

Vous aurez droit à :

⚜️ Accès à mon mur patreon, à mes postes et mes articles
⚜️ Accès à mon Discord et ses channels réservés aux Patrons !
⚜️ Accès aux sondages (quel fanart vous voulez que je dessine par exemple !)
⚜️ Je posterai régulièrement des previews, des WIP, croquis postés nul part ailleurs !
⚜️ Contenu exclusif (dessin digital ou en tradi, vidéos, timelapses)
⚜️ Accès en avance à certains de mes dessins postés plus tard sur Instagram
⚜️ Un remerciement pour chacun de mes nouveaux patrons dans mes stories sur Instagram
⚜️ Les PNG ou JPG en haute résolution des illustrations
⚜️ Des récompenses exclusives pour chacun de mes projets Ulule
⚜️ Accès en avance à mes vidéos artistiques publiques sur Youtube
⚜️ Step-by-step d'un dessin
⚜️ Challenges de dessin (Character Design Challenge, décors, Fanart challenges et plus encore)

⚜️ Ice vous miaule un immense MERCI et vous avez ma gratitude éternelle, mes chères Fleurs-de-Lys

Bien entendu, je suis ouverte à toute suggestion, donc si vous pensez à quelque chose qui ne m'a pas effleuré l'esprit, je serai ravie d'en discuter avec vous !

Lorsque vous devenez l'un de mes patrons, vous aurez accès à tout le contenu mis à disposition, tout au long du mois. Vous aurez également accès au contenu des mois précédent, si vous arrivez en cours de route.

⚜️ INFOS DE PAIEMENT ⚜️

Patreon enregistre les paiements au début de chaque mois. Une fois que vous avez payé, vous avez accès au contenu des mois précédents.
.
Si pour une raison quelconque, mon emploi du temps ne me permet pas de vous créer du contenu, je mettrai les paiements en pause, et vous n'aurez pas à payer pour ce mois-là où je ne pourrai pas vous fournir le contenu comme promis.

Si vous rencontrez des problèmes avec votre paiement, contactez Patreon directement car je ne peux rien faire de mon côté :/

Je vous invite donc à venir me soutenir parce que ce sera plus drôle tous ensemble !

Merci ♥

OMG 25 patrons ! \0/
As soon as we reach 25 patrons, I will do a special A6 illustration with traditional supplies for the occasion as a GIVEAWAY that all of my patrons have a chance to win, no matter where on earth they live !

OMG, 25 patrons ! \0/
Dès que nous atteindrons 25 patrons, je ferai un giveaway d'une illustration A6 faite pour l'occasion ! Chaque patron aura une chance de la gagner, peu importe où ils et elles habitent !

1 of 1
By becoming a patron, you'll instantly unlock access to 231 exclusive posts
By becoming a patron, you'll instantly unlock access to 231 exclusive posts
How it works
Get started in 2 minutes