CommunityCashBuyers
is creating Real Estate & Investing Content for Millennials
Select a membership level
Forex Training & Copy/ Paste Ideas
Beginner's guide to starting and securing asset protection. 
Beginners guide and intro to foreign exchange day trading. 
Plus FREE access to our live networking events. 
- Get 9+  hours of training videos & 10+ hours of webinars  on subjects including:  
Candle sticks, trends, time frame analysis, buys & shorts, entry price, exit tactics and trade management   
-Learn multiple trading strategies to test and choose the one that works best for you 
This includes more then 3 indicators professional trades use 
-Get top notch forex trading ideas to earn pips (price points) immediately 
We give you entry, stop loss, take profit levels for profitable trades daily 
YOU JUST COPY,  PASTE, LEARN & EARN
Start learning Foreign Exchange the right way. We cover everything you'll need to learn about Forex to make your trading as consistent and as profitable as possible!!!
LIVE DAILY TRADING SESSIONS ON YOUTUBE INCLUDED
 Learn the best times to enter & exit trades
 Use the same tools I use to make profits in the market
 Get help as you learn
 New lessons added randomly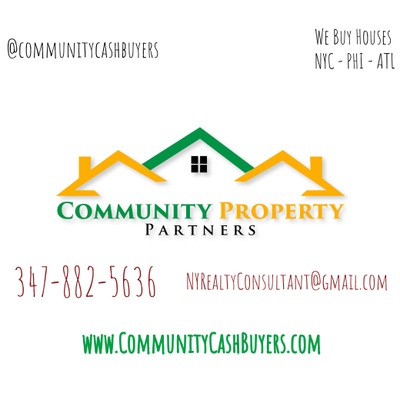 1 on 1 In Person or Live Training
Everything mentioned above is included in this offer
4 one hour training sessions Real Estate OR Forex 
Get the keys to win! Access to contacts, contracts, marketing, strategies, forums
Exclusive content creation tips to bring in real estate sellers & buyers
Extensive break down of trading strategies and concepts as well as 
Access to all events and investment idea/ deal  groups 


200 leads FREE 
About CommunityCashBuyers
We believe in making strong investments while building strong relationships. 

We have extensive experience buying all types of problem properties. We work directly with home owners to fix just about any problem they may come across.

This page will be used in conjunction with our live events to bring value to seasoned investors and newbie investors alike.

Join in the FREE Facebook Group "Investment Networking Group" 

Financial freedom belongs to everyone with the vision, focus and dedication to achieve it.
Recent posts by CommunityCashBuyers