Cordewa Cosplay
is creating ero/cosplay art♥♥
Select a membership level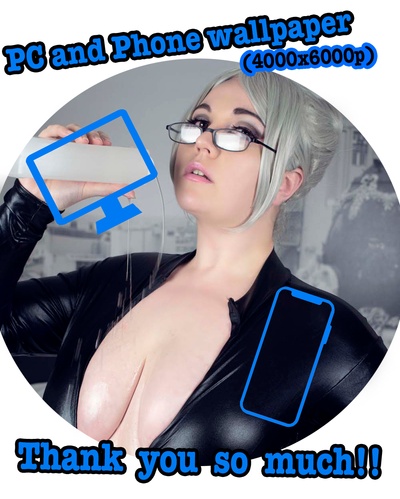 ♥ Cordewa's private World ♥
Now you are part of Cordewa's private world!!, i'm grated that you help me in this adventure.  
(ノ◕ヮ◕)ノ*:・゚✧    
Preview news Cosplay proyects.
Access to cosplay pool votations.   
One PC an Phone wallpaper.
♥ Fanservice-Lovers ♥
Full fanservice selfies (May contain Topless)
Dropbox with all the selfies of the month (Daily, regular, cosplay, bts, creation processes, spicy, lingerie)
All previous rewards included. 
♥ Oh Master ♥
Half HD photosets 20-30 photos per photoshoot [+- 90 photos in total] (Spicy content)
Half videos of this month
Dropbox with the HD Photosets  
All previous rewards included. 
About Cordewa Cosplay
❤️The rewards I create little by little, so be aware of this wall, because it is often updated showing what you will receive rewards this month❤️
(づ。◕‿‿◕。)づ
I want you to know that I'm listening a lot to my community and that I'm present for all of them, so that everyone is really satisfied! ♥✨

✨

♥ FAQ ♥ 

✨


**Hey!! I'm new to Patreon! What is it?

**Patreon is a support system dedicated to helping artists. Thanks to this support, they can afford better materials and work equipment. In return you will receive incredible rewards in return.

♥

♥
Who is Cordewa Cosplay?

**It's me!!♥ Everyone knows me Cordewa, but my real name is Mary. I was born in Russia but now I am living in Spain. I am in love with cosplay and photography since I was a child and since 2014 I was able to start doing my art. Today I live and I strive daily to reach my dream through something that makes me fall in love. I love both worlds because when they come together they show the beauty and art that can be represented in both.♥

**When are the reward sent?
**
I send all new works as ready. All the new works are being made in real time and they are ready to all the current patrons. They are usually shipped on the 5th of each month. Then you get a message from Patreon so you can download the rewards!
!
**Can I change my subscription during the month?
**Yes, you can change your tier at any moment. If you increase your donation, the sum difference is charged immediately and you get more rewards this month in the next letters. If you unsubscribe of lower the rank of your subscription, the changes come into force on the first day of the next month.
**What do you do with the money ?

**The money that I receive from your support I use only to be able to pay for my place of work, cosplay material, pay the studio to a photographer for a session, travel to events to get to know each other, etc.
✨
♥ If you want to see more works of mine you can find them on my social networks 

♥

✨
Instagram: https://www.instagram.com/cordewa_cosplay/
Twitter: https://twitter.com/CordewaCosplay
Youtube: https://www.youtube.com/channel/UCDi05isRw3Fq24UxAFuOFWQ
Facebook: https://www.facebook.com/CordewaCosplay/
Twitch: https://www.twitch.tv/cordewaz

Subscribing to my Patreon you agree with the copyright application 
All materials are Copyright © CordewaCosplay 2014-2019.
Users receives content solely for personal non-commercial use.
All rights reserved. It is forbidden to distribute any content received as a reward from donations, except personal fan-signs and zings. No part of this work may be reproduced, distributed, transmitted, published, reused, modified, or misrepresented.

⭐️If we reach 45 patrons, I unlock the full Qipao photoset (93 pics)
⭐️Reward for ALL PATRONS !! Join and get it for only $1

1 of 1
Recent posts by Cordewa Cosplay