Trippy Gutz Art
is creating Art, furry, fursuits, adopts, characters, digital art
Select a membership level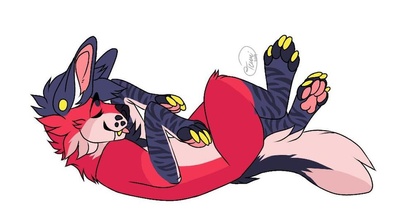 Tier 1
This tier will get to see wip photos of my artwork and adopts as well as have raffles every month to get a free headshot!
Tier 2
This tier will get to see, everything the last tier sees but also get to see and be able to claim finished adopts atleast 3 hours before anyone else is, along with commission opening, and ych slots!
Tier 3
This tier will get to see, everything the last tier sees but also get to see and will be entered into a raffle every month for a shaded and mailed bust badge, as well as get first Dibs on premier fursuit parts, and fursuit slots.
About Trippy Gutz Art
Hello and welcome to my patreon page! 
I decided it was about the time that I finally made one, to help promote myself, my artwork, and what I do. And not only that, but to also reach out to more of you as well and try to branch out a bit more!

I pride myself in my artwork, and taking care of my customers and I hope that shows throughout my artwork and my commissions!

A little bit about myself!!
Well I'm currently 18 and working full time as a freelance artist, and fursuit maker! I do both traditional art as well as digital artwork. I enjoy drawing and creating characters of all different species! I am pansexual and probably the biggest animal lover that you will ever met! Speaking of which I own a few pets myself, my cat thunder, my 2 leopard geckos onyx (female) and nugget (male), as well as my ball python bean. They are my pride and joy and my artwork and business helps to support them as well!!

Where can you find my artwork, and items?
Twitter: @KoiyoteCandy
Etsy: CoyoteCandyCreations
Instagram: @trippy.gutz
Facebook: Alea Grabowicz (Personal) Coyote Candy Creations (Page)
Amino: Dolce/Nagi Draws
Telegram: @TrippyGutzArt (artwork channel)
TikTok: @sweet.pastel
Furaffinity: SweetPastel
DeviantArt: SimplyPastel

Thank you for sticking around to read this and I hope you choose to become one of my many patreons and enjoy all of my content! I hope to continue to expand and grow as well as give back to many of you as well.
Recent posts by Trippy Gutz Art