Select a membership level
The MALLIANCE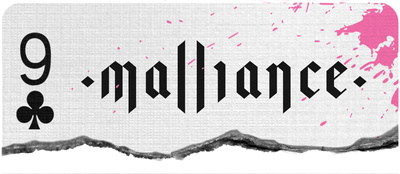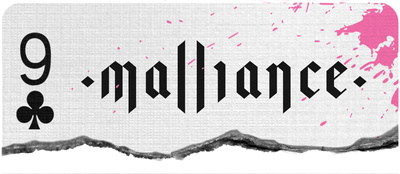 Welcome to The MALLIANCE.
MAGIC, SLEIGHT of HAND and the DECEPTIVE ARTS.
I am Daniel Madison. I am a Deceptive Performance Artist and Teacher of Magic, Sleight-of-Hand and the Deceptive Arts.  I learnt my art through the cold school of experience and have developed my practices for over 25 years. Through The Malliance here at Patreon, I offer a source of training in the Deceptive Arts that I could have only wished for when I first started.
At The Malliance I offer instant access to my complete independent library of creations, Weekly Lessons, Tutorials, Lectures, Masterclasses, Publications, Playing Cards and much more.  My offerings are driven by my passion to demonstrate just how powerful and beautiful magic really is when understood, learnt, respected and performed correctly - as a Sacred Art.  Deception brought the Malliance together, but truth keeps us here. Together we do not create art, we become it.
I am Daniel Madison.
Don't just follow me on this journey, join us, and become a part of it...
The MALLIANCE BENEFITS…
MADISON AS YOUR ALLIE & MENTOR

ACCESS TO 1,000+ MALLIANCE ONLY ENTRIES

ACCESS TO THE COMPLETE MADISON LIBRARY ( Every single independent Publication, Production and every Masterclass )

WEEKLY MAGIC TUTORIALS ( Including all previous tutorials )

EARLY ACCESS TO PUBLIC PERFORMANCE VIDEOS

BEHIND THE SCENES VIDEOS

MALLIANCE MEETINGS AND GATHERINGS

MADISON LENS - LIVE BROADCASTS

EXCLUSIVE ACCESS to MADISON PLAYING CARDS

MALLIANCE ONLY DISCOUNTS

MADISON FOUNDATION

THE MALLIANCE COMMUNITY

PROGRESSIVE BENEFITS

THE COMPLETE MALLIANCE ARCHIVE
YOUR MENTOR
In joining The Malliance you assign me as your Allie and Mentor in your journey through the mastery of Magic, Sleight-of-Hand and Close-up Deceptions.
Throughout my career I have worked as a Chief Creative Consultant to some of the worlds leading Magicians and Magic Companies, but now I only offer my consultation and teachings to The Malliance.
I have devoted my life to my art, and I offer The Malliance my every secret and my complete anthology of Deceptive Methods, Tutorials, Lessons and every Masterclass - past, present and everything to come.
In joining The Malliance, you also have access to over 1,000 private posts and all of the following benefits…
THE MADISON LIBRARY
I am always adding to the ever-growing MADISON LIBRARY; an invaluable source of Magic Mentorship, and an educational archive of Magic and the Deceptive Arts like no other… You will be granted instant access to EVERY lesson, tutorial and my complete independent anthology of work, from 1998 to date - including over 500 PRIVATE Tutorials, SECRETS, DEVILRY, 52, HOW TO CHEAT AT CARDS, the MADISON MASTERCLASS Series and every Masterclass, Lecture, Lesson, Production and Publication to come.
WEEKLY MAGIC LESSONS & TUTORIALS
Once a week I offer The Malliance a brand new Magic Tutorial / Lesson in Sleight-of-Hand - these lessons are added to the Madison Library and will never be made public.
PUBLIC PERFORMANCE VIDEOS - EARLY ACCESS
I will always share every performance video with The Malliance before making them public and I will host live-watching events for The Malliance only.
BEHIND THE SCENES
I will be documenting every move during my performances.  Whilst editing and creating these videos, I will also be creating behind-the-scenes videos with unused footage that only the Malliance will ever see, offering a private insight into the practice, planning, preparation and production of performance magic.
MALLIANCE GATHERINGS
I will invite The Malliance to my public performances.  The best way to learn magic as a performance art is to see it in person as part of the experience.  In my travels I will also invite the Malliance along for creative hang-outs and workshops.  We will also film these gatherings so that The Malliance don;t miss out!
MADISON LENS - LIVE BROADCASTS
This is a LIVE BROADCASTS directly from my phone to The Malliance.  Every day I offer raw and unfiltered moments of my life, productions and performances with occasional Deck Reveals, Openings and Reviews.  The LENS app allows you to interact mid-broadcast, each video has a 24 hour life, but you'll receive a notification as soon as a broadcast begins.
MADISON LIVE - MALLIANCE ONLY LIVE BROADCASTS
Once a month, I offer Live Broadcasts exclusively for The Malliance taking a deep dive into Deceptive Methods.  All Live broadcasts will be saved in the Mad Live archive just for The Malliance.
EXCLUSIVE ACCESS to MADISON PLAYING CARDS
All of my Playing Cards are rare, very limited and exclusive for the Malliance.  I now only print minimum quantities; enough for my performances, and enough to share with The Malliance.
MALLIANCE DISCOUNT
The Malliance receive a 20% discount on all physical products ( all digital content is free. )
MADISON FOUNDATION
I use the Madison Foundation to help other artists in The Malliance.
WE ARE THE MALLIANCE
The Malliance is a home and a family.  The Malliance are invited to share their thoughts, performances and general interests with the rest of the family at our interactive private Community Page.
PROGRESSIVE BENEFITS
As an ever-developing platform, bonuses and extra benefits will be added to the Malliance over time.
THE COMPLETE MALLIANCE ARCHIVE ( 1,000+ POSTS )
In joining the Malliance, you we have access to every singe post, blog, article, update, video, book, tutorial - absolutely everything that I have shared with The Malliance.
Become a patron to
Unlock 1,056 exclusive posts
Get discounts to an online store
Connect via private message
Recent posts by DANIEL MADISON