DCS
is creating Comics + Visual Novels
Select a membership level
Early Access, Early Bird Special
Limited (1 of 50 remaining)
This tier is capped, so get in while you can!

• 10+ early access Solanaceae pages
• Solanaceae VN early game updates
• Full catalog of downloadable content
• Game beta access

...And a big thank you!

Early Access
• 10+ early access Solanaceae pages
• Solanaceae VN early game updates
• Full catalog of downloadable content
• Game beta access

...And a big thank you!

Secret Club Member
✨This is my most popular tier! ✨

• Membership to the Patron-only Secret Club website
See every image I make weeks before it gets posted publicly. Comics, illustrations, sketches, thumbnails, WIPs, game dev, my thoughts, original fiction, and more! 7k+ images and growing!

PLUS!
• Access to Solanaceae, Prologue Chapter 5 as it updates early!
• Access to ALL of Solanaceae, Prologue Chapter 4 + 4.5
• Access to weekly Game Dev Diaries
• All rewards from previous tiers

...And a big thank you!

About DCS

Hi, I'm DCS! I create and develop comics and visual novels that center around relationships, sexuality, romance, comedy, and character development. All of my content is sex-positive and heavily focused on queer relationships and themes.
Becoming a patron means that you will:
Get more of my content, faster!
Become a member of my Secret Club!
Receive early access to comic pages and games.
Have access to loads of exclusive content only available to patrons.
Help support me as an artist whose sole income comes from you, my fans.
I want to spread more fun and positive erotica into the world! Join me on my journey by becoming a patron today.
Currently Updating Comics and Games

Available to Patrons

After meeting a witch named Battam, Sal the satyr must decide if stealing from the man is really worth giving up the chance at a genuine romantic relationship.
$1-$3 supporters are ~10 pages ahead of public updates, $5+ supporters are 50+ pages ahead!
Read on: Tapas • Webtoons



When Dr. Edwin Glum tries and fails to create his own perfect, sexy partner, he unknowingly sends out a horny distress signal to the gooey, pink alien named Gummy. As Gummy touches down on earth, they soon see just how pent up the Doctor is in more ways than one and start to wonder if there's something to be done about that...
Audio/video project!
View videos and art assets early by joining the $5 tier!

Join Battam, Sal, and Satine as they pursue creating their own coven. Explore the world of Solanaceae, meet fellow witches, and gather ingredients to make potions and food!
Update 4 is now available for Patrons!
Update 3 is available publicly on Itch.io!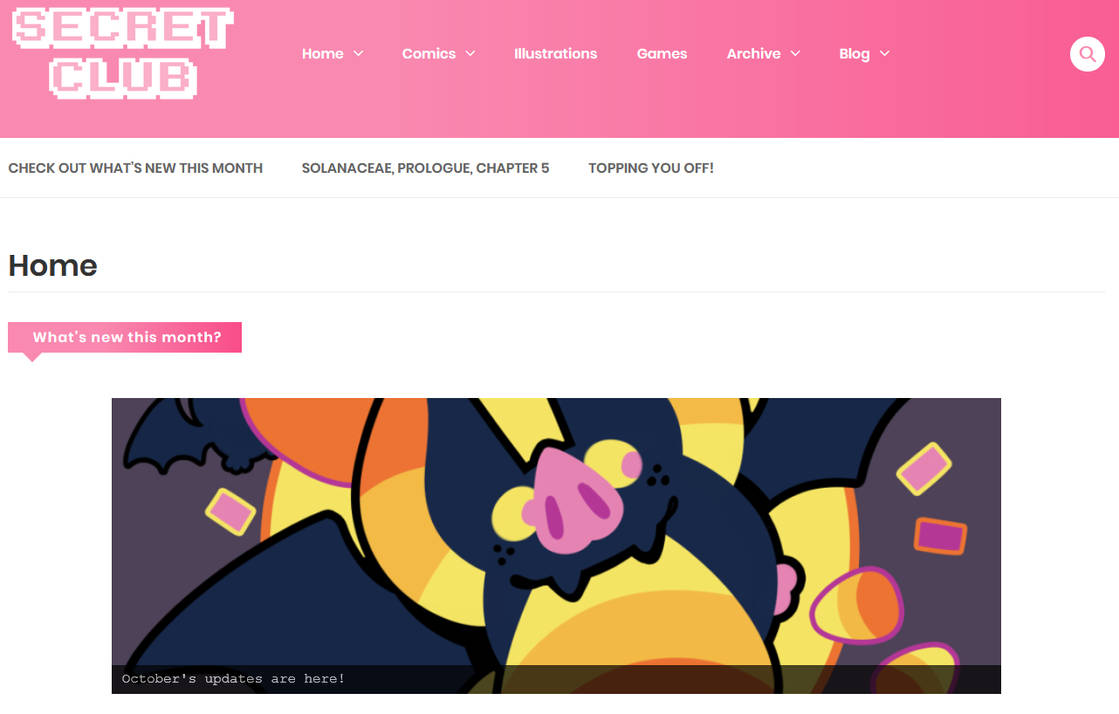 If you join the $5 tier or higher, you'll become a member of my patron-only Secret Club!


The Secret Club is a password protected website where early comic pages, exclusive comics, behind the scenes content for my stories, original fiction, sketches, commissions, doodles, and more will be available to you. This is my most popular tier, and this is where you'll be getting the best value I have to offer. If you want to see massive amounts of weekly exclusive content, all it takes is joining the $5 membership tier, and I promise you won't be disappointed. 7k+ images in total, and growing with each new month!

As an added bonus, supporters of all levels will periodically receive FREE digital merchandise and access to prior digital merchandise. PDF copies of comics, soundtracks, early game releases, and more!

If you have any questions about a specific reward tier, please send me a message!




What does "Per Comic Update" mean

?

I update 4 times each month which means you can choose to be charged a
maximum of 4 times per month.
If you don't want to be charged for each update,
you can set a monthly cap to only be charged once
, twice, or three times when you pledge, or you can set a cap later, under the "My Memberships" tab at the top right. Having a cap will
not
limit how much you see in a month.
You must be 18 years of age or older to pledge to this Patreon.
By pledging, you are agreeing to being 18 or older. This Patreon is intended for ADULTS ONLY. Patreon payments will only appear as "Patreon" on bill statements.
Other ways to help support me:
Follow me on • Tumblr • Twitter / 18+ Twitter • Itch.io
Furaffinity • Deviantart • Instagram • Pillowfort
•
Gumroad

Want a little taste of my content before you decide to pledge?
Here's a directory of my entire library of comics and games
!
$1,461.80 of $1,500
per Comic Update
I'll work on multiple of the runner-up illustrations from the past rounds of voting. This will hopefully result in at least two, fully finished illustrations with variants, maybe 3? And maybe with some fics!

8 of 12
By becoming a patron, you'll instantly unlock access to 275 exclusive posts
By becoming a patron, you'll instantly unlock access to 275 exclusive posts
How it works
Get started in 2 minutes