Darlinda Just Darlinda
is creating Year in Rainbow
Select a membership level
RED
Three dollars may not seem like a lot, but you are the roots of Year in Rainbow! I love making art, but I love YOU even more! You help me stay grounded!

*THANK YOU! Thank you mention! You are helping this rainbow shine!

* DAILY PHOTO: Exclusive Access to a daily photo of what I'm wearing each day!

*Photo by Ves Pitts from One Woman Rainbow 11/9/19

ORANGE
Orange you glad you are here? I certainly am EXTREMELY glad you are here! Every day I take notes on what I am wearing and how the world reacts! I will compile all the notes for a weekly blog and you get access to this, along with photos and video!

*THANK YOU! Thank you mention! You are helping this rainbow shine!

* DAILY PHOTO: Exclusive Access to a daily photo of what I'm wearing each day!

* EXCLUSIVE WEEKLY BLOG:You have access to a Weekly Blog Post exploring the COLOR of the Month!


*Video by John Goddard from One Woman Rainbow 11/9/19

EXCLUSIVE WEEKLY BLOG POST
YELLOW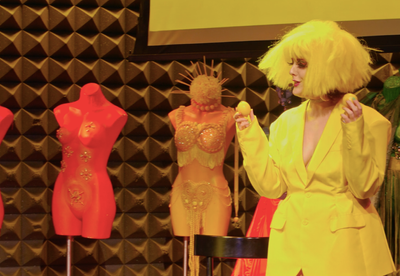 YELLOW! Nice to see you! This is why we are HERE, to make NEW ART! True, this year has been rough and I miss the stage, so I decided to relaunch Year in Rainbow in a different way to make a commitment to make NEW ART every month! I make video art and this art will be made for both your streaming pleasure AND for the future of my live shows (One Woman Rainbow and Untitled Rainbow Project)

*THANK YOU! Thank you mention! You are helping this rainbow shine!

* DAILY PHOTO: Exclusive Access to a daily photo of what I'm wearing each day!

* EXCLUSIVE WEEKLY BLOG:You have access to a Weekly Blog Post exploring the COLOR of the Month!

* NEW WORK:Each month I will develop a new color based performance piece/ experimental video that will be used for future live performances and you will gain exclusive access to this NEW WORK!

*Video by John Goddard from One Woman Rainbow 11/9/19

EXCLUSIVE WEEKLY BLOG POST
About
Darlinda Just Darlinda presents A YEAR IN RAINBOW September 1, 2020- August 31, 2021 inspired by
Linda M. Montano's 14 Years of Living Art
, via
Morty Diamond's Year in Pink
.
A YEAR IN RAINBOW is Darlinda's 3rd foray into the "living art" milieu, August 2007- July 2008 she did Year in Rainbow, September 2009- November 2010 she did Year in Dance.
For 12 months Darlinda will conduct an artistic exploration of color, researching how it feels/ how the world reacts to wear one color, documenting that experience and creating an experimental video and class with her findings on each color. These findings will also inform and create content her live performance works (Untitled Rainbow Project and One Woman Rainbow when the stage safely available
Here's What she'll offer her patrons, see tiers for more details on how you can access each of these offerings!
* DAILY PHOTO: Early Access to a daily photo of what she's wearing each day.
* EXCLUSIVE WEEKLY BLOG:You have access to a Weekly Blog Post exploring the COLOR of the Month!
* NEW WORK:Each month Darlinda will develop a new color based performance piece/ experimental video and you will gain exclusive access to this NEW WORK!
* EXCLUSIVE DAILY VIDEO BLOG:You have access to a Daily Video Blog Post exploring the COLOR of the Month!
*COLOR WORKSHOP: Each month Darlinda will offer a 2 hour online class exploring the color of the month, giving you the opportunity to create art, move your body and explore color (live on zoom and recorded for your future viewing pleasure!)
*ARCHIVAL FOOTAGE: Missed seeing One Woman Rainbow at Joe's Pub? Wish you'd caught a glimpse of Untitled Rainbow Project at Wild Project? Want to see documentation of Year in Rainbow 2007? This tier gives you access to my past Rainbow inspired performance pieces, there are over 365 days of documentation and hours of video!
*MASK OF THE MONTH: Each Month Darlinda will create a new mask correlating with the color of the month! Collect ALL TWELVE!
*PRIVATE PERFORMANCE or CLASS: Pink Patrons will get an exclusive one on one performance video or one on one class in correlation to the color of the month. Both the class and the performance will be specifically curated for YOU
Who is Darlinda Just Darlinda?
The Village Voice calls DARLINDA JUST DARLINDA a "Mastermind of Bizarre Extravaganza" and she has been working as a Performance Artist, Burlesque Performer and Producer since 2004 locally (New York City) and internationally (Australia, Canada, Hong Kong, England, Finland, France, Germany, Iceland, Sweden and most of the USA including Alaska!)
Darlinda is one half of the Burlesque duo The Schlep Sisters, co producing such shows as The 13th Annual Menorah Horah and The Burning Bush vs. The Second Coming.
Darlinda is a resident artist in Blunderland, hitting stages at House of Yes, Adelaide Fringe London's Underbelly and Bethnel Green Working Men's Club.
Darlinda has produced a variety of shows, some The New York Times called "Shockingly Explicit!" She's a regular performer at the superb NYC venues like The Slipper Room, House of Yes, and Paradise Club at Times Square Edition. She's crossed over into performance art with her year long "life as art" projects Year in Rainbow and Her Dance Theater Work: Untitled Rainbow Project and One Woman Rainbow at Joe's Pub.
Darlinda doesn't limit herself to the Burlesque stage, no she's performed Off Broadway, Film and Television! Darlinda performed with Taylor Mac in A 24-Decade History of Popular Music (MacArthur Fellowship) The Lily's Revenge(Obie) and The 29th Annual Roots of American Music Festival at Lincoln Center, The Cockettes "Cocktail of Glamour and Anarchy" at Lincoln Center, in Julie Atlas Muz's The Divine Comedy of an Exquisite Corpse at PS122, and Princess Wendy's Late Nite Tease Room at The Rochester Fringe Festival. She can be found on television/film, in The Marvelous Mrs Maisel, Boardwalk Empire, Real Sex, The Other F Word Series, THESE THEMS, Betty and BIZARRE the film by Etienne Faure.
Darlinda is a faculty member at the New York School of Burlesque, has Lectured at Yale's infamous Sex Week and also teaches internationally! She has competed and performed as a soloist and as part of The Schlep Sisters at The Burlesque Hall of Fame in Las Vegas.
The Sundance Channel made Darlinda a "Top 10 Badass Burlesque Babe," she was voted in the Top 50 International Burlesque Industry Figures of 2011-2014! Darlinda is the recipient of the Golden Pastie Award for The Most Innovative and Creative. The first and multiple winner of The Brooklyn Nightlife Awards:Best Burlesque Dancer!
"Seasoned entertainer . . .takes the priss out of prism" Time Out New York
USA Today says "It's hard to top Darlinda."
The Village Voice calls Darlinda a "Mastermind of Bizarre Extravaganza."
USA Today says "It's hard to top Darlinda"
"Darlinda Just Darlinda, a splash of color and light."
www.boston.com

" . . .Shockingly Explicit!" New York Times
Become a patron to
Unlock 76 exclusive posts
Connect via private message
Recent posts by Darlinda Just Darlinda