Deborah C Smith
is creating folk music, songwriting workshops and magical crafty things.
Select a membership level
MUSES
You are here and you want in on the dance! Thank you from the bottom of my heart! You'll receive:
A Prayer for the Muse (a poem)
access to my patron-only feed 
access to my audio RSS feed of published songs & interviews
pre-release access to all new creations 
pre-registration for workshops 
You also have the distinct honor of being one of my MUSES, which means I must strive to appease you, and I love a good challenge. 
I deeply appreciate your offering and look forward to sharing my creativity with you. The Muses must be appeased on a regular basis so you can expect to hear from me often. 
Let's dance!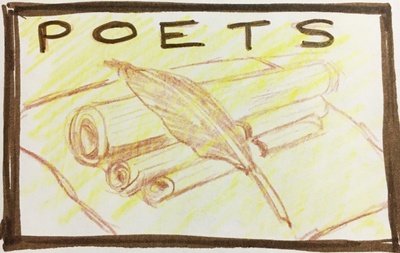 POETS
You've stepped onto the dance floor with an open heart and are graciously willing and able to support me a little more. You appreciate the power of words to change a persons day and want to pay it forward.  For the price of a cup of coffee, POETS receive:
everything in MUSES plus
a monthly, original song or poem via email 
But wait, there's more: 
I will also gift a copy of that poem or song to a stranger 
I will document this to show you & thank you in the credits
So, yes, if I have 100 POETS, I will give out 100 poems to strangers each month. This may take an entire day, but it will be so worth it... 
Damn you're thoughtful! We make a great team. Let's keep dancing, I like this. 
DANCERS
You know this dance and it feels so good! You're ready to get in on the craft and have a peek inside the process of music and lyric writing.  You'll receive everything in MUSES, plus:
a monthly private video of my songwriting in process. This could include lyric-writing, developing the instrumentation or collaborating with other musicians or preparing to record - the songwriting craft in real time! 
a 50% OFF Coupon good for any songwriting workshop (online or in person)
random surprises in your email! Every few months you'll get a special little digital surprise, a voicemail, a song, who knows? Its a surprise! 
invitation to Discord channel where we discuss the songs
I'm starting to feel like we could win some prizes at a dance competition! 
About Deborah C Smith
Welcome friend! 
My name is Deborah and I am a songwriter, producer, and maker of things.
I live in Brooklyn, NY
.
 I am so grateful that you've found your way to this space.  
I'm currently in the process of recording new music and I've launched this page to help produce the record, deepen my connection to fans of my work, and to grow the community of songwriters who can attend my writing workshops. With this launch, I invite you into my creative process and offer an inside look at how it all gets made. 
As a musician, I've written and recorded two full length
albums of original songs
, collaborated on music for live theater and film productions and played in A LOT of rockin' girl bands (HI SCORE, PYRADICAL and MEDICINE WOMAN to name a few), as well as done some hilarious
avant-garde
 theater here in NYC. I host song-circles and writing workshops in my Brooklyn loft, and I perform live and tour as often as I can. In 2019 I was honored to be selected as a featured songwriter in the Falcon Ridge Emerging Artist showcase and this coming January will by my 6th year leading a 5-week songwriters residency.
I truly believe in the power of music to uplift and heal and I've dedicated so much of my life to producing events or creating opportunities for people to connect through music and art. A life-dream of mine is to open a creative retreat space which offers residency and production support to artists... which brings me here...
Patreon is a platform which allows creators to practice their craft in a way that is completely aligned with the flow of creativity instead of being tailored to the demands of an external marketplace. What this means to me personally is feeling free from the stress of having to "sell" or "compete" in an industry that is wildly oversaturated. It turns the focus back to creating, teaching, uplifting and healing and away from packaging, marketing and selling. For a more detailed overview of the platform, there's a good primer video
HERE
.
Should you choose to become a patron (at any level!),
we become dance partners in the Art of Making Things: songs, videos, poems, live experiences, crafts, paintings, records, protests, absolute disasters, bursts of light, and one of kind crafty gifts.
Your support will go directly to the costs of creating, recording and final production of any new work, will wind up in the hands of other fantastic creators, musicians and artists that I'll hire to help me produce it and will result in beautiful music and gifts for you and your loved ones!
You can think of me as your live-action superhero artist girl, out there on the streets making music and creative experiences happen in the world on your behalf and as a direct result of your support and you can expect nice rewards in return!
As a Patron, you'll have access to a patron-only feed with regular updates on:

live performances and special events
behind the scenes stories and concepts behind songs 
writing and editing tools that I use while recording 
in-studio recordings, preparing for shows and other exclusive content

If you want to participate in the creative exchange,
 at higher tiers, there are opportunities for:
live song and poem give-aways 
private webchats 
instrumental lessons 
live production sessions
discounted tickets for events 
participation in online songwriting workshops
I have some very clear goals and greatly appreciate your role in helping me reach them so I intend to stay wide open to feedback from my patrons, to learn what I can offer in return and see that evolve with your participation.
The way that it works is simple.
Instead of funding a specific project, you choose a level at which you could afford to offer a sustained amount, even just $1 a month (which is magical because in one year that would be $12 and 12 is my magic number!), and in exchange I offer you exclusive access to my creations and process.
Your support, even at the $1 tier, allows me to work directly with and for the people who will receive and benefit from my work, and to be in a conversation with my community around what direction it takes. I'm so grateful to be alive and making art at a time when this exists. Thank you Patreon, thank you patrons. Thank you Magic!
I invite you with gratitude to become a patron and I promise you it will be fun, it will go deep, it will transform and it will uplift! I can't wait to see what we will create together.
Shall we dance?

All my love and gratitude,
Deborah
A mini-goal (start small win big)!  When I reach my first 12 patrons, I will officially induct you into the Tribe of 12 with a song and a dance and a special artwork that I will create just for you to hang like a badge of honor on your wall! 

12 is my magic number and the first 12 people who become patrons will be my distinct Tribe of 12 who are helping me launch this rocket of desire out into the universe. 
1 of 3
Recent posts by Deborah C Smith