Hi, I'm Taylor, and for the past six years (this will be the seventh) I've been helping people declutter their homes, 15 minutes at a time, using the Declutter 365 plan.
I'd love for you to support my efforts as a patron, either by donating to pay me for the otherwise free calendars I provide of this plan, or if you so desire, to donate enough that I'll have time to help you as part of a smaller group in succeeding with the plan, as we work through it together day by day, in a closed Facebook group.
What Is The Declutter 365 Plan?
The Declutter 365 plan is exactly what it says it is, 365 daily missions that you can follow to declutter your whole house, 15 minutes at a time. I've put the whole process into a logical sequence, and broken down large tasks into separate missions to help you succeed in what can otherwise feel like a task too big to accomplish.
Here's an example of a calendar, for January 2018, where we focus on decluttering and organizing the kitchen, mainly: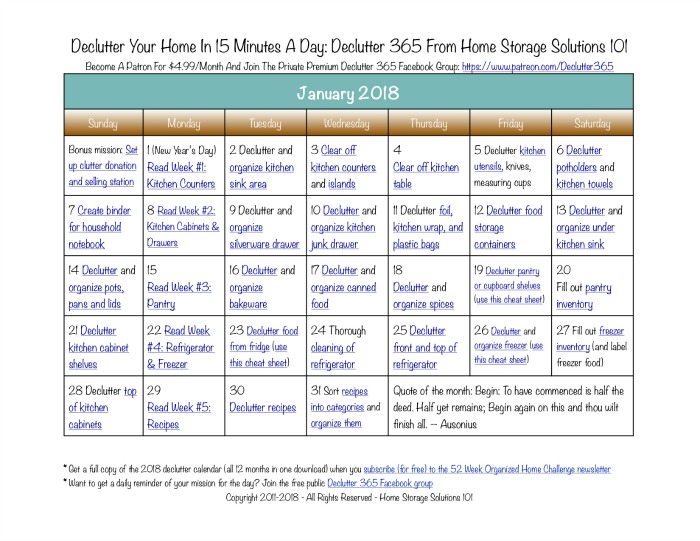 First Level Of Rewards: $1/Month - A Way To Say Thank You For The Calendar

The calendar you see above is free, and available to anyone who wants it from my website,
Home-Storage-Solutions-101.com
. I provide 12 of these calendars every year (January through December), and many people have found them quite helpful and want to show their appreciation for that gift, and have asked to donate some money as a thank you.
That's why I've created the first level of reward here on Patreon, where you donate $1 month and receive the free monthly calendar (as well as the full yearly calendar) as a thank you. It works out to paying $1 for each calendar. If you find the thoroughly thought-out and tested Declutter 365 plan, and its accompanying calendars helpful for your own decluttering and organizing journey, I do appreciate your support as a thank you for that work!
Second Level Of Rewards: $4.99/Month - Let Me Help You With The Decluttering Missions In A Closed Facebook Group
You can do the Declutter 365 missions, and accompanying 52 Week Organized Home Challenge, all by yourself using just the calendar plan, and accompanying articles as your guide. It can work quite well, I've seen it. But many people need and appreciate more support as they work through the missions, because if decluttering and organizing your home were completely easy everyone would have already done it, right?
A community of support is often vital to success, as well as being able to ask questions when you feel stuck and need help with a problem. That's where a Facebook group is very helpful, and it's what I want the ability to give to you in the second level of rewards, when you commit to donating $4.99/month. 
When you become a patron at this level your bonus is an exclusive Facebook group just for donors, where we can all work through the Declutter 365 missions together, daily.
What you'll get in the Declutter 365 Premium Facebook group:
Reminder of the daily missions from me (I'll post each day's mission, as well as provide a link to any article I've got related to the topic from my website);
A weekly live video chat from me, where I can provide more guidance, and you can ask questions or bring up issues you need help with about that week's missions (and there is a replay available if you miss the live version);
A closed group where only members can see what you're saying or posting, which can allow you to feel more comfortable sharing your triumphs and setbacks;
The ability to start your own posts and ask questions not only of me, but from the whole group, to allow a community of like-minded supportive participants of the Declutter 365 plan to help and support one another.
I appreciate any level of support you can give to the Declutter 365 missions. I've committed years and years of my life to this plan, and have seen the results pay off for so many participants, and I hope it can help you too!
– Taylor