Declutter 365
is creating Declutter 365 daily decluttering missions
Select a membership level
Donate For Monthly Declutter Calendars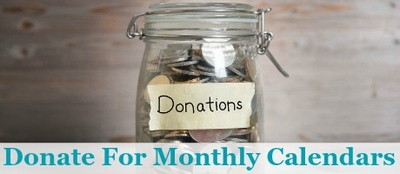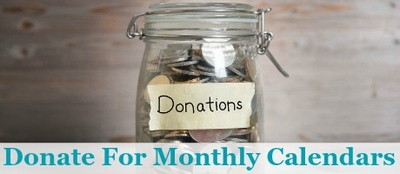 Support Declutter 365 and the daily decluttering missions by making a monthly donation, as a thank you for the monthly Declutter 365 calendars.

When you become a patron at this level you will be able to access PDF links to each month's calendar as they are published to the website, but get them right here on Patreon!

Join Declutter 365 Premium FB Group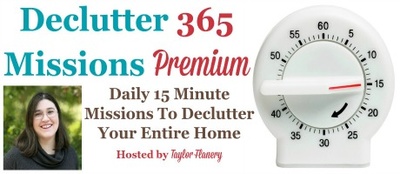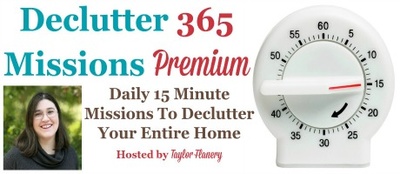 Become a monthly subscriber and member of the Declutter 365 Premium Facebook Group when you pledge $4.99 or more per month.

When you join this private and exclusive group you'll get motivation and encouragement as you work through the Declutter 365 program to declutter your home over the course of the year, and you'll be able to get guidance and group coaching from me, Taylor. 
About Declutter 365
Hi, I'm Taylor, and for going on 11 years I've run the Declutter 365 missions, that allow you to declutter your whole house in just 15 minutes a day, over the course of a year, from my website Home Storage Solutions 101.
I'd love for you to support my efforts as a patron in one of two ways: (1) subscribe, monthly, to the Declutter 365 Premium Facebook group, which is an exclusive and private group dedicated to helping you succeed with decluttering your home; or (2) make a small donation to the site each month as appreciation for the monthly Declutter 365 calendars I create to help you declutter your home.
I'm going to explain the two levels of patronage below, starting with the higher level, and then discussing the lower level.  
$4.99/Month: Monthly Subscription To The Declutter 365 Premium Facebook Group: Get Encouragement, Motivation & Group Coaching As You Declutter Your Home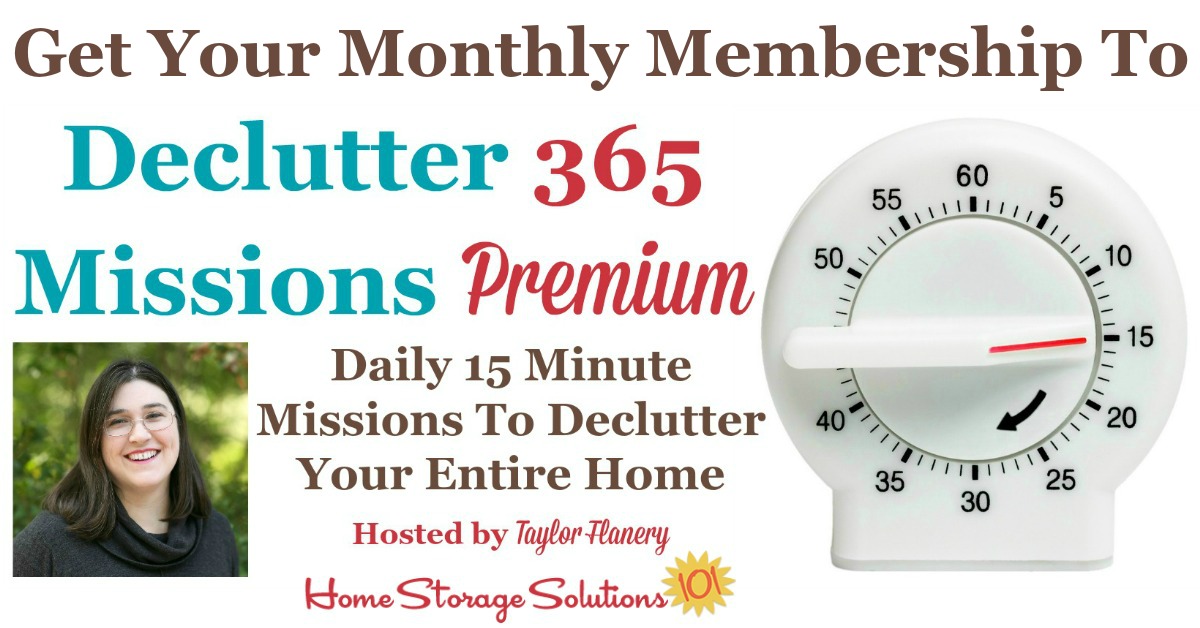 If you want to declutter your home this year, without overwhelm and one small step at a time, the Declutter 365 missions will help you do it. 
You can use the calendar, and go it alone, but I really want you to succeed so I created this Declutter 365 Premium Facebook Group to help you do just that by giving you a place to be reminded of what you need to do, accountability to show off what you've accomplished, and help from me and other group members if you need a little assistance, encouragement or feedback.
What you'll get in the Declutter 365 Premium Facebook group:
Reminder of the daily missions from me, Taylor (I'll post each day's mission, as well as provide a link to any article I've got related to the topic from my website);
A weekly live video chat from me for the group, where I provide more guidance, and you can ask questions or bring up issues you need help with about that week's missions (and there is a replay available if you miss the live version);
A closed group where only members can see what you're saying or posting, which can allow you to feel more comfortable sharing your triumphs and setbacks, and also before and after photos;
The ability to start your own posts and ask questions not only of me, but from the whole group, to allow a community of like-minded supportive participants of the Declutter 365 plan to help and support one another.
I have provided this monthly subscription option through Patreon for anyone who is interested. If you already know you want to subscribe for the whole year to the group I also 
offer a 2022 subscription which you can learn more about here
(there's a discount for paying for more months at once).
$1/Month (Or More If You Choose): Support Declutter 365 With Small Monthly Donation For The Calendars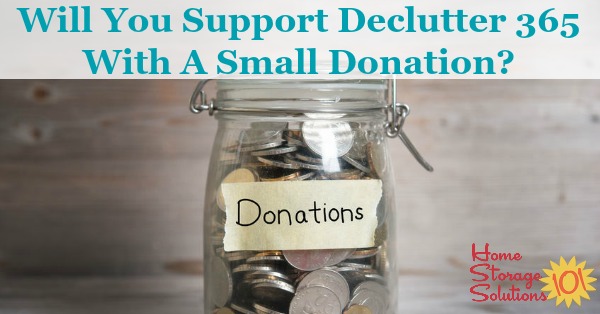 Through the years, as I've run the Declutter 365 missions every single day, I've seen with my own eyes, through participant testimonials and photos, that the plan works, and people's homes are becoming clutter free! Woo hoo!
In fact, over the years over half a million calendars have been downloaded, and guess what? I gave them all away for free.
Why do I give something valuable like this calendar away each and every year, and also work hard to keep it updated and improved year after year?
The answer is that I want everyone to have a clutter free home, if that's what they want too, and I figured out the secret -- incremental change, that turns into the habit of decluttering, to get you there.
I can't just keep that information to myself. When you make a huge discovery you have to share it with the world.
Over the years this website has grown, as has the number of people asking for the calendar each year, and with that growth comes more opportunities to share the life-changing Declutter 365 missions with the world, but also it comes with costs of time and actual money to run the website.
The site is actually now the family business, and what my husband and I both work on each and every day, and as such it's also what allows us to support our family of five (three wonderful kiddos, and ourselves!)
Over the years I've had lots of people basically beg to let them give me a small donation because they so appreciated the free printable calendar and were excited by the results they were achieving in their homes. But I felt a bit hesitant. After all, as I explained, I give away the basic Declutter 365 plan for free out of a place of love and desire to help, and so accepting donations didn't seem to fit with that.
But people kept asking, insisting actually, and finally I've gotten it through my thick skull that hey, what I'm providing really is valuable, and who am I to stop someone who genuinely wants to express their appreciation from doing so, and why would I stop someone who has benefited from this method of decluttering from helping others get it too?
So if you are one of those people who'd like to support Declutter 365, you can donate monthly to support the Declutter 365 missions, and me. The minimum donation per month is $1, but you can choose whatever amount you feel is appropriate.
If you donate a dollar per month, that works out to donating $1 for each month's calendar you receive as a participant in the Declutter 365 missions.
When you become a patron at this level of support, as your reward I provide each month's calendar, as a PDF, directly here on Patreon, so you don't even have to go to the website to get it!
Thanks so much for supporting Declutter 365 and me as I run these missions each and every year, and I wish you a clutter free and organized life and home during the coming year!

By becoming a patron, you'll instantly unlock access to 289 exclusive posts
By becoming a patron, you'll instantly unlock access to 289 exclusive posts
Recent posts by Declutter 365
How it works
Get started in 2 minutes