Dead Gentlemen Productions
is creating Comics
About Dead Gentlemen Productions
Hi, we're the Dead Gentlemen!
We're mostly known for our films—in particular the
Gamers
movies (
The Gamers
,
The Gamers: Dorkness Rising
, and
The Gamers: Hands of Fate
)—and our webseries
JourneyQuest
. But before all of that, there was
Demon Hunters
.
So what's it all about?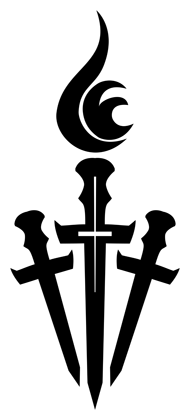 The stories are true. All of them. Every myth, folktale, horror story, and urban legend. The world is full of nightmares, and the
Brotherhood of the Celestial Torch
is there to stop them. The Brotherhood is a secret organization of mortals, monsters, and demigods on a divine quest to keep the world safe from the forces of Evil. Fighting demons and madmen. Dark wizards and transdimensional terrors. Pushing back the Apocalypse one battle at a time.
And then there's the Omega Chapters
. The newbies. The cannon fodder. They pretty much do the grunt work that actual Hunters can't be bothered with and get killed off by the bucketload.
Demon Hunters
is the story of an Omega chapter.

Interesting, tell me more...
This is Gabriel
. Gabriel used work for the Brotherhood. He was a Demon Hunter, and he was one of the best. Until something bad happened. Most of his team was killed, and the blame fell on him. They kicked him out of the only life he's ever known. Now he's sitting in a bar, well past drunk and working hard to forget. But an unexpected visitor is about to show up to pull him out of his funk and get him back to work...
This sounds a little familiar...

Demon Hunters
was the first movie the Dead Gentlemen ever made together—way back in 1999—and it's stayed close to our hearts. We made a sequel, 
Demon Hunters: Dead Camper Lake
a couple years later before moving on the the
Gamers
films, but we always wanted to go back. In 2007, we got a chance to revisit Gabriel's world when we co-produced the 
Demon Hunters Roleplaying Game
with Margaret Weis Productions. Included with the game was 
The Brotherhood Orientation Video
, a half-hour introduction to the
Demon Hunters
universe that updated the canon, brought some of the original cast out of retirement, and introduced some new takes on old characters. After that, well, not much happened. We moved on to other projects, leaving the future of the
Demon Hunters
franchise in Limbo. Until now...
And now it's a comic, huh?
Demon Hunters
is a full re-imagining of the franchise in a weekly webcomic format. We're telling Gabriel's story from the very beginning, the way it's meant to be told—without the artificial limitations of a zero-dollar budget and an all-college-student cast. We meet up with Gabriel well before the events of the first movie and learn how they became a team, and all the tragedies and missteps along the way to their confrontation with the Earthwalker and beyond.
Who's making this thing?

The comic is being written by 
Jimmy McMichael
, with art by 
Ben Honeycutt
. You might recognize Jimmy as "Herr Doktor" in the
Demon Hunters
movies, but he also co-wrote the
Demon Hunters RPG
and the
Brotherhood Orientation Video
. He's Dead Gentlemen's resident expert on all things Demon Huntery.
Demon Hunters
is Ben Honeycutt's first project with Dead Gentlemen, but so far he's knocking it out of the park. Seriously, he rocks, and Gabriel and his team have never looked better!
Okay, so how does this Patreon thing work?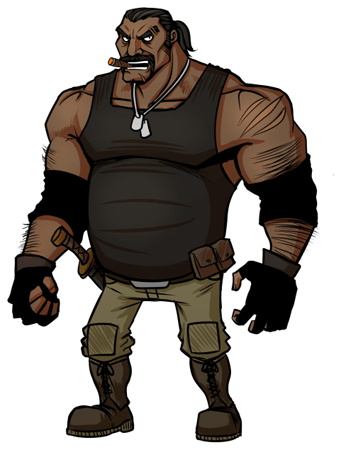 As much as they'd love to do
Demon Hunters
for a living, Jimmy and Ben both have full time jobs that aren't even slightly related to hunting demons. Maybe someday that can change. By pledging your support, you help get us closer to our Milestone Goals, and free the guys up to devote more time to the comic. With your help, we can add more features and regular columns to the site, and move
Demon Hunters
from a once-a-week comic to a two-, or even three-times-a-week comic! Every little bit helps!
So check us out at 
demon-hunters.com
! If you like what you see, please tell your friends. Spread the gospel of
Demon Hunters
to the farthest corners of the earth! If you've got more questions, or just want to tell us how excited you are about the comic (us too!) you can reach us on Twitter at 
@DG_DemonHunters
.
Thanks for checking us out! We hope you stick around, 'cause we've got one hell of a story to tell!
Select a membership level
$1
per ON HIATUS - NO CHARGES
Every Little Bit Helps!
Access to the Patreon Activity feed and our eternal, undying thanks
$3
per ON HIATUS - NO CHARGES
Sneak a Peek!
Behind the scenes access to concept art, pencil sketches, and deleted script scenes
Access to the Patreon Activity feed and our eternal, undying thanks
$5
per ON HIATUS - NO CHARGES
Oooh, Pretty!
A new, Patron-exclusive wallpaper each month for your computer, tablet, and phone.
Behind the scenes access to concept art, pencil sketches, and deleted script scenes
Access to the Patreon Activity feed and our eternal, undying thanks
WA Resident Sales Tax included.
$285 of $400
per ON HIATUS - NO CHARGES
At this level, The Purple Ninja appears in a cloud of violet smoke to answer reader-submitted questions in a new bi-weekly advice column! Relationship problems, career advice, helpful household hints--the Purple Ninja has an opinion on just about everything, and he's ready to shout it at you while chopping his hands alarming close to your face!
2 of 5
Recent posts by Dead Gentlemen Productions