Dr1ven Industries & Dr1ven Together Nonprofit
is creating Nonprofit Peer Support, Resources, & Mental Health Awareness
Select a membership level
Dr1ven By Kindness
Thank you for your patronage! Every little bit helps us work our way up toward our goal! You get exclusive access to a Patreon Patron-only voice and text chat!
Access to Patron-only chat in Warr;ors of the Day Discord
Available for text if you need support or just kind words.
Access to Certain Zooms
Includes Discord benefits
Dr1ven by Friendship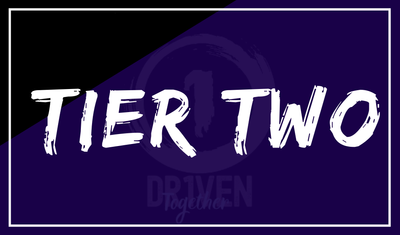 Thank you for your patronage! Every little bit helps us work our way up toward our goal! You get exclusive access to a Patreon Patron-only perks
Dr1ven Contributor
We are grateful for every one of you! Thank you for helping us grow!
All previous rewards
I am not a therapist or counselor but if you need ideas or someone to speak with will make sure to set an hour aside a month for you so I can give you any support you need
Access to all mental health off camera workshops https://mentalhealthoffcamera.org/
Access to Patreon Exclusive Hands-On Workshops
About
Welcome to Dr1ven Industries



Hi, I am Eric Zink and I formed a mental health nonprofit and we are here to help others with support, tools, and resources regarding issues with mental health and wellness with a goal of supporting others' greatness. We are also a nonprofit Dr1ven Together that with the above are bridging the gap between a therapist and a crisis hotline! Through online platforms and social media, we strive to present assistance to those who may be struggling or seeking to improve their lives.
My name is Eric. I lost a father and a wife to suicide, am a recovering addict that is diagnosed with ADHD, PTSD, GAD (General Anxiety Disorder), MDD (Major Depressive Disorder) and BDD (Body Dysmorphic Disorder). I realized the more I share my story and experiences the more it can help others because I believe no one should suffer silently or feel that they are alone. I believe in people helping people and that is why I created my YouTube Channel D1ven Industries, along with being one of the largest Mental Health Advocates on social media with TIKTOK Dr1ven8. I wanted to have as many outlets as possible to give support because it makes a difference in our life to know we are not alone. I believe in others and I believe in you!
This started with a passion to help others and has grown through helping others to the extent of one of the largest free mental health community platforms with discord.This with a passion to help others and to make sure no one feels alone in their journey, a few people are sharing their stories to inspire others. Providing available resources as well as YouTube videos on various aspects of mental health is one way we can start to make a difference.
To be a Patron of Dr1ven Industries you become a part of our movement & community.
By further funding and supporting the educational material created you also allow us to improve the quality of what we do. Eric Zink founder has done this out of passion and this is not a full-time job and is balanced alongside his career and family. Your help allows us to continue to grow online and in communities to see what we are doing make sure to check out rudr1ven.com for updates. Dr1ven Industries is about the potential and striving for the absolute best. Ideas and objectives we have are:
Hosting Webinars helping others through struggles of mental health, addiction and loss through sharing experiences, coping and resources.
Educational (and entertaining) videos on the developmental and neurological science behind mental health, mental illness, addiction, and more.
Re-developing the Dr1ven Industries website that provides a repository of resources for anyone to utilize regarding their area of interest or concern.
Continued peer to peer outreach via online platforms such as Discord where we have a community interested in sharing ideas and materials.
Hosted special guest events with notable speakers and mental health professionals on topics suggested by the community.
...and much more as our community grows!
Our Patreon exclusive content offers the chance for you to become a part of our movement and witness the progress being made as well as sharing your feedback.
This is a "we" thing, it's about doing this together.
Exclusive Patron only content includes more candid videos and content from leading members of the community as well as more in-depth resources about what matters to you and the community at large. Insight into addiction and mental health is our focus.
Visit our website and other social media for support because you are not alone in your fight and you can do this!
#mentalhealth #sobriety #mentalillness #addiction #support #selfhelp
This is one of our largest goals. Being nonprofit reaching this allows Eric to end his current job and focus on the nonprofit fully. It allows the staff in the Mental Health Communities to be compensated for their work along with allowing us to expand to physical locations, provide free seminars, speaking engagements, helping those less fortunate to get the treatment needed for their mental illness along with needed medications. Our goal is to create the largest mental health network provides real-time support that allows anyone struggling to get the needed assistance in working with their mental illness on a daily basis.
1 of 1
Become a patron to
Unlock 160 exclusive posts
Connect via private message
Recent posts by Dr1ven Industries & Dr1ven Together Nonprofit