Dr. George "Qi" Love
is creating Health & Spiritual Elevation with Medical Qigong
Select a membership level
Health Literacy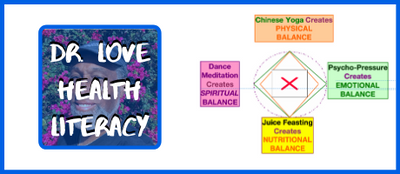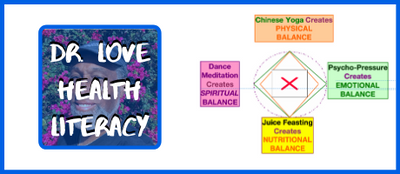 Health Literacy is the study of how the human body integrates Nutritional/Physical with Emotional/Spiritual health.
At this time in the new millennium, there is a great lack of understanding of the human body or self. We don't understand how our emotions work, how our sexual parts function, how digestion functions, or how our minds think. We really don't know why we get so sick and we rely upon so called experts in white coats who speak a specialized language to tell us what is wrong and how to fix it.
Rather than blame medical schools in general or the pharmaceutical industry in particular it is better to become self-educated in the ways of being healthy mentally and physically. Hence, our commitment to Health Literacy. Western medicine studies sickness and disease. Eastern Medicine studies holistic lifestyles.
Health Literacy is the study of how the human body integrates Nutritional/Physical with Emotional/Spiritual health.
Physical Health
is a combination of Posture for the circulatory and nervous system, Meditation to relieve the mental stress, Breathing for purification of the blood, Exercise to strengthen immune system, bones and joints, Nutrition to fuel the blood, bone and tissue, and Massage for the lymphoid system.
Spiritual/Emotional health
is identifying the three demons, three poisons, six thieves and/or which of the seven deadly emotions blocks creative and happiness flow. And then tapping acupuncture points to break neurological patterns of addiction to create a positive flow of happiness.
Benefits of Membership 
Health Literacy Videos
Reduction of sick days from cough, cold & flu
Prevention of Degenerative Disease
Weight maintenance or reduction
Improved sleep and relaxed energy
Reversal of auto-immune disease
Lowering blood sugar, blood pressure & cholesterol
Increase in vitality and vigor
Increased sex drive and attractiveness
Community of healthy conscious families & singles
About Dr. George "Qi" Love
Are you looking to build your immune system and repair health issues? Are you trying to lose weight, stop smoking or get rid of any addictions you might have?Are you looking to increase your physical strength and mental focus?
Transform your emotional operating system to all embracing love and compassion by refining what you eat, what you think and how you feel. Medical Qigong is the method of developing your superpowers by accumulating internal strength to face the external challenges of life through:

Food therapy - How to eat better
Emotional Enema - Detox mind and body
Egyptian Mind Science -How to improve mental wellness
Body Drumming for Self-healing-Mindfulness practices and self-massage
Internal Exercise with Medical Qigong - Strengthen internal organs and how to process through your digestive system
Rotational Joint Exercises - Build physical strength

By becoming a patron of Dr. George Love, you will be able to:

Eat well
Feel well
Think well
Be well

I am inviting you to become a patron by selecting the tier that mainly applies to what your pain points are and would add most value to your life. I'm Dr. George Love and I want you to be well and this is my opportunity to serve you, if you let me.

By becoming a patron, you'll instantly unlock access to 12 exclusive posts
By becoming a patron, you'll instantly unlock access to 12 exclusive posts
Recent posts by Dr. George "Qi" Love
How it works
Get started in 2 minutes