Scot Noel
is creating DreamForge Anvil - Science and Fantasy Fiction
Select a membership level
TIER ONE - Subscription
$1.25 or more per month
Online Access to DreamForge Anvil Issues, Stories, and Essays
Access to All Online Issues of DreamForge Magazine.
Opt-In at our Reader's Portal to access digital Space & Time Magazine
Bonus eBook "Sovereign Ice" in 2021.
This subscription level is unlocked immediately.

Tier TWO: DreamCasters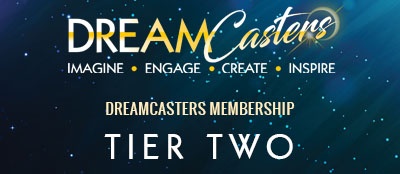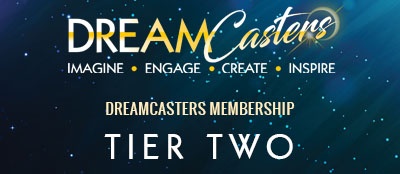 Join DreamCasters, our writer community run through monthly Zoom chats and private Discord groups. Access recording to sessions you can't attend personally, get discount codes for subscriptions, merchandise, and webinars.

TIER THREE - Sub + Sponsorship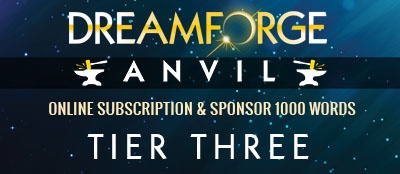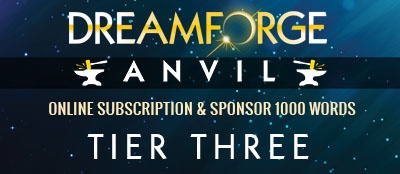 $5.00 or more per month
Tier One Benefits and Tier Two Benefits (DreamCasters membership), plus
Your Name as Sponsor of a 1,000-word Flash Fiction story in 2021.
This subscription level is unlocked immediately.

About Scot Noel
In 2021, DreamForge Magazine becomes DreamForge Anvil.
Why the Change?
2020 was a challenging year. Though DreamForge achieved its share of critical success, dwindling resources, along with stresses at our day-jobs and on our families (all largely attributable to the pandemic) have forced us to consider how we can continue in 2021.
With DreamForge Magazine, we achieved more than we had hoped to in design, storytelling, and theme. Yet behind DreamForge's high-end look, we are a fledgling small press sustained by dreams, friends, some truly lovely and talented contributors, and -most especially- our devoted subscribers.
Given DreamForge's youth, we had little in the way of reserves to weather a storm. But since a reed before the wind lives on, we thought bending to the storm might be better than breaking. We continue to want to make a difference. And in 2021, that is DreamForge Anvil.
What's Different?
DreamForge Anvil will be primarily a digital resource presented in our Reader's Portal, along with previously published DreamForge issues and PDF versions of our sister magazine from Angela Yuriko Smith, Space & Time.
DreamForge Anvil will publish 5 online issues/year along with a monthly eNewsletter. Our mission is both to present hopeful science fiction and fantasy as well as learn what these stories mean to their authors and how they are constructed. Notes accompanying each story take a look at specific storytelling aspects, both at weaknesses that were addressed by the author and strengths demonstrated in the writing that were appreciated by our team.
Complementary essays cover the handling of story hooks, exposition, character development, plot, pacing, world-building, and more.
A Passionate Attention to Writing
The path we've chosen for 2021 is based in the enjoyment we experienced working with authors to solve story problems and polish near gems to perfection. It was equally gratifying to provide useful feedback to hopeful contributors, writers who rarely heard from editors about the quality of their work. We love it when we receive comments like:
"Your advice has helped me get stories picked up twice!!!!" and "the feedback you offered me on the first few stories I submitted is far and away the best feedback I've ever gotten." We share these comments not in praise of us, but in hope that we can contribute to helping more authors if we focus on the writing and share what we've learned.
Indeed, for every story we publish in DreamForge Anvil, or goal will be to provide detailed feedback, privately, for two other hopeful submissions.
Print Versions of DreamForge?
While the cost of printing and the faltering reliability of delivery were two of the factors affecting our decisions about DreamForge Magazine, we hope to offer one or two print issues in 2021. These will be purchased separately from Amazon.
We are also working with UpRoar Books on a surprise announcement for spring of 2021!
Squaring Up
As the year progressed, we adjusted our subscriptions to deal with such an eventuality as this. That means we should end the year with all subscriptions fulfilled, and if anyone feels their situation is other, we will take action to make them whole.
All our authors are paid, stories published, and bills paid. Indeed, we are already buying stories for DreamForge Anvil and working toward assembling a test issue online.
Transitioning to Non-Profit Status
We've already begun the process of transitioning DreamForge Press to a non-profit. We hope that will help us with fundraising and in becoming a subscriber supported organization, one especially benefiting less experienced authors in understanding the submission process, working with editors, understanding contracts, and simply in avoiding the most common mistakes we've seen in developing DreamForge.
No, we are not suddenly the world's experts in any of this, but we knew in starting DreamForge that the adventure would lead us down new and different paths in our lives. This one is calling to us now, presenting itself for our attention, and we'll give it our best.
Subscriptions to DreamForge Anvil
DreamForge Anvil will be largely free online, with subscribers enjoying early access to each issue, bonus content, an informative monthly newsletter, and -at year's end- an e-Book on writing compiled from our real-life lessons in reading and buying stories throughout the year.
Subscriptions are available at Patreon for as little as $1.25/month, the lowest cost offered anywhere.
In addition to new stories, DreamForge Anvil subscribers receive:
Bonus stories, content, and essays.
The ability to comment on stories and ask questions (hopefully - we're working on it)
A Narrative Hobbyist's Guide to Writing Speculative Fiction – an eBook to be compiled at the end of 2021 based on our essays and publishing experiences during the year.
As DreamForge Anvil will be a non-profit project, all subscription proceeds go to support contributing creatives, both writers and illustrators.
Submissions
After our Kickstarter in January of 2021, we'll have several short submission periods throughout the year. Our pay rate is $0.06/word for first world electronic rights, with the option to include the story in limited edition print runs or print on demand versions of DreamForge Magazine.
Payment on Acceptance.
We will be looking for shorter stories for DreamForge Anvil, especially at first, as demonstrating basic writing principles is easier with materials under 4,500 words. As we graduate to working with more complex aspects of storytelling, our interest in longer manuscripts will increase.
Is DreamForge Anvil for You?
If you liked our positive approach in DreamForge Magazine, you'll continue to enjoy engaging, hopeful stories with DreamForge Anvil.
If you're a hopeful contributor to DreamForge or any other speculative fiction publication, you'll appreciate the insights and conversations we have about our stories and about the craft of storytelling itself.
"Writing is the only thing that, when I do it, I don't feel I should be doing something else." – Gloria Steinem
Join the DreamForge Adventure!
At DreamForge Anvil, we welcome readers with a passion for positive fantasy and science fiction. Here you will find stories where characters endure, overcome, and embrace that spirit of wonder and discovery through which sentient beings invest the universe with meaning and purpose.
Our outlook is sanguine, faithful to those dreamers and makers who came before us to brave ages far darker than our own, supportive of present idealists who remain indomitable in the face our time's apocalyptic fears, and hopeful that the principles of compassion, justice, and truth shall endure until the end of time.
At this level we can afford to buy one 3,300-word story/month at the base professional rate of $0.06/word.

1 of 3
By becoming a patron, you'll instantly unlock access to 15 exclusive posts
By becoming a patron, you'll instantly unlock access to 15 exclusive posts
Recent posts by Scot Noel
How it works
Get started in 2 minutes