DropTheDie
is creating TTRPG Reviews, GM Tips, and Content
Select a membership level
Droplet
Save the lives of up to 20,000,000 imaginary kobolds EACH MONTH.
Your support helps fund future projects directly, and you have my thanks!
Dice Fiend
All previous rewards.
Magic Item Monday: A new 5e D&D magic item EVERY Monday! Item requests are welcome.
 Patreon role on my personal Discord server! 
Dice Acolyte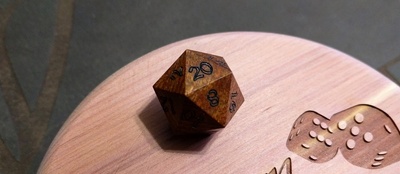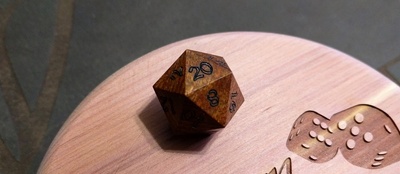 All previous rewards.
Exclusive coupons for some of my favorite Tabletop Stores - Tabletop Loot, Die Hard Dice, Eldritch Arts USA, and more! 
About DropTheDie
DropTheDie – Who be?
     A long stint of my RPG life was actually spent DMing the marginally hated
D&D 4th Edition
. I ended up buying some graph paper to help draw out the maps, as they are exceptionally important for 4e. Then a wet erase mat. Then…
I awoke several years later, in a haze. Dozens of sets of dice, boxes, pens, books, inserts, boxes, charms, coins – there is a veritable gaming store in my apartment.
     After finding a few nerds like me, we started struggling to find decent reviews for the, sometimes incredibly expensive, products that enticed us -  Thus, my blog was born! I take the time and energy needed to help
as many people as possible
make better informed purchasing decisions. I'm utterly shocked that I've gotten as much support as I have!
     And, for the record, "DropTheDie" is actually a statement I make when I want my players to
stop 
rolling dice for everything and roleplay for a change. "Woah woah, drop the die, stop looking at your sheet, and just tell me what your character does."
Why a Patreon?
     I am more than willing to spend my personal time and energy picking apart products and accessories for Tabletop Gaming and other content creation. It feels like something of a calling for me - the idea that people come to my blog for assurance or help is just... otherworldly. 
     But along with that drive, there come many
many
costs: somewhere in the neighborhood of about $970 last year. I feel so honored to be reviewing these things and connecting with so many people in the gaming community - and I want to give back in the form of:
Higher Quality Reviews (potentially HD content or videos in the future)
Dice Giveaways (spread the love)
More obscure and lesser known products - diamonds in the rough
But as I started tackling these, I realized that my costs will almost double. Storage hosting, shipping costs, purchasing costs - things started to fall apart, even while working full time with two part-time jobs. 
Every dollar
from this patreon filters back into the blog, the photos, the Social Media Networking with various companies, and giveaways!
Thank each and every one of you for every penny you send my way. It's incredible!  
100 patrons, crazy to think it's possible. 
At 100 patrons I will host a monthly GM/DM workshop on the first Saturday of every month. All patrons who suffer from issues with their home games can submit questions, comments, concerns, thoughts, or fears and get a measured, helpful discussion on what plagues them. 

Personalities from popular podcasts and online streams are welcome to help brainstorm, troubleshoot, and balance any issues you've had - whatever's been keeping you up at night! Each discussion will be put on Youtube for posterity at the allowance of those involved. 

4 of 4
By becoming a patron, you'll instantly unlock access to 268 exclusive posts
By becoming a patron, you'll instantly unlock access to 268 exclusive posts
Recent posts by DropTheDie
How it works
Get started in 2 minutes