Mumu The Lion
is creating Dungeon Island Comics
Select a membership level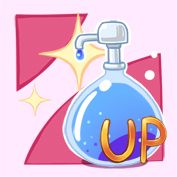 Mumu gained Shampoo 1ea
Goodbye mites! Mumu so happy you will
gain access to backer-only page
to see sketches, work process and more!
Mumu gained shovel 1ea
Mumu is now ready to grow some cucumber! You will get
a chance in getting a very simple sketch request from Mumu, monthly
.
Lucky patron will get email from mumu!
((and all above))
About Mumu The Lion
Hello friends! 
I am Mumu The Lion! The short blue lion who eat cucumber to survive.
Mumu's English is not that great because Mumu is from Thailand's jungle. Despite the hard jungle life,
Mumu still find a way to draw and Mumu loves drawing. Mumu has been drawing since Mumu was a cub!
Mumu Have been drawing a webcomic called "Dungeon Island" since 2012. It was a harsh life because now Thailand is very hot and all cucumber now has dried out. Mumu has nothing to eat! Mumu has been trying to take up some "commission" and created some "merchandises". Many fans supported, Mumu glad for that, but it wasn't enough, Thailand's jungle sure is an expensive jungle to live in. Mumu can only eat dried out small cucumber now. My prides has left Mumu into the deeper zone in the jungle. Mumu is now without shelter, food and no jacuzzi pool to wash mites off Mumu's mane.

Here are past Dungeon Island series:
Dungeon Island Season1

Dungeon Island Season2 Ep1
Dungeon Island Season2 Ep2
Dungeon Island Season2 Ep3
Dungeon Island Season2 Ep4

Dungeon ISland: Halloween Speacial
Mumu is now Working on
Season3!

Mumu would like to draw more consistency with better quality without having to worry much about being bully by hyenas at night or having to eat small dried out cucumber for breakfast.   
Help Mumu gets shelter and foods! Mumu promise to draw more and better "Dungeon Island".
Mumu will draw at least one episode a week in
Season3
. Mumu wish Mumu can draw more episode a week! Mumu hope you guys will support Mumu, the short blue lion who ear cucumber to survive! Soon in the future Mumu might be able to eat steak with your support. 
*sparkling eyes*
How can you help?
Patreon is a platform that allow you to do on-going support Mumu!
By pledging any amount  that you would like to support Mumu, Mumu will receive that specific amount each episode of Dungeon Island.
You can stop or continue the support any time you like!
Also by supporting Mumu,
you will also gain access to exclusive backer rewards!
The detail of the rewards will be listed below!  
((Dungeon Island will still and always Free-to-Read, so don't worry!))
Thank you for reading!
Mumu have found piece of land that he plans to create something good!

- Will create at least 15 pages black&white Dungeon Island manga style of an event after Season 1 ended. See what happened! 

1 of 2
Recent posts by Mumu The Lion