EatMe.Land
is creating revolution: art, music, films
Select a membership level
Team Sonia Erika
1. Access to EatMe.Land Slack Channel
2. Access to patron-only content
3. Early content releases
4. Access to exclusive images
About Sonia Erika: 
Sonia has worked on films with artists like Kalup Linzy and James Franco. Aside from film, she creates music to fuel the revolution. Her subject matters verge between illegal aliens and demystifying capitalism, to humanizing sex workers. Her work has been performed in low key intimate spaces as well as ivory towers like Harvard and Columbia University. Her music has been published on Buzzfeed, however she does not believe in mainstream music systems like Spotify and Apple Music.
You can find all her music on Sound Cloud under Xkeban Jones: 
https://soundcloud.com/soniaerika/white-picket-fences-donald-trump-ft-dorian-grusoe-prod-by
After being an illegal alien for 21 years, Sonia was finally able to return to Mexico with her parents. Her current project is focused on that experience: a visual and auditory experience that connects people to their story of familial migration, experience of rebirth, and belonging during COVID-19.
You can follow more of her work on Instagram
@sonia.erika.likes.weed
Team Death is a Business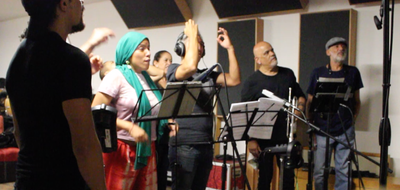 1. Access to Slack Channel
2. Access to behind the scenes content
3. Access to music we may not release
4. Access to global artist interviews and tips
About Death Is A Business
What happens when music is created in a foreign country during a pandemic?
You are about to find out.
Death Is A Business was formed as a solo act in October 2013 and has since grown into an ever-changing ensemble. The group's sound has touched on rock & roll, heavy metal, hip hop, soul, and jazz. Though originally based in New York, the coronavirus pandemic has now forced them to expand beyond their home-base into new places like Mexico. Their future is in your hands.
Death Is A Business has collaborated with other hip hop, R&B and electronic artists including DARE (Bronx, NY), Allyson Mariah (Bronx, NY), Melo (Brooklyn, NY), Urban (Bronx, NY), Pedro Cañas (New York, NY) The Last Ray (Brooklyn, NY) and John Tournas (Cambridge, MA).
Death Is A Business is currently working on the follow up to their 2019 debut album Not Infinite, you can check that out here:
https://open.spotify.com/album/4G1CthV2boVz0yOozZbxkX?si=oTLEmQcmRNqaPAtT9EZqQg
Follow our work here: 
https://www.instagram.com/deathisabusiness/
Team Coconoots
1. Access to Slack Channel
2. Access to patron-only content
3. Early content releases
4. Access to exclusive images
Who is Team Coconoots?
Team Coconoots, or Gabriela Cartagena, is a first-generation Salvadoran Honduran U.S. born citizen with parents who have each been deported and are now U.S. voting citizens. Gabriela is a photographer, filmmaker, educator, and housing justice + Immigrant rights organizer who's driven by the passion of her family history and neighbors. Gabriela has been documenting the stories on the streets she grew up in, in East Boston, for half a decade during its rapid urbanization and ecological displacement of people, culture, nature, and tradition. Gabriela has taught photography workshops in various languages in the U.S., Caribbean, and Mexico. She loves to read and bike on beaches and rivers and watch the planes fly over her.
You can follow my work here:
https://www.instagram.com/coconoots/?hl=en
Organizations\ Movements I organize with:
City Life Vida Urbana, housing justice organization in Boston, MA:
http://www.clvu.org/
Movimiento COSECHA, national decentralized immigrant rights movement:
https://www.lahuelga.com/
About
JOIN A TEAM & BECOME A MEMBER
ABOUT EATME
Launched after the 2017 solar eclipse, EatMe.Land is a psychedelic, art, & tech healing collective.
As a cooperatively owned trend forecasting platform, we generate art, music, and films for systemic change #therevolution #apocalypse.
Support the Revolution: Join a Team, Become a Member.
Join a Team today and unlock unreleased art & magic from EatMe.Land Artists. Some of the content we create lives in Youtube, our clients' worlds, or Spotify: the content here is just for our Patreon members. What happens behind the scenes? Can you come along and impact the journey? Yes, EatMe.Land Artists share secret tracks, behind-the-scenes footage and other unreleased stories just for you. This is the raw, the real, the ugly. What you see here is what happens before everyone else sees the final product.
JOIN A TEAM
Team Coconoots
Team Death Is A Business
Team Sonia Erika
Who do you want to support? Choose an EatMe.Land Artist that you want your contribution to go towards. Their future is in your hands. Our EatMe.Land Patreon lets you connect directly with EatMe.Land Artists and support their work. Don't worry, you still get access to all 3 Teams' content!
No EatMe.Land Artist comes from the same place. Some grow their
own food for the apocalypse
, some write stories about
drugs
, some are Harvard grads. We are all strategists, creators, problem-solvers, innovators, thinkers and doers. Together, we provoke questions about our world through music and art. Join us.
This is where we post our love, our heart, even our mistakes. Each EatMe.Land Artist uses this as a space to experiment and interact with our audience.
Support the Revolution: Join a Team, Become a Member.
HELP US UNLOCK THE SLACK COMMUNITY FEATURE
EatMe is meant to be a community. Once we have 25 members we will unlock the EatMe Slack. This will: 

allow us to share resources within members

community
ideas
jobs
events from different networks
magic
1 of 2
Become a patron to
Connect via private message
Recent posts by EatMe.Land