I invite you to share with me the adventure of bringing Elven books to this world. They have been written by hand as are all books in Elven culture, by employing calligraphy with original Tengwar scripts developed by me, and in harmony with J.R.R.Tolkien's ideals for mastery of art and craft, machine-independent creativity, unique and meaningful personal expression. Each book in my "Parma Eldaliéva" project transforms into an Elven calligraphic work of art part of J.R.R.Tolkien's literary legacy.
The first book that is ready in a Tengwarin calligraphic art is a "version"/"portrayal" of the English text of "The Hobbit". Even if this book is never released by a publishing house, you will help it see the light of day as you will receive as rewards the first printed copies of it when a certain number of supporters and level of support are reached (details given below).
In addition to its core seven volumes "Parma Eldaliéva" also includes many other works of art among which are the first maps in Tengwar. More information about the project you may find at its official site
www.parmaeldalieva.com.
Who I am and what I do...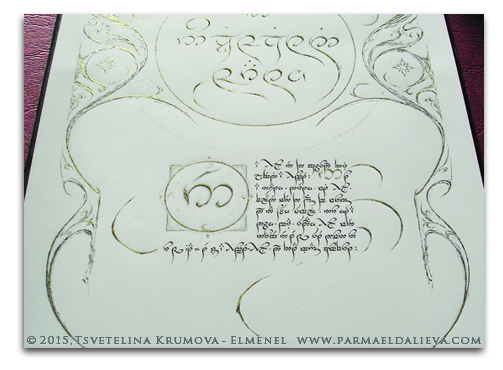 My name is Tsvetelina Krumova - Elmenel. I am an artist, calligrapher and graphic designer. I have been doing calligraphy for more than two decades. In the past six years I have been giving everything of myself into developing the "Parma Eldaliéva" (
'Book of the Elves'
) project that includes the first books in Tengwar, while supporting it on my own. I began working on it in 2009 in
Tokyo where after working for some time as a graphic designer (I graduated in that field in Japan) I was working as a Western Calligraphy teacher and as an English Assistant Language Teacher.  Since 2011, when due to personal ramifications from the March earthquake I suddenly had to move back to Bulgaria, I have been supporting it with my savings and friends' support. 
The lack of interest in fine art and non-Hollywood Tolkien-inspired projects in this country have been imposing a lot of problems on my working conditions ever since and have significantly slowed down my work. Some of the most unpleasant problems have been, for example, the difficulty to obtain proper art supplies, work & storage space, and the impossibility for quality work-related communication. 

The "Parma Eldaliéva" works of Tengwarin and Eldarin art and scholarship are a most respectful tribute to the works of J.R.R.Tolkien, which inspired them. Every part of the project at its present stage is a fruit of many years of labor in many areas, including in the development of unique and Elven sensibility-befitting (as the Elves have been introduced to us by J.R.R.Tolkien) scripts. I have invested much heart, dedication, labour and time in creating them as close as possible to Elven aesthetics and style as Tolkien defined them. Not imitating any historical human styles and scripts I created something new, original, and as authentic and untouched by our 'marred' world and history as possible.

I have been giving and will continue to give everything of myself to my work on this project that has become entwined with my life. Recently I found it very difficult to continue supporting it on my own, even as I have reached an exceptional creative and skill level and as my ideas and visions have matured immensely after six years of exercise and a first finished manuscript. I would like to start working on the next art book that is inspired by "The Silmarillion" (and one more text). This is something I have been anticipating from the beginning and for which the first "Parma Eldaliéva" has been, among other things, a preparation and a proof of my ability to do it. 
What do I need your support for?  
I need your support in order to secure adequate working conditions, proper art materials supply, and the time to focus on the work on the "Parma Eldaliéva" books and Tolkien-inspired art. It may also help me with the possibility to improve my work-related personal communication.

How can you help?
Your help will allow me to continue my work on "Parma Eldaliéva" and to create as many works as possible with an ever-increasing quality.
If you think that waiting for the next whole art book to be completed will take too long and that you will have to wait before you see all the results of your support, I would like to remind you that the first one is
already completed as a calligraphed manuscript! And also completed
 as an
art book that is ready to be printed
(the first test and sample copies were printed in 2016) thanks to the support of the
wonderful people
who joined this campaign!  I also promise you that there will be a lot of 'one-piece' works of art (
the five completed maps
are just the beginning of a series of such), drawings, and paintings. Up to now I had to do everything in my power to focus on the first book in the series, but if - thanks to you - I am able to afford better working conditions starting with space, I will have the possibility to do my calligraphic work faster and with even greater quality, as well as to draw and paint.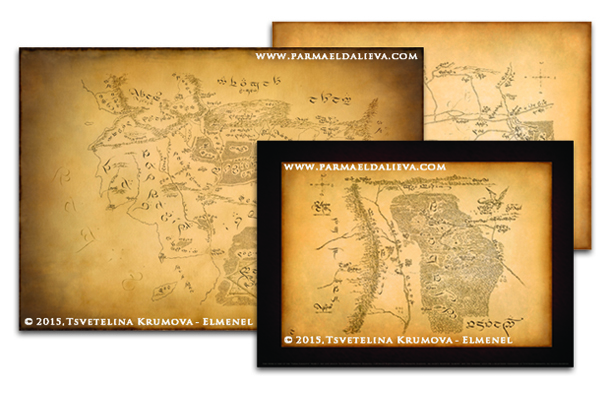 Of course I hope that the official Tolkien publishers or others would publish some or all of my art works in near future, but there is no guarantee for that and meanwhile I would like to use my hard-won skill, developed scripts, ideas, well-trained hands and eyes to transfer my visions on paper.
There are things we hold dear and would like to bring in this world for the joy of both ourselves and many others, making it more beautiful, healthier, and wiser. In my case those are good texts, words, stories told in writing in an 'Elven Artistic way' and in that amazing creative way both Tolkien and I, as a "small maker" inspired by him, have thought important to do things in. "Write-drawing" things in a way reminiscent of the way they have been told in the Hall of Fire...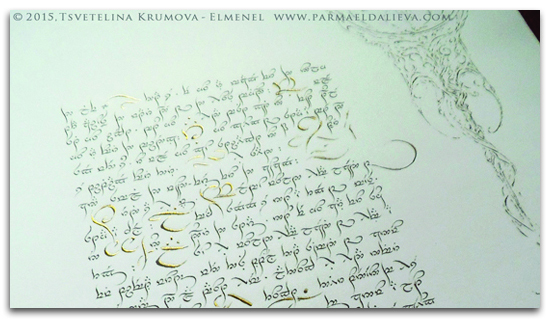 Your support will allow me to work full-time on the project and to have proper art supplies, studio space, communication and exhibition opportunities.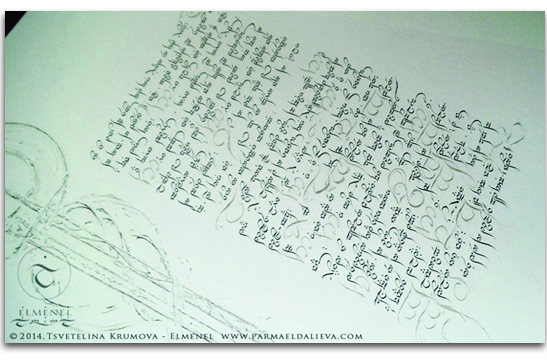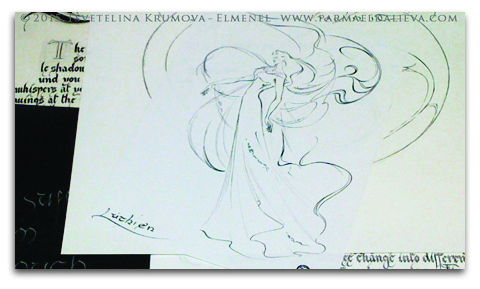 What are the next steps in my work?
In the second half of 2015 and the beginning of 2016 I completed the
printable version of my first "Parma Eldaliéva" volume. 
If or when there are 
100 supporters in this campaign 
who have collected
twelve book-points
, I will immediately submit this first "Parma Eldaliéva" for print and share copies of it as tokens of my gratitude with those who have supported my art and collected the twelve points (those who have more points will also receive additional copies or, if they so wish, additional artworks I will propose to them). One hundred people having them will also mean that there will be
sufficient funds for the art book's quality printing and for the mailing of the copies worldwide
. Meanwhile I am and will continue working on the
next art books
 of the project as well as
other artworks (one-piece or more complex)
 and you are invited to follow their creation! I am gifting
art prints
 in addition to the book points, according to the tier conditions (one, two, or more - that depends on the type and size of the prints). The second and third "Parma Eldaliéva" are going to be a Tengwarin calligraphic art "portrayal" of "The Silmarillion" and some other works. The fourth is inspired by "The Lord of the Rings". There are seven main volumes in the project, and the work on all of them has been started.
The results from your support would be gifts for your enjoyment and while the work on very time-consuming things like "Parma Eldaliéva" II & III goes on, you will be able to see and follow their progress!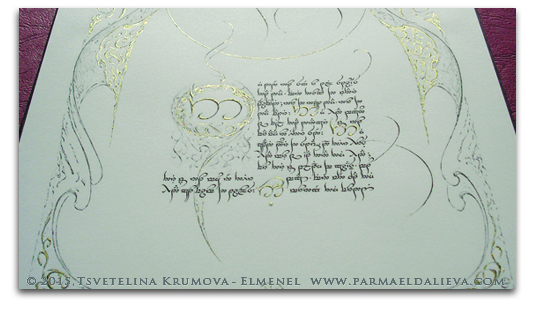 About Patreon and this campaign...
"Patreon" is like an ongoing "Kickstarter". As tokens of my gratitude for the monthly support of my work I will give you access to images I will not post anywhere else and I will send to you prints of my artworks (including the first art book when the necessary number of people and points have been gathered) as well as some originals in accordance with the various tiers. You would be able to change the size of your monthly donations or quit at any time, if you so choose. Copies of
the first five Tengwarin calligraphic art maps will be the first five of the gift-prints
donors will receive according to their chosen contribution levels.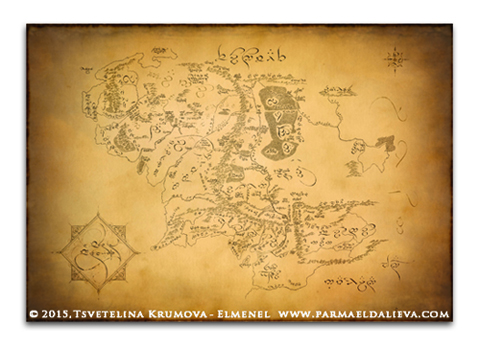 I will submit for print and then start sending as rewards copies of
the first "Parma Eldaliéva"
when there are at least
one hundred donors
who have collected
twelve book-points
. After that gift-copies of the book will be sent each month to the contributors who have collected 12 book-points.