Elmenel
is creating ART & THE FIRST BOOKS IN ELVEN LETTERS
Select a membership level
My heartfelt gratitude for being a supporter of my work!
Your name on "The Art of Elmenel Champions List" on my site.
Access to many of my supporter-only posts. These include information and images of artworks and their making that will not be shared elsewhere. 
My heartfelt gratitude for being a supporter of my work!
Your name on "The Art of Elmenel Champions List" on my site.
Access to all my supporter-only posts. These include information and images of artworks and their making that will not be shared elsewhere. 
1 point per month. Supporters who have gathered a certain number of points can claim a book when it goes to print. For details for each book please see the campaign overview page.
About Elmenel
I invite you to the adventure of bringing Elven books to this world.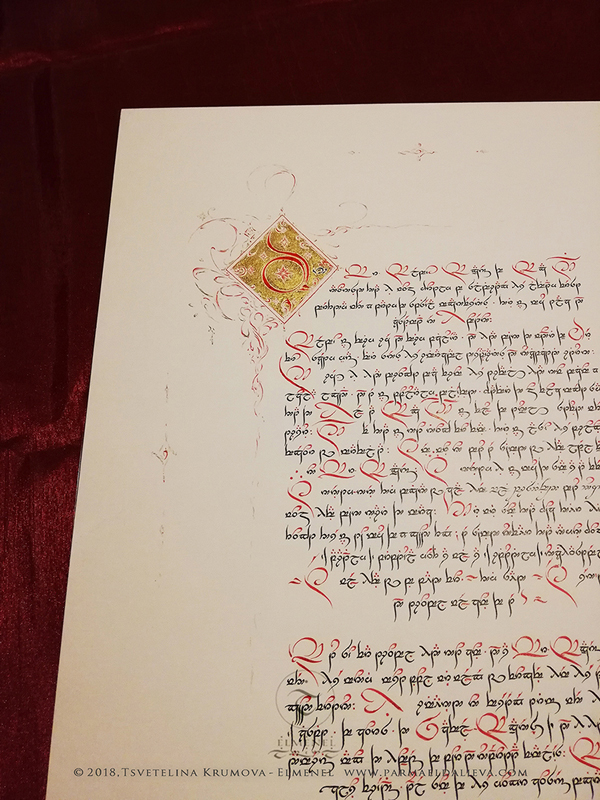 As all books in Elven culture they have been written by hand, with original, carefully developed Tengwar calligraphic scripts, in harmony with J.R.R.Tolkien's ideals for mastery of art and craft, machine-independent creativity, and unique and meaningful personal expression - principles Tolkien irrevocably ingrained in Elven culture.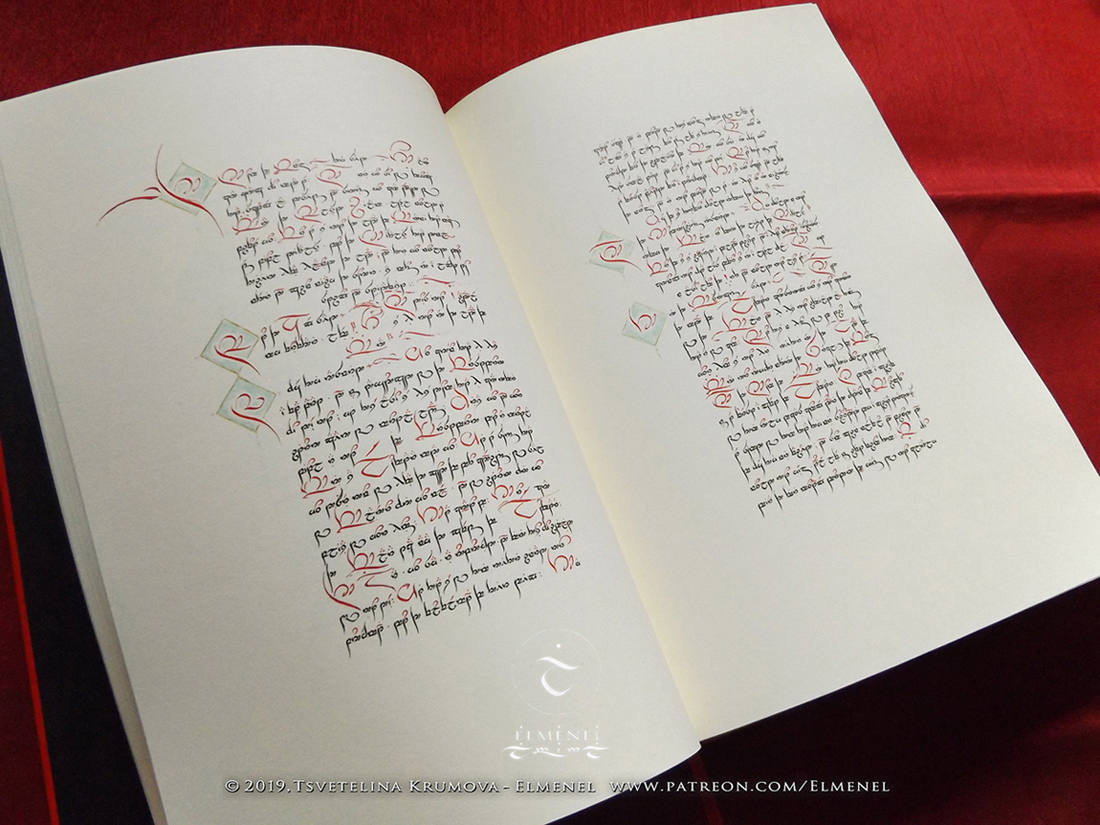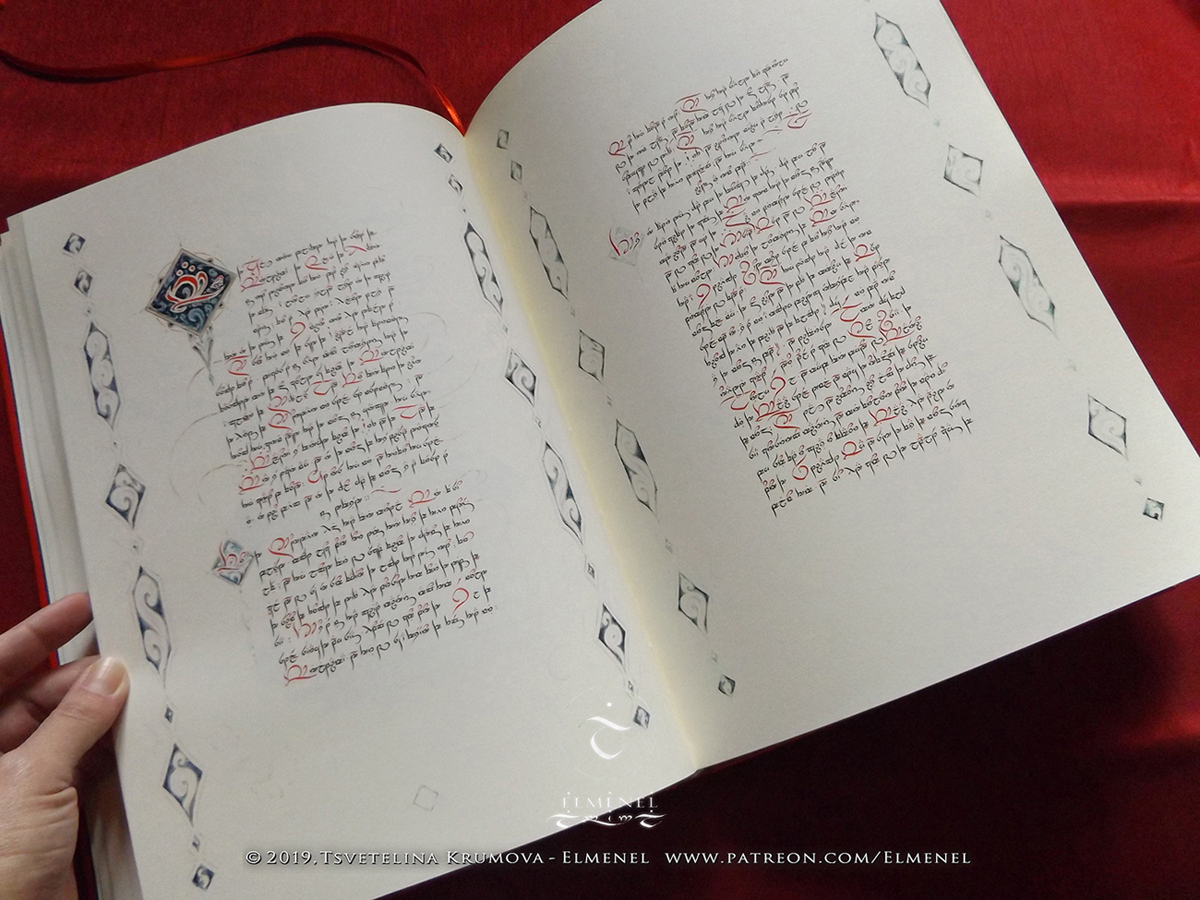 I have been striving to create the first books in Tengwar in a way that is harmonious with the spirit, wisdom, and beauty of J.R.R.Tolkien's works. Parma Eldaliéva gives life and body to Tengwarin calligraphy in the real world, and thus also to the ideas, cultures and aesthetics, related to it.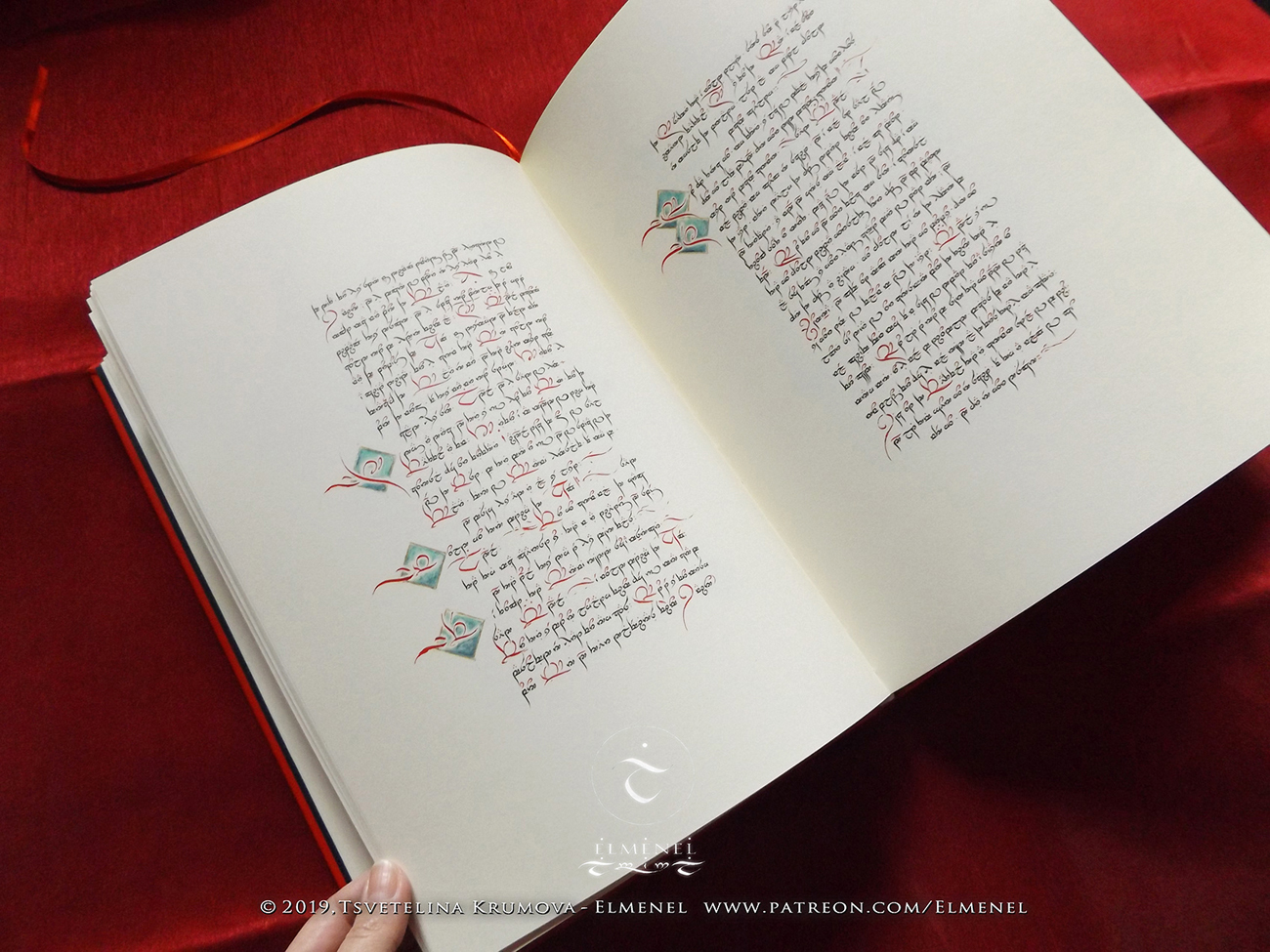 One of my aims is to provide you with a unique experience of the atmosphere of the stories and the exquisite beauty of hand-drawn Tengwar. To produce a harmonious work of art, which combines and fairly represents the storytelling genius of Tolkien and the values in art and craftsmanship he stood for and championed by way of his works. To celebrate the Arts of Storytelling and Calligraphy. To make the scripts and to apply them in complete harmony with Tengwar, the people behind them, and their inner, unique "logic" and "heartbeat" without copying, mimicking or following samples, styles or scripts from the human history, alphabets and traditions.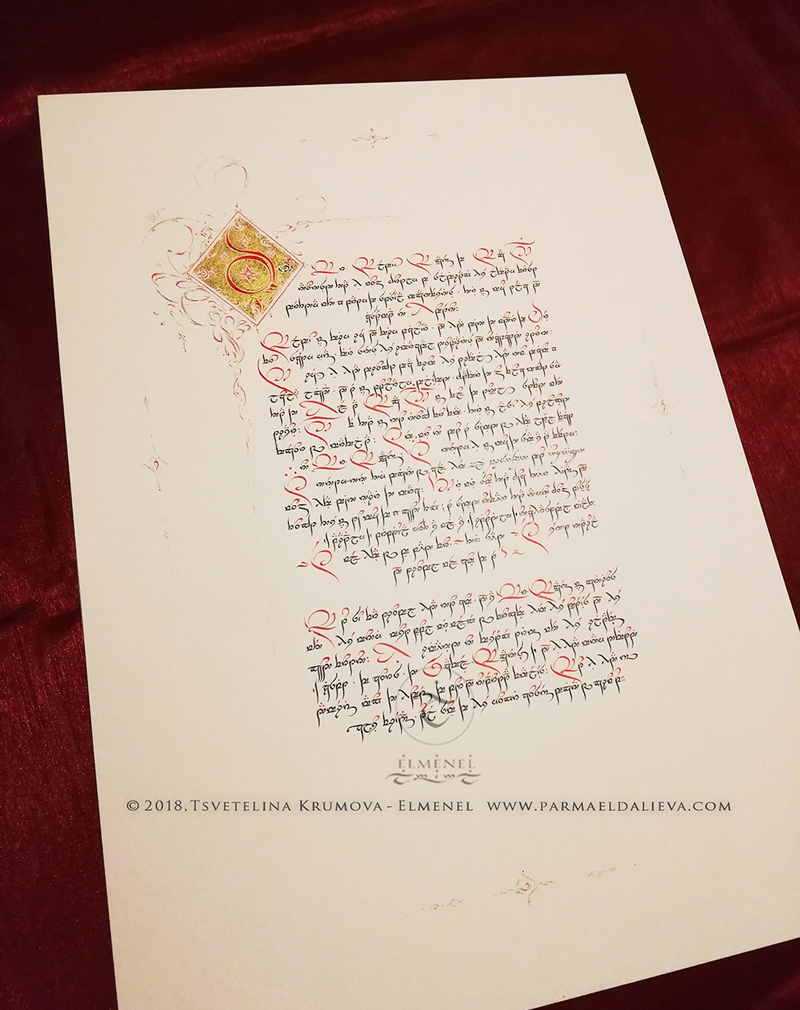 I try to create works of art that are both intellectually stimulating and enjoyable on multiple levels, that inspire appreciation for machine-independent creation and art, a thirst to discover, master and enjoy exercising one's own unique skills.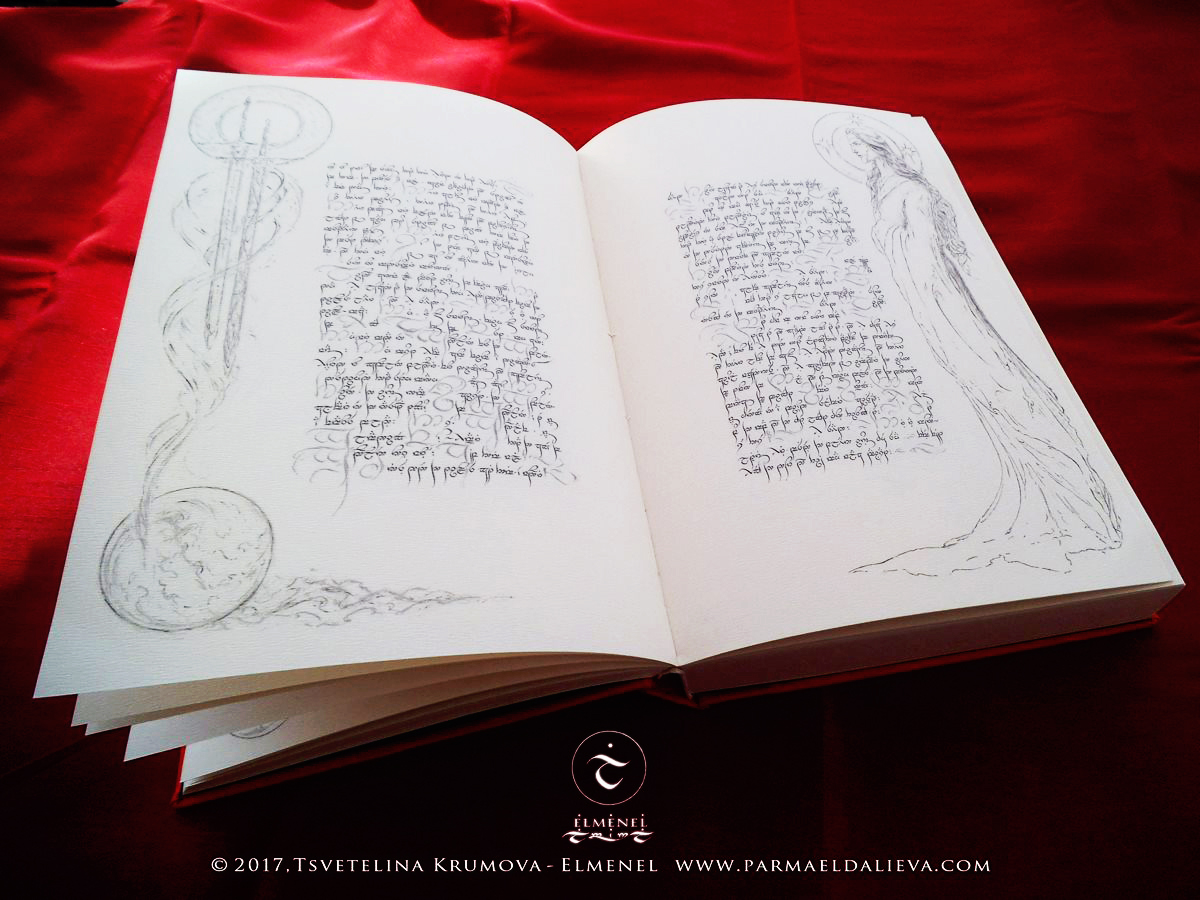 The first Tengwarin calligraphic art book I completed is a "version" of the English text of "The Hobbit". After finishing its original, Parma Eldaliéva I, I prepared a 564-page printable version of it, "Tengwarin", and printed it for the first time in 2016-2017. The first reward copies of it were given away to my Patreon supporters in 2017. We are looking forward to a reprint as soon as we have enough people with sufficient points in this campaign.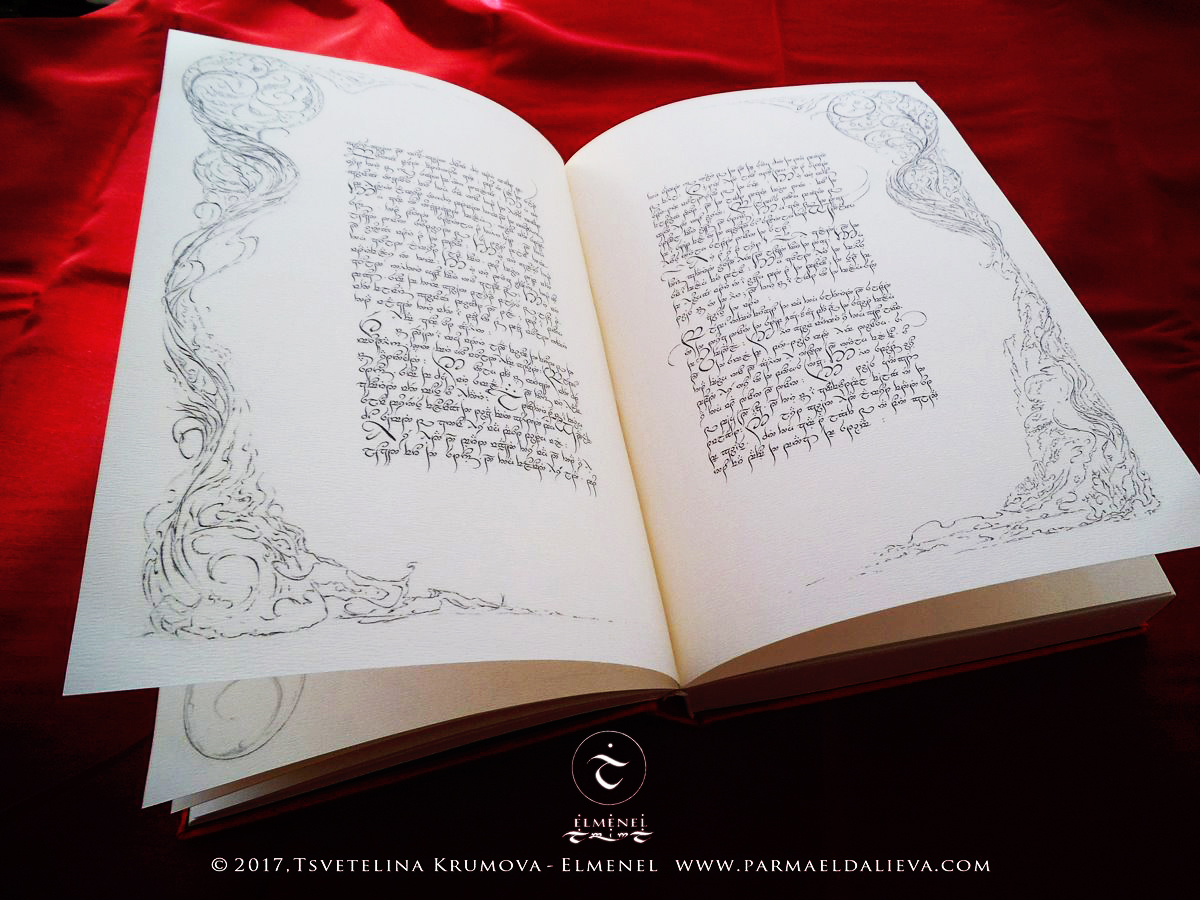 In the beginning of 2019 I completed and printed for the first time a second art book, Parma Eldaliéva Special I. It compiles a Tengwarin calligraphic art version of the Akallabêth, of a description of Númenor, and of the line of its kings. Copies of it were given as rewards to my supporters here in 2019.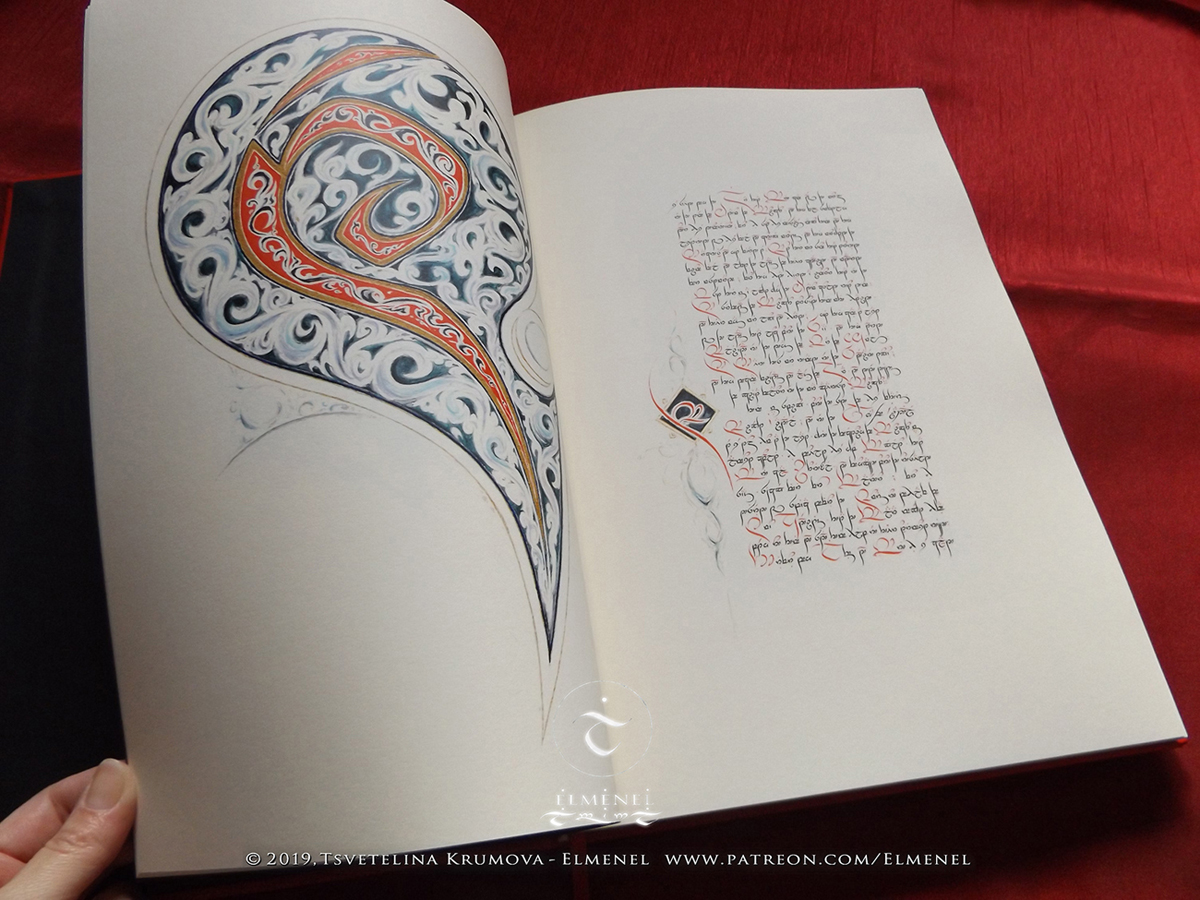 Even if these books are never released by a publishing company, you can help them see the light of day and I want to share them with you. You will receive as rewards printed copies of each book, when a certain number of supporters is reached (details given below). Most of my current Patreon supporters have already received one or more copies of the first and second art books, which I printed for them in 2017 and in 2019. Depending on the tier you can also receive art prints on regular basis, including my Tengwarin calligraphy large maps.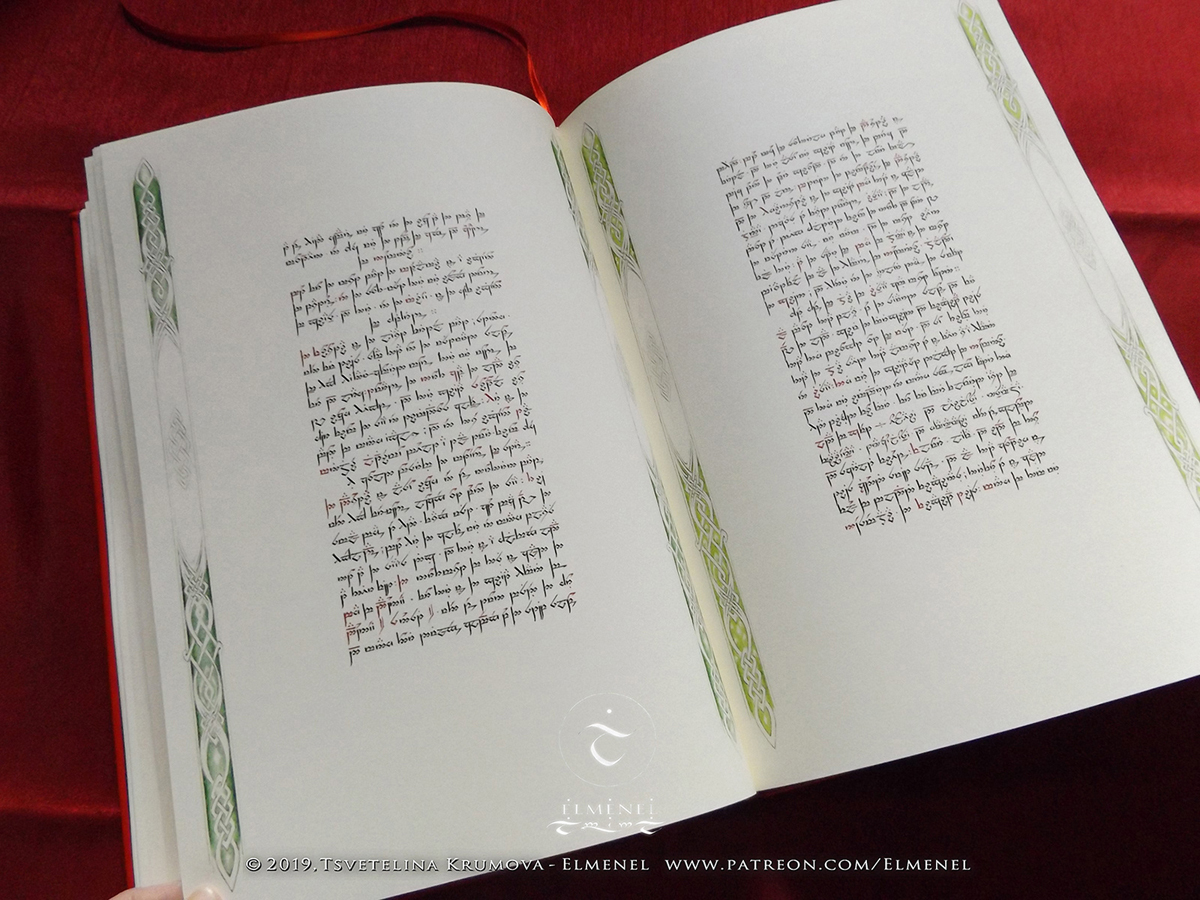 In addition to its books my "Parma Eldaliéva" project includes many other works of art, among which are the first maps in Tengwar. In 2018 I completed the set of 7 major ones with the making of the two large Númenor and Gondor-inspired maps.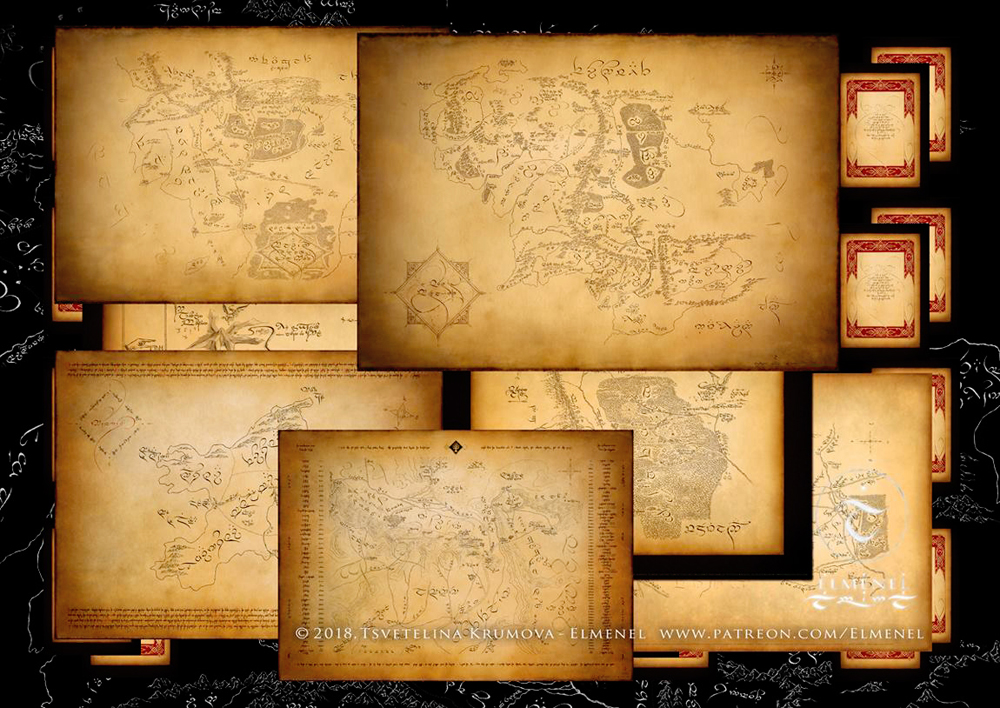 Among the various works of art are many one-piece works, the first Elven calendar released for the first time in 2017 to celebrate the new Yén, and the first completed scroll, the 2 meter long Tuor Scroll (2017) - I have been working on a print version of it and more to come.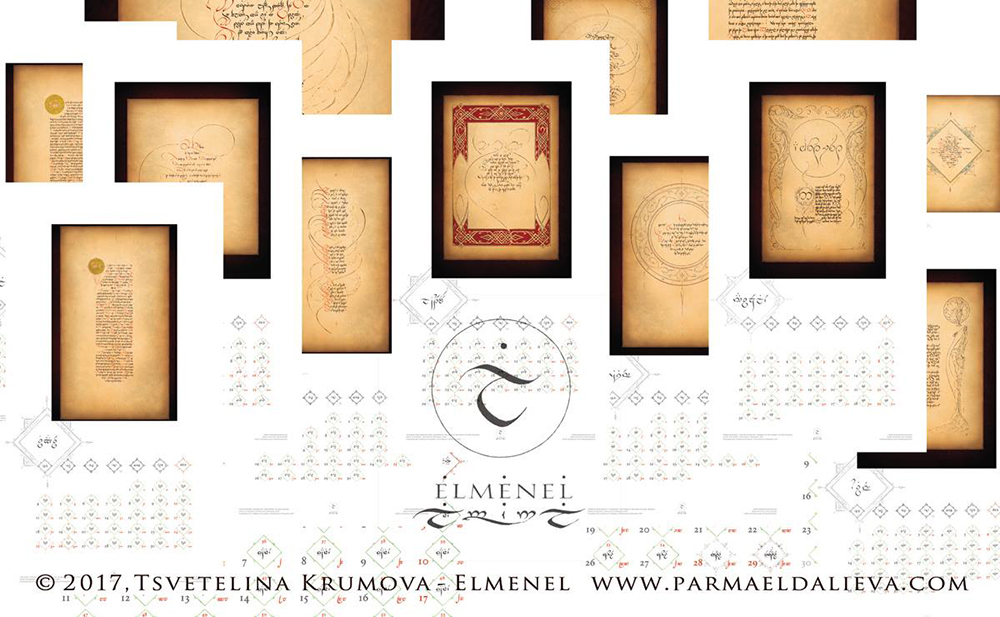 Next steps in the work
There are seven main "Parma Eldaliéva" volumes: the first book is now completed and work on the remaining volumes is in progress. Many new art books are in the making, and with your support they are coming as fast as possible.
At present I continue to work on the originals of the remaining volumes of the Parma Eldaliéva series and especially II, III and IV. The second "Parma Eldaliéva" is going to be a Tengwarin calligraphic art "version" of "The Silmarillion" and one smaller work. The third comprises of many manuscripts of "lore" and is devoted to various parts of "Unfinished Tales", "The History of Middle-earth" and the Appendices of "The Lord of the Rings". The fourth "Parma Eldaliéva" represents a Tengwarin calligraphic art version of "The Lord of the Rings". A glimpse of the work on volumes II and III you can see in the preparatory manuscript versions in the recently printed "Parma Eldaliéva Special I".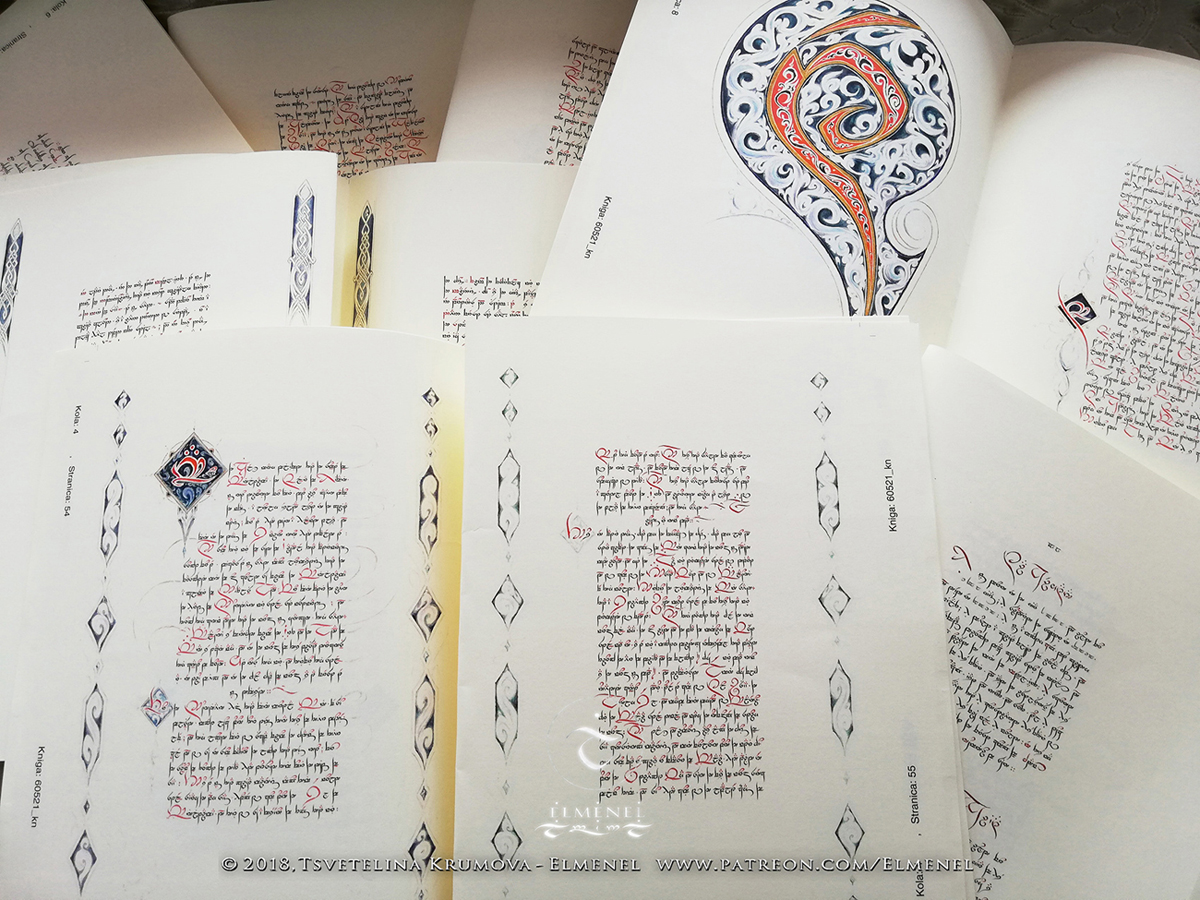 The accompanying Parma Eldaliéva "Special" series is largely inspired by desire to enable my supporters to follow the creative process, and enjoy it by obtaining volumes that contain some of the more outstanding manuscript artworks that are part of my preparations for the major volumes. Many of these manuscripts would be further developed to better fit the major volumes; some of them may not be included in those, in their initial shape, which makes the "Special" series rather unique.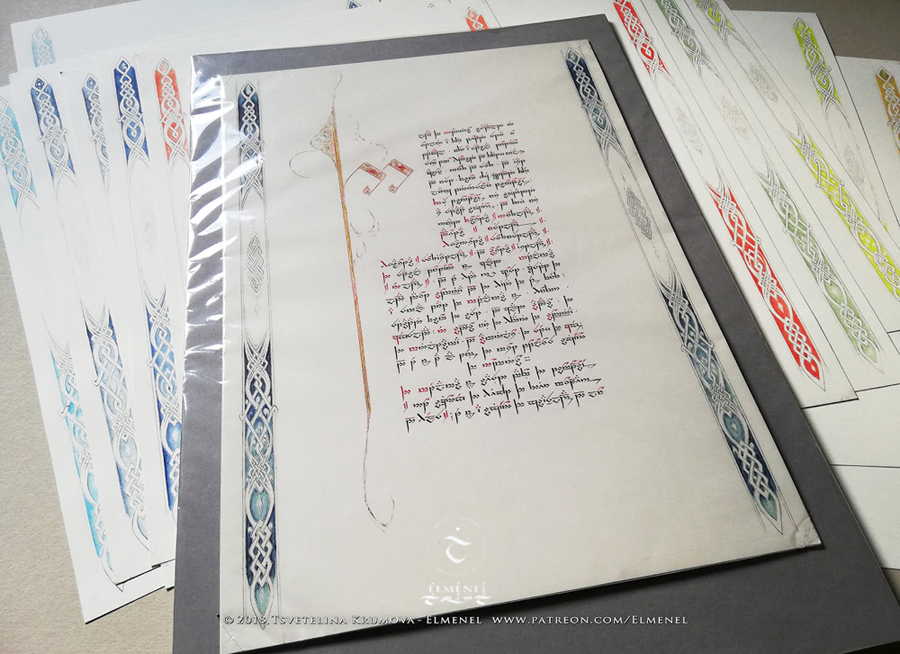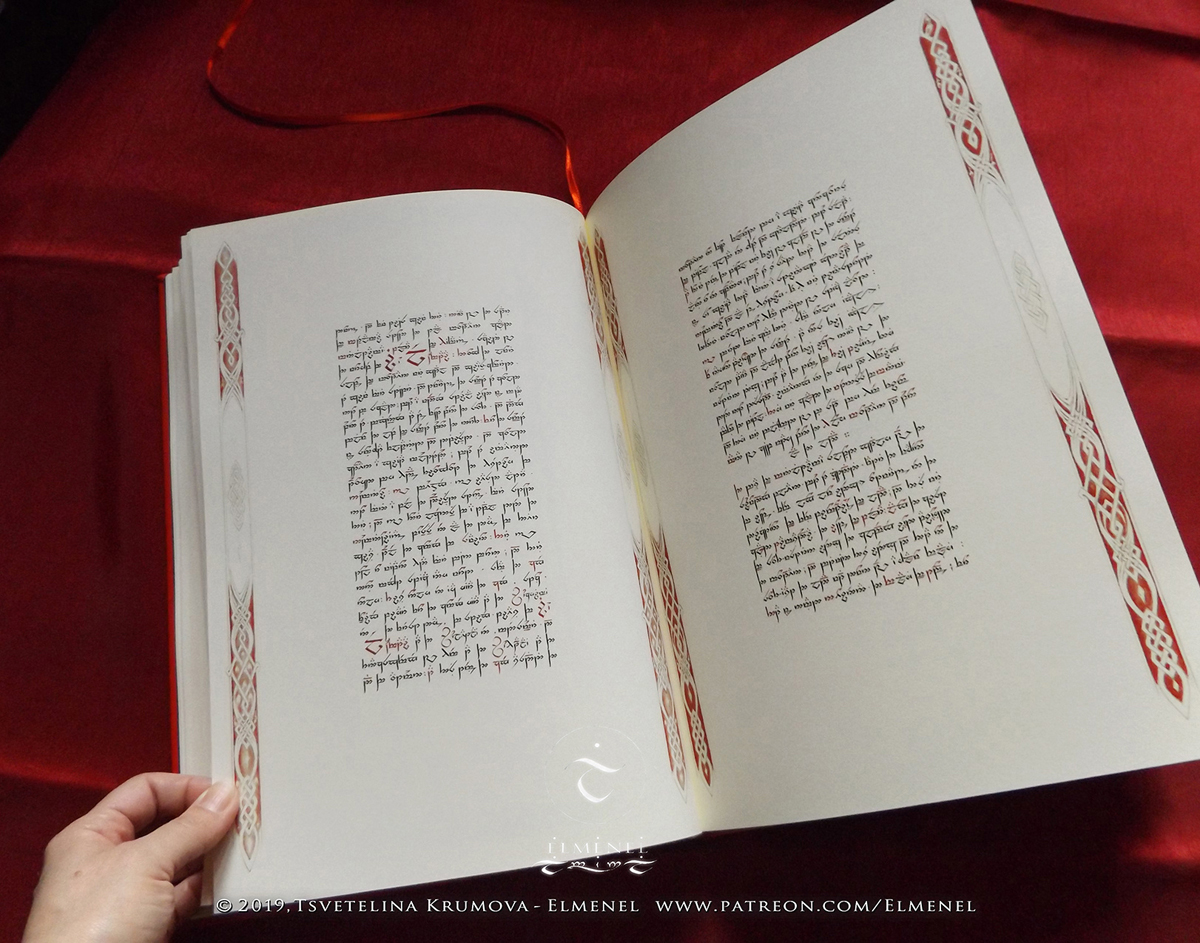 More information about "Parma Eldaliéva" you may find in my supporter-only Patreon posts and, to a certain extent, my official site
www.parmaeldalieva.com.



How to join & rewards

"Patreon" is providing an ongoing crowdfunding campaign for my work.
Choose your monthly contribution tier, subscribe, and be welcome to this adventure of those who love good words, Elven art, Tolkien, Tengwar, and calligraphy!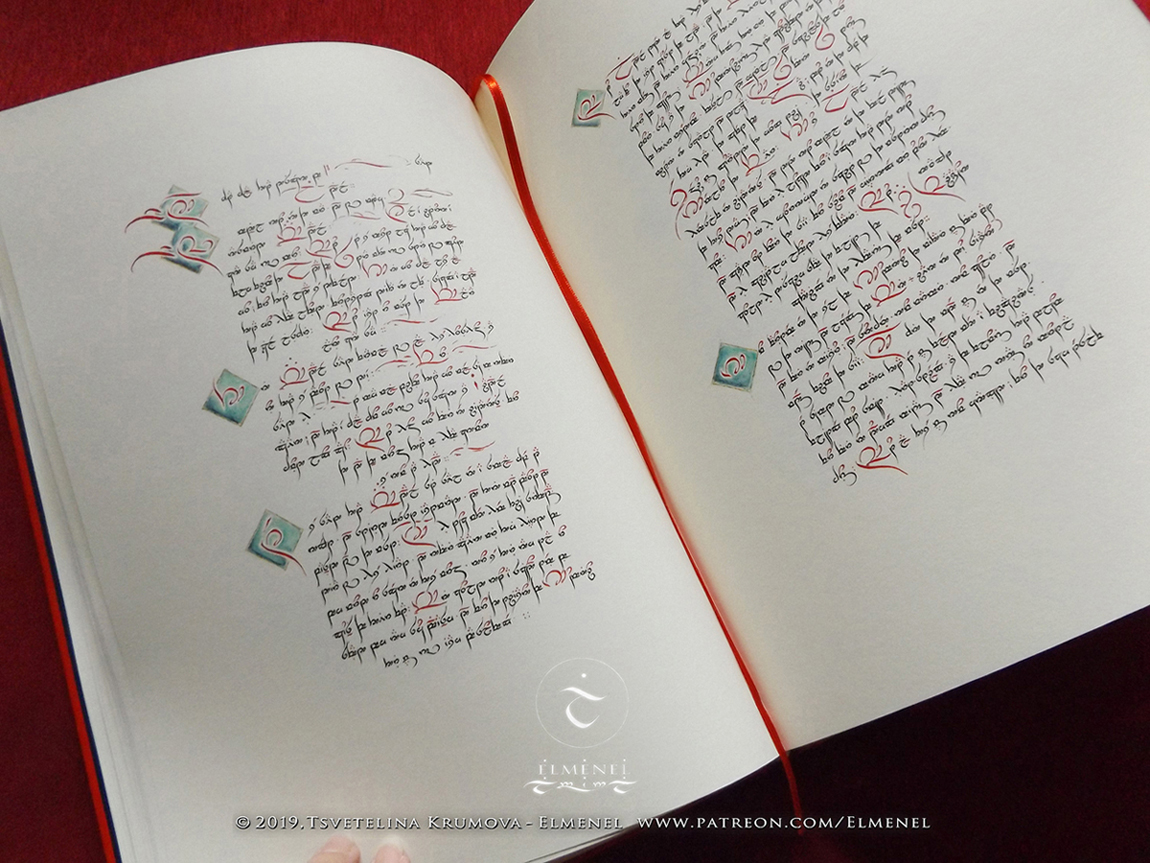 As tokens of my gratitude - and according to your tiers - I will give you access to information and images I will not post anywhere else, I will be sending some of you prints of my artworks (copies of the 7 major Tengwarin calligraphic art maps are among the print-rewards you would be getting), and I will be giving away copies of the completed art books when I print them to those who have collected a certain number of points. You would be able to change the amount of your monthly donations and tier or quit at any time - I will still be keeping track of the points you have gathered.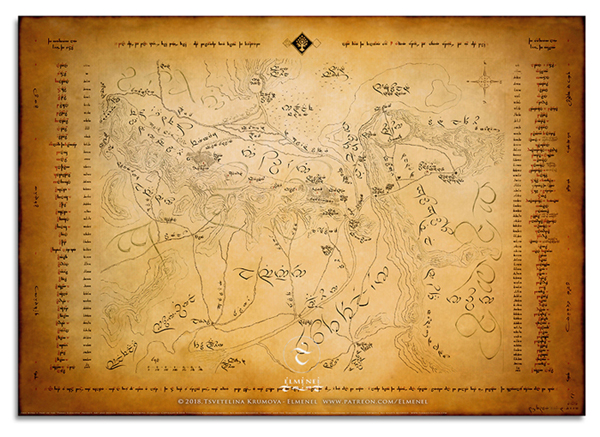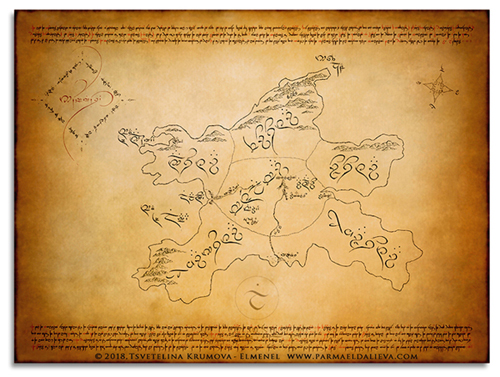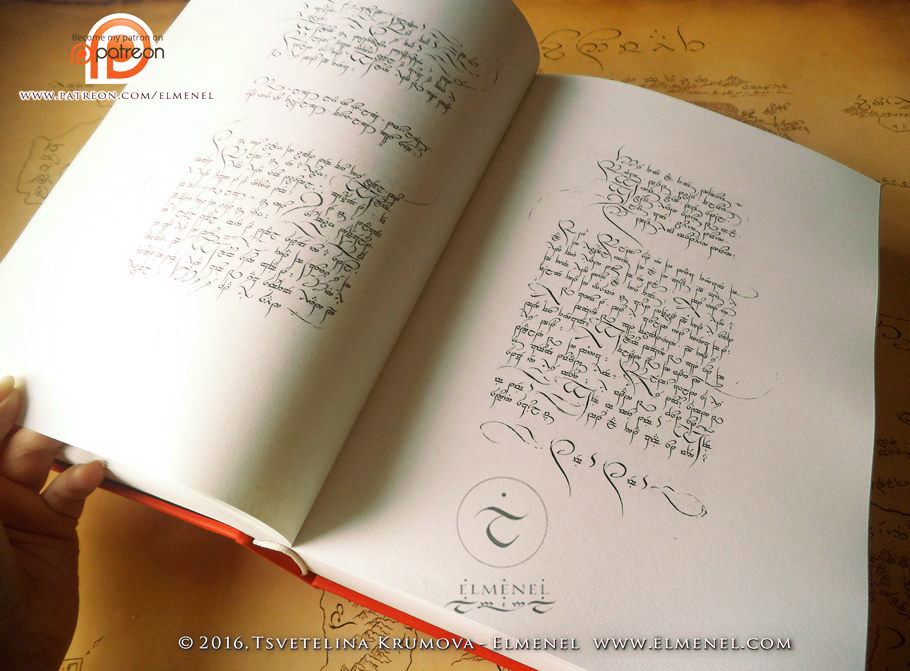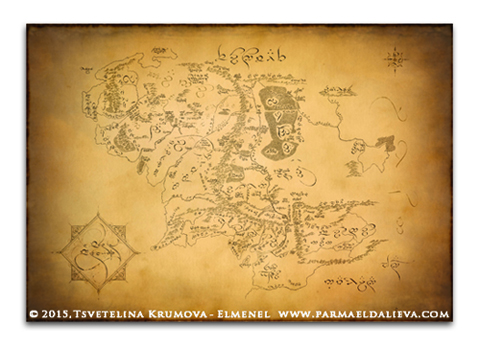 I will submit for reprint and then start sending as rewards new copies of
the first "Parma Eldaliéva" ("Tengwarin")
when there are at least 100 supporters who have collected at the time of the reprint at least half of the
14 points
necessary for redeeming a reward copy of it or, if feasible, when I find an alternative viable opportunity to reprint it.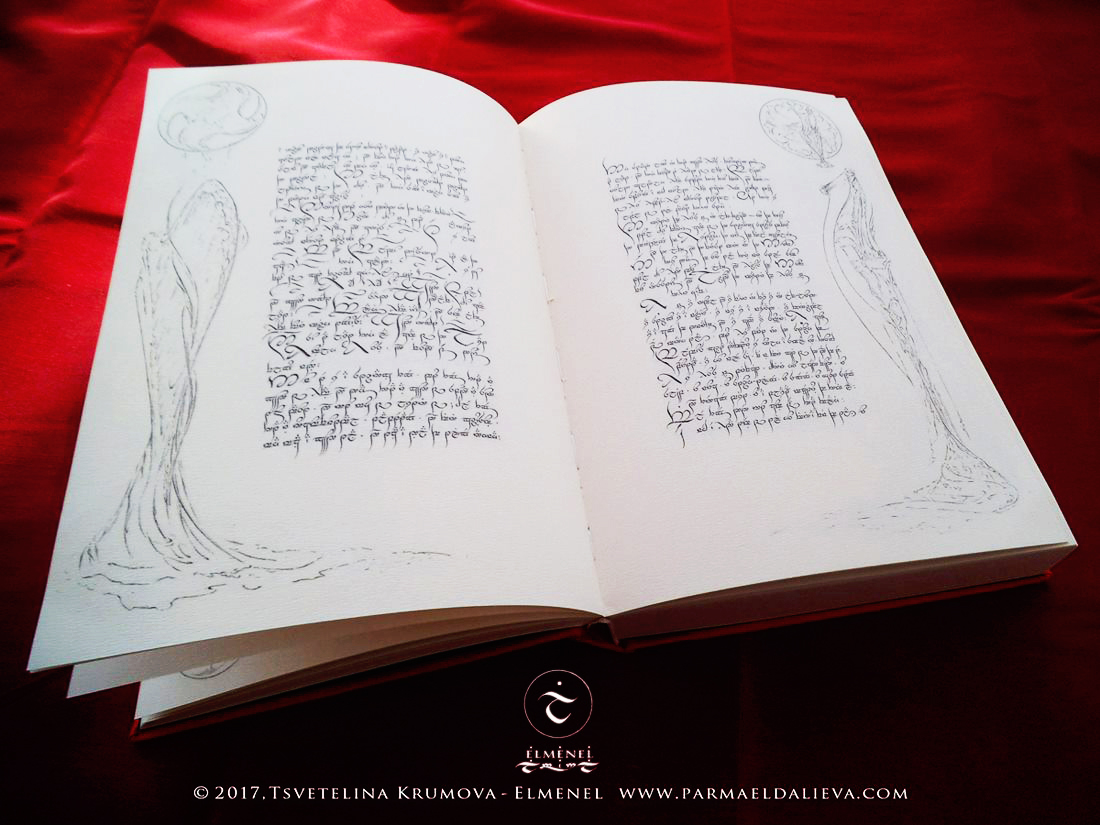 The number of points for a copy of
"Parma Eldaliéva Special I"
is 10 for those enlisted in the campaign by end-February 2019 and
12
for those who enlist afterwards and have to wait for a potential reprint when there are enough supporters for it to be organised.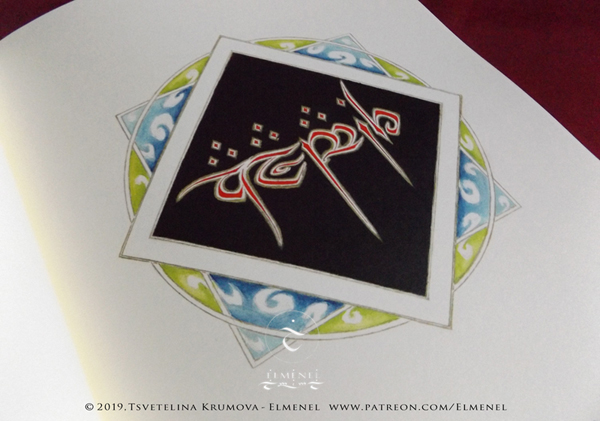 The necessary number of points for the new
upcoming books
would be decided and announced in my posts & here a little further in my work on each volume, as then their printing and making cost would be more clearly determined. However,
the more supporters
in this campaign
the lower
the printing cost and
the number of points per copy
would certainly be!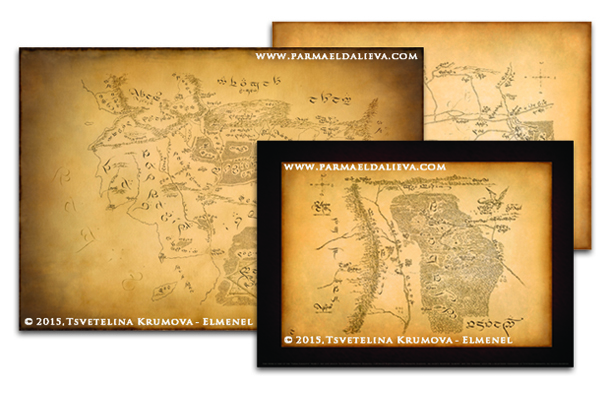 Why I need your support

Your help will allow me to continue my work on "Parma Eldaliéva" and to create as many works as possible with an ever-increasing quality. Your support will allow me to work full-time on this project, which is extremely demanding, and to afford proper art supplies, studio space, communication and exhibition opportunities, care of my health and living conditions. Working on the Parma Eldaliéva volumes requires an enormous amount of time of complete dedication and focus on the pages, studio space (which at present I cannot afford) as well as an enormous amount of supplies, appropriate storage space, studio equipment, including the one necessary for the pre-press of art books, technical support (including for the project's online presence), print-related expenses, and more.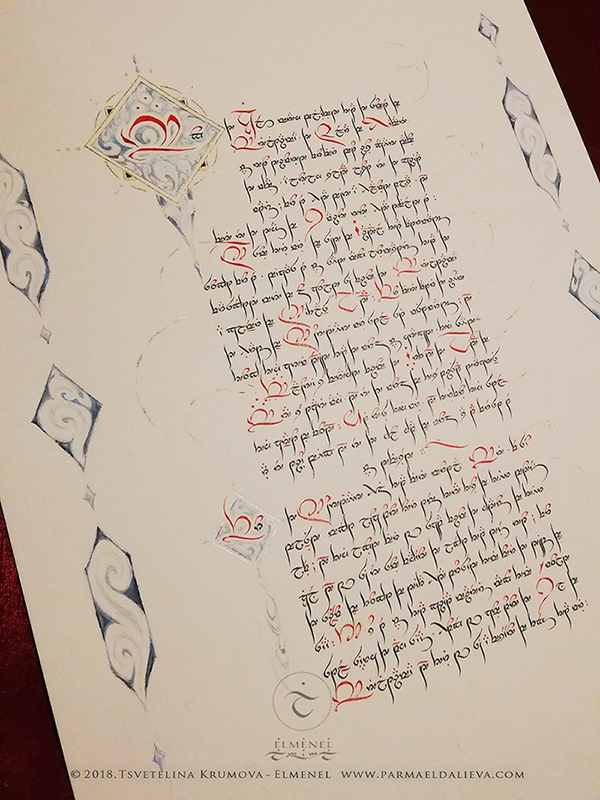 I would like to use my skill and experience, my developed scripts, and my well-trained hands and eyes to transfer my ideas and my visions onto paper to the best of my abilities with the proper materials, equipment, and focus.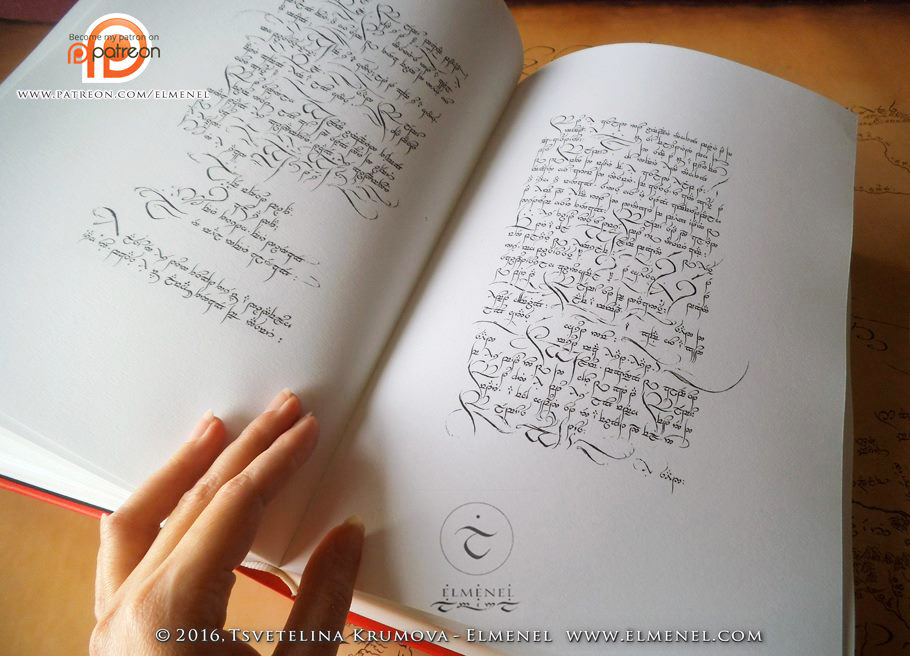 Your support will also help my works to reach people at events (Oxonmoot and similar gatherings) who would be interested in joining this support campaign.
Who I am...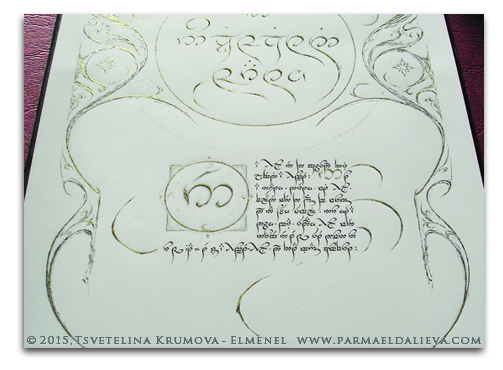 My name is Tsvetelina Krumova and my art name is Elmenel. I am an artist, calligrapher and graphic designer. I have been doing calligraphy for more than two decades. In the past ten years I have been giving everything of myself into developing the "Parma Eldaliéva" ('Book of the Elves') project that includes the first books in Tengwar and other artworks, while supporting it on my own. The time I have spent focusing on doing Tengwarin calligraphy and developing & perfecting my scripts has long ago exceeded ten thousand work hours.

I began working on "Parma Eldaliéva" in 2009, in Tokyo. There, after working for some time as a graphic designer (I graduated in that field in Japan), I was also working as a Western Calligraphy teacher and as an English Assistant Language Teacher. Long ago I translated the Appendices of "The Lord of the Rings" for the Bulgarian edition of the book. In 2011, when due to personal ramifications from the March earthquake I suddenly had to move back to my native Bulgaria, I decided to focus entirely on my work on the project. I have been supporting it initially it with my savings, with friends' help, and then also by relying on this campaign. In 2018 I relocated permanently to Ireland.

I have been giving everything of myself to my work on this project that has become entwined with my life. Recently I found it very difficult to continue supporting it on my own, even as I have reached an exceptional creative and skill level and as my ideas and visions have matured immensely after ten years of exercise, development, and two finished art books. I would like to continue my work on the upcoming volumes I have been preparing for and dreaming of for years to the best of my abilities. I hope you will support me in my need of proper work conditions and supplies in order to be able to achieve that.

The "Parma Eldaliéva" works of Tengwarin and Eldarin art and scholarship are a most respectful tribute to the works of J.R.R.Tolkien, which inspired them. Every part of the project at its present stage is a fruit of many years of labor in many areas, including in the development of unique and Elven sensibility-befitting (as the Elves have been introduced to us by J.R.R.Tolkien) scripts. I have invested much heart, dedication, labour and time in creating them as close as possible to Elven aesthetics and style as Tolkien defined them. Not imitating any historical human styles and scripts I created something new, original, as authentic and untouched by our 'marred' world and history as possible.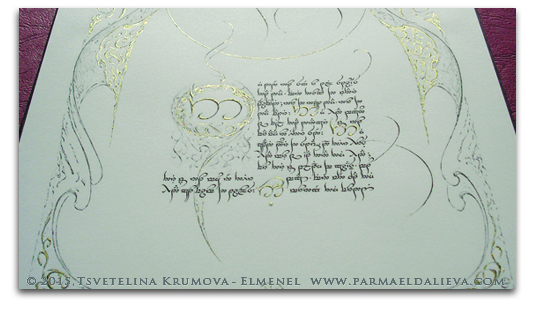 There are things we hold dear and would like to bring in this world for the joy of both ourselves and many others, making it more beautiful, healthier, and wiser. In my case those are good words, texts, stories told in writing in an 'Elven Artistic way' and in that amazing creative way both Tolkien and I, as a "small maker" inspired by him, have thought important to do things in. "Write-drawing" things in a way reminiscent of the way they have been told in the Hall of Fire...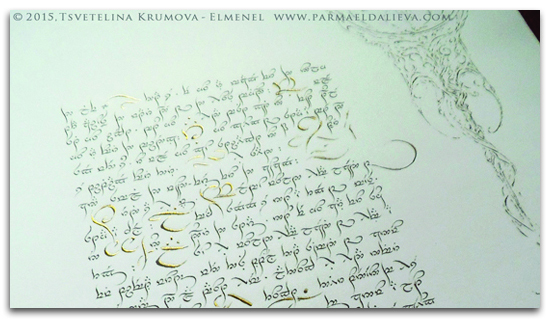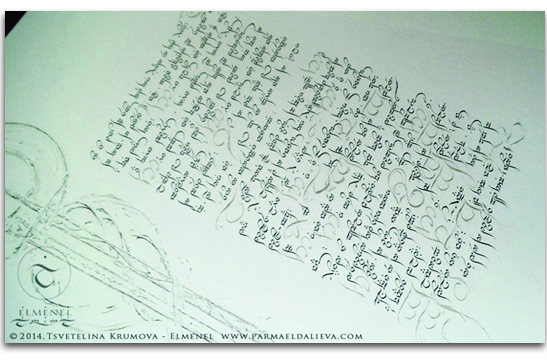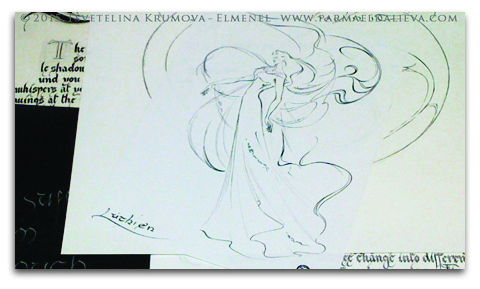 $712.94 of $1,900
per month
I will be able to afford the appropriate working conditions including space, storage, materials and time to focus fully on the creation of art, with a special emphasis on my "Parma Eldaliéva" works. I will be able to bring into being as many images from my imagination as possible. I will create art with quality supplies and in proper work environment. That will allow me to use my skills in the best possible way and ensure that my works will be appropriately stored and preserved. I will have the necessary work conditions to do more diverse illumination for my calligraphic art as well as much more drawing and painting. My work communication and exhibition opportunities will broaden, which may lead to more people being able to see and enjoy my art.

1 of 1
By becoming a patron, you'll instantly unlock access to 455 exclusive posts
By becoming a patron, you'll instantly unlock access to 455 exclusive posts
How it works
Get started in 2 minutes