Emma Lysyk
is creating Comics and Art
Select a membership level
With this level you will get updates as they happen - no having to worry about release dates or scheduled comics. Also, access to my streamed digital drawing videos when available.
A little behind-the-scenes action happens here. You'll get pencils and inks for released pages, a monthly digital download of some sort (such as wallpapers, portraits, etc.), plus all of the above.
Thank you, Hero! You'll get a link to download the PDF copy of Siren's Song issues on release date, plus all of the above.
About
Hi there! My name is Emma Lysyk, and I like to draw things then engrave them permanently into stone with my laser engraver.
I pretty much tried to avoid the Patreon thing, but after spending the majority of 2014 on the road, I realized that it didn't leave a lot of time for me to do the making part, and I really missed my cats.  Art is my passion, and making stuff is way more fun than hawking it.
The Comics
I've been drawing 
Em²a Cartoon
since 2003. It's a mostly-weekly comic about what it's like to live inside an artist's  head. Some people journal, I have to draw it or people think I'm making it up. I used to have an imaginary boyfriend, but then it got kind of weird when I got married.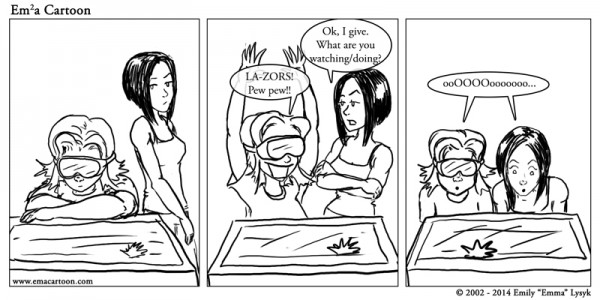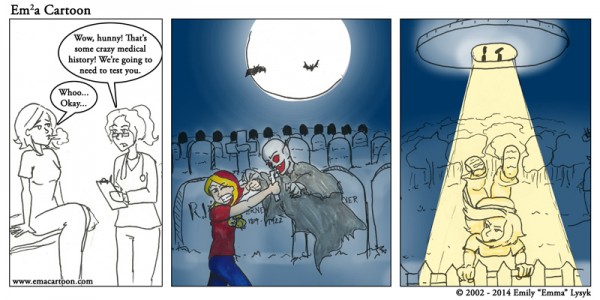 Siren's Song
is my super-secret steampunk pirate adventure filled with revenge, airships, the only boat still in the water, science, and magic. Co-written by Amanda Lindquist and myself, I've begun the art process, and we're shooting for issue #1's release by Memorial Day Weekend 2015. I can't wait to share Captain Marissa Heartpierce's story and struggles with you.
Why Subscribe?
The idea with this Patreon is that you can keep up with my art and making, as well as support the fabrication of the stuff, but without that pesky need to merchandise. I've never been the type to ask for money without giving something in return, so what I'm offering in exchange is up-to-the minute art updates for both comics and any illustrations, illustration process photos, and for the $10+/month club, personalized laser engraved stuff (even if it's just one month at that bracket).
How Does It Work?
If you choose to subscribe (thank you!), then you will get charged monthly at the beginning of the month until you choose to cancel. So if you go for the $1/month tier, and cancel it after the 12th month, it will charge you $1 per month until that $12 is up. If you pledge $20 for the top tier, and cancel it after the beginning of the next month, you will only get charged that initial $20. According to 
Patreon's FAQs
, it could take up to 72 hours for payments to post. If you have any questions about the payment process, click the FAQ link or send me a message.
Again, you have my heartfelt thank you for your support, whether it's just a quick share of the page or more. <3
All advertisements will be removed from all websites. Glorious.
1 of 6
By becoming a patron, you'll instantly unlock access to 50 exclusive posts
By becoming a patron, you'll instantly unlock access to 50 exclusive posts
Recent posts by Emma Lysyk