Emma Lysyk
is creating Arts & Streaming
Select a membership level
With this level you will get updates as they happen - no having to worry about release dates or scheduled comics. Also, access to my streamed digital drawing videos when available.
A little behind-the-scenes action happens here. You'll get pencils and inks for released pages, a monthly digital download of some sort (such as wallpapers, portraits, etc.), plus all of the above.
Thank you, Hero! You'll get a link to download the PDF copy of Siren's Song issues on release date, plus all of the above.
About Emma Lysyk
Hi there! My name is Emma Lysyk, and I am an Illustrating, Graphic Designing, Prop & Model Making, Laser Engraving Mad Scientist.
Check out what I'm creating below:
Twitch Streaming
I have been streaming my video gaming and my art making live over on Twitch at least once a week - more when I'm caught up on any work I'm doing. On Art with Emma days, you can find me making props, silicone moulds, resin pieces, jewelry, painting, drawing both traditionally and digitally. I have also edited videos, worked on Animations, and will chat about the business side of things. I will also have guests join me in my Discord to chat and hang out while I'm working on these things.
On video games, I tend to stream my Animal Crossing: New Horizons Southern Hemisphere island that I began crowd building. I treat this one as if it's public, and let viewers come play with me and check out the other side of things. I will also stream indie games with friends and Elder Scrolls Online PvE content. I'm active in the PvP community on that game, but I won't stream it because stream sniping is a thing and I like to protect my friends.
The Comics
Retired is my webcomic,
Em²a Cartoon
, from 2003-2016. It was a mostly-weekly comic about what it's like to live inside an artist's head. Some people journal, I had to draw it or people think I'm making it up. I used to have an imaginary boyfriend, but then it got kind of weird when I got married. I don't update it frequently any more, but I do occasionally post one offs.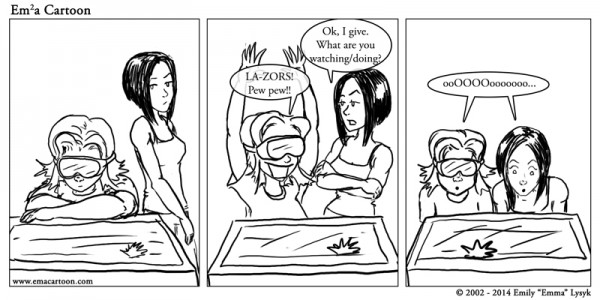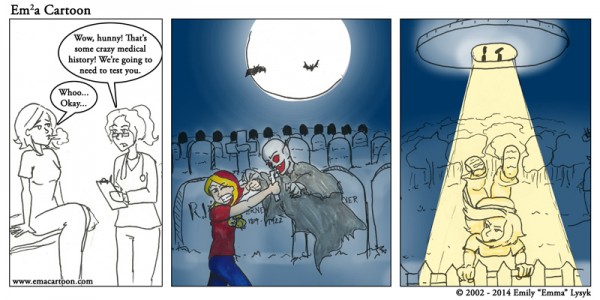 Siren's Mark
Siren's Mark is my super-secret steampunk pirate adventure filled with revenge, airships, the only boat still in the water, science, and magic. Co-written by Amanda Lindquist and myself. I have the first page drawn, and line art for more than half of it. This will be updated with the WebToons link as soon as it goes up.
I can't wait to share Captain Marissa Heartpierce's story and struggles with you.
Why Subscribe?
If you're interested in my work, I'm offering first release and exclusive art updates for my comics and illustrations, illustration work-in-progress photos, and access to my personal Discord to hang out while I'm streaming. I'm also offering the opportunity to makes requests in my work that others won't get.
How Does It Work?
If you choose to subscribe (thank you!), then you will get charged monthly at the beginning of the month until you choose to cancel. So if you go for the $1/month tier, and cancel it after the 12th month, it will charge you $1 per month until that $12 is up. If you pledge $20 for the top tier, and cancel it after the beginning of the next month, you will only get charged that initial $20. According to
Patreon's FAQs
, it could take up to 72 hours for payments to post. If you have any questions about the payment process, click the FAQ link or send me a message.
Again, you have my heartfelt thank you for your support, whether it's just a quick share of the page or more. <3
All advertisements will be removed from all websites. Glorious.
1 of 6
By becoming a patron, you'll instantly unlock access to 70 exclusive posts
By becoming a patron, you'll instantly unlock access to 70 exclusive posts
Recent posts by Emma Lysyk
How it works
Get started in 2 minutes